Today we live in a society, which can not imagine life without expressing views on social media. Probably it does have certain advantages. Nevertheless, many participants of active discussions have already forgotten or do not even know about the developments, which unfolded in Armenia 5, 10 or 15 years ago.

To fill the gap Mediamax presents 5/10/15 project, which introduce developments in Armenia 5,10 and 15 years ago.

• 15 YEARS AGO: 16-22 OCTOBER, 2002

The Chechen militia canard and the "encouraging promise"

On October 17, the head of Georgia's border service Valery Chkheidze qualified as a canard the rumors that Chechen militia was moving to Samtskhe-Javakheti region of Georgia, populated mostly by Armenians. Chkheidze also excluded the possibility that the militia might head to the Georgian-Turkish border.

On October 21, Armenian Foreign Minister Vardanyan Oskanyan commented on Yerevan's opinion about the military rapprochement between Georgia and Turkey in the interview to Mediamax:

"Georgia assured they won't take any action that might threaten the security of Armenia and facilitate our isolation in the region. It's quite a serious and in a way, encouraging promise."

"A model of working relationship"

On October 19, Deputy Chief of the U.S. Mission to the OSCE Douglas Davidson applauded the role played by the OSCE Yerevan Office in supporting electoral reform in Armenia.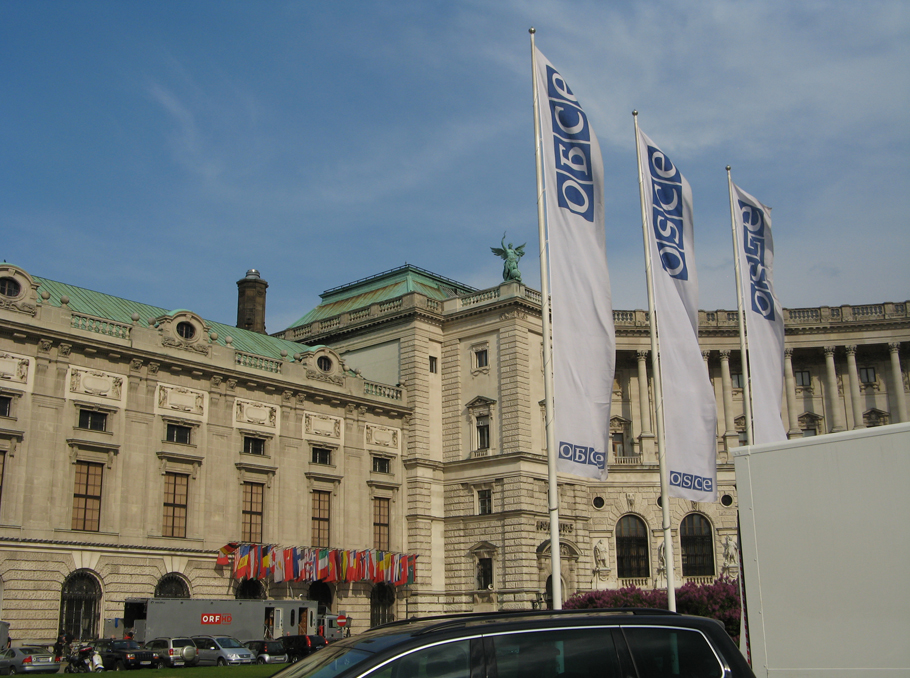 OSCE Office in Vienna

Photo: OSCE


"The Yerevan Office's excellent working relationship with the Government of Armenia, with Armenian civil society should serve as a model for all OSCE field presences," Douglas Davidson said.

The compliments that representatives of various countries and organizations poured on the Yerevan Office of OSCE throughout many years didn't save the office. Essentially, it fell victim to Azerbaijani blackmail of the OSCE and closed in August 2017.

• 10 YEARS AGO: 16-22 OCTOBER, 2007

Sargsyan goes to Washington

On October 17-18, Prime Minister of Armenia Serzh Sargsyan held meetings with U.S. Vice President Richard Cheney and U.S. Defense Secretary Robert Gates in Washington.

After the meeting, Robert Gates stated they didn't touch on the resolution on recognition of the Armenian Genocide of 1915. The head of Pentagon also found it necessary to express his concern over the resolution approved by the House of Representatives Committee for Foreign Affairs if the U.S. Congress. "I want to once again stress that this can really harm our troops in Iraq and aggravate, maybe irreversibly, our relations with a key ally in an important region and in a wider war against terror."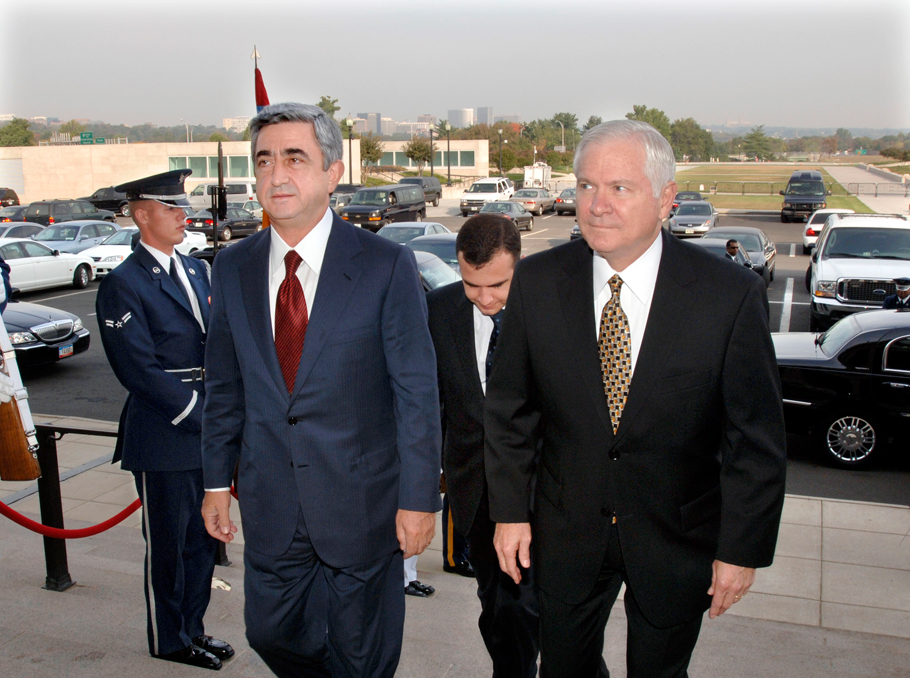 Serzh Sargsyan and Robert Gates

Photo: U.S. Department of Defense


"I do not think that Turks bluff; this is a really significant issue for them. I assume they foresee the possible consequences concerning reparation and, perhaps, even the change of the border line," the U.S. Secretary of Defense stated.

"Of course, Turks will not close Indzirlik for us, but there is the risk of imposing limitations in its use, which will have the same effect", Gates stated, reminding that 70% of the military cargos, sent to Iraq by air, go through the given air-base.

Richard Cheney said after the meeting with Sargsyan that USA is ready to continue supporting Armenia in democratic and economic reforms. The interlocutors also touched upon the developments in Middle East and the topic of Armenia-Turkey relations.

Ahmadinejad comes to Yerevan

On October 22, President of Iran Mahmoud Ahmadinejad arrived in Yerevan on an official visit.

Mahmoud Ahmadinejad

Photo: REUTERS


He noted that he perceived "the perspective of Armenian-Iranian relations as constructive and very positive". According to him, developing relations between the two countries is beneficial for both nations and the regional security.

• 5 YEARS AGO: 16-22 OCTOBER, 2012

The donors' conference that remained on paper

While delivering a speech at the European People's Party convention in Bucharest on October 17, President Serzh Sargsyan said: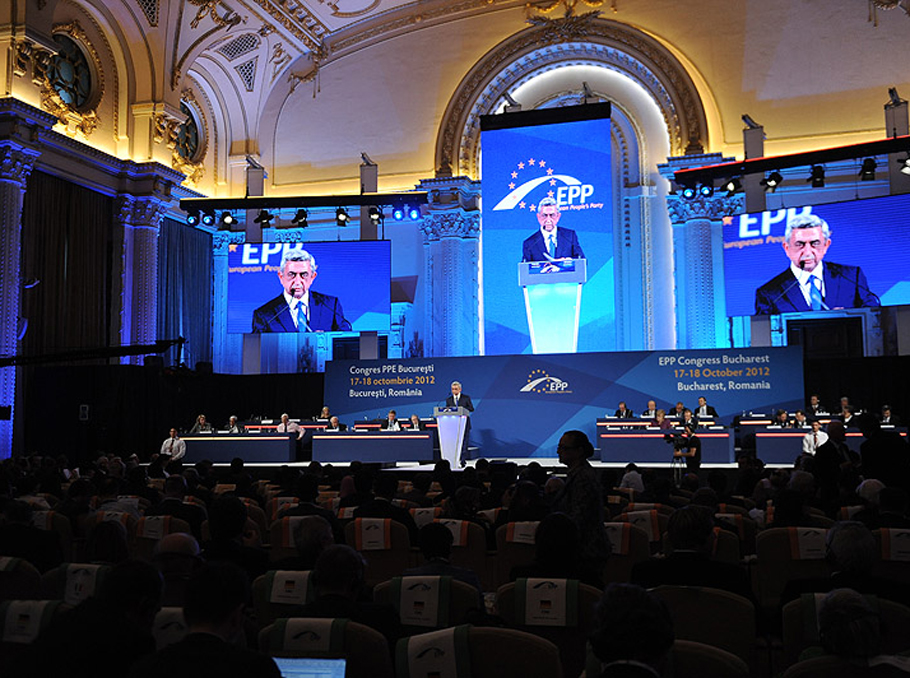 Serzh Sargsyan at EPP convention in Bucharest

Photo: Armenian President's press service


"Today, Armenia is among the leaders of the Eastern Partnership regarding the Association negotiations and the initiated large-scale reforms. We welcome the declaration on the Single Market by this Summit. In the future, the Deep and Comprehensive Free Trade Agreement will allow Armenia too to benefit from the opportunities provided by the Single Market. We have initiated development of the comprehensive reforms agenda, which will lead to a much more efficient system of governance. For the implementation of these goals, Armenia needs considerable financial assistance from the European Union. Towards this end, together with the European Commission we have been jointly conducting preparations for organization of the donors' conference for Armenia," said Serzh Sargsyan.

The Deep and Comprehensive Free Trade Agreement, which was a part of the Association Agreement, wasn't signed after all. The donors' conference never took place either.

Ara Tadevosyan