Teach For Armenia is a two-year leadership development program for graduates and top professionals who speak Armenian and are willing to change not only their lives but also the lives of children living in Armenia. After training at Summer Institute, an intensive and rigorous five-week training program for Teach For Armenia Fellows, the Fellows are being placed for two years in communities where there is a need for teachers. Fellows not only contribute to the development of children's personal growth and academic knowledge, but also to the development of the communities through extracurricular and community development projects.

Who are these young people who are not afraid of change and difficulties who leave their comfort zones for the greater good, all to inspire children to discover their talents and realize their dreams, while inspiring the future generations?

Through the support of VivaCell-MTS, Mediamax and Teach For Armenia have launched a new project to shed light on the work and life of Fellows serving students in the most underserved communities of Armenia.

As we get closer to the school building, Garik waves at the children greeting them from the windows. Mr. Tsatryan is always surrounded by noise: discussions during the lessons, disputes, students awaiting him with questions in the school halls… Whatever they discuss, be that globalization, friendship or preparations for this or that upcoming school event, the inspiration and excitement are the same. Garik Tsatryan began working in the middle school of Hushakert community four months ago.

"The principal must have thought when he saw me on my first day, "How is this kid going to teach anyone?" He asked me every day if anyone was disrupting my classes, and the basic military training teacher said once, "Don't go home with Henzel. It seems like you are the student." I used to look like my students, but now my hair's gone a bit grey and you can notice the age difference," the young teacher says, laughing.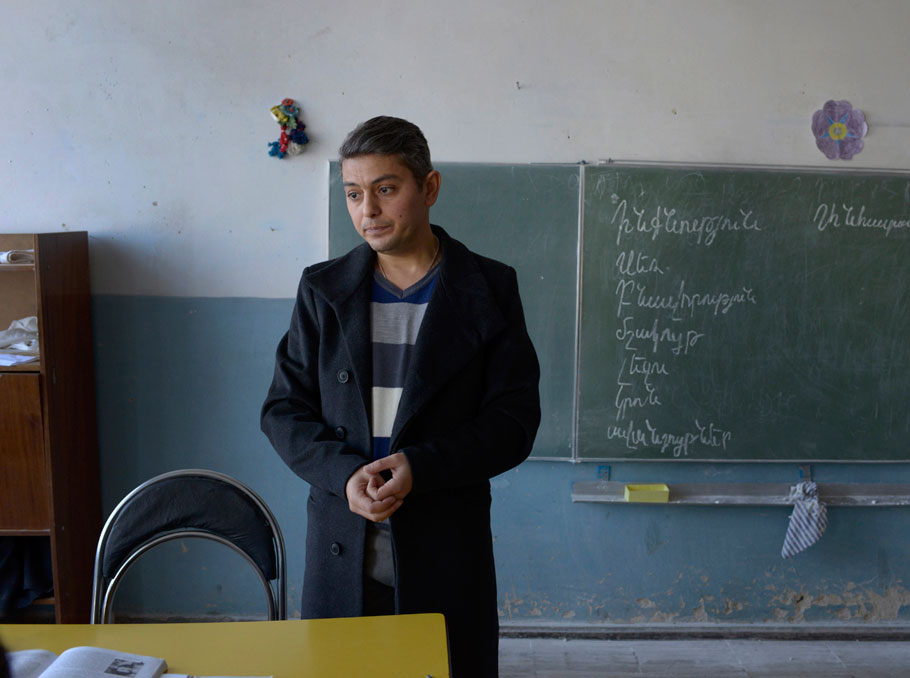 Garik Tsatryan

Photo: Vaghinak Ghazaryan/Mediamax


Garik is one of the few Teach For Armenia participants with a diploma in pedagogy. He taught in a high school in Yerevan for seven years before going to Hushakert. His students in Yerevan were upset over his departure and couldn't understand why Mr. Tsatryan would abandon them. In fact, the 33-year-old teacher was looking for a change and wanted to take part in an educational program for children in rural communities.

"Students only need one week to know their teacher like a book in terms of knowledge and type of personality. That is why going into a new class is always potentially fraught with problems. I had been teaching for seven years before coming to Hushakert and still I wondered what my students would be like and how I could communicate with them. The nervousness is always there, but things work out gradually."

Garik Tsatryan

Photo: Vaghinak Ghazaryan/Mediamax


Garik applied to Teach For Armenia last year but was not selected. Despite being convinced that the second attempt wouldn't be successful either, Garik applied again.

"I thought they'd see my name, remember they rejected me last year and just ignore me this time. But I got selected!"

Family and friends couldn't understand Garik's choice. Questions were being asked: why leave a career in Yerevan and move to a rural school, what Garik would do two years later, once the program ends…

"I'm a teacher with forty years of experience," Garik said once, introducing himself to the program participants with a famous quote, which later became his nickname. However, Garik is one of most experienced participant of Teach For Armenia, although he notes he learned a lot during the Summer Institute.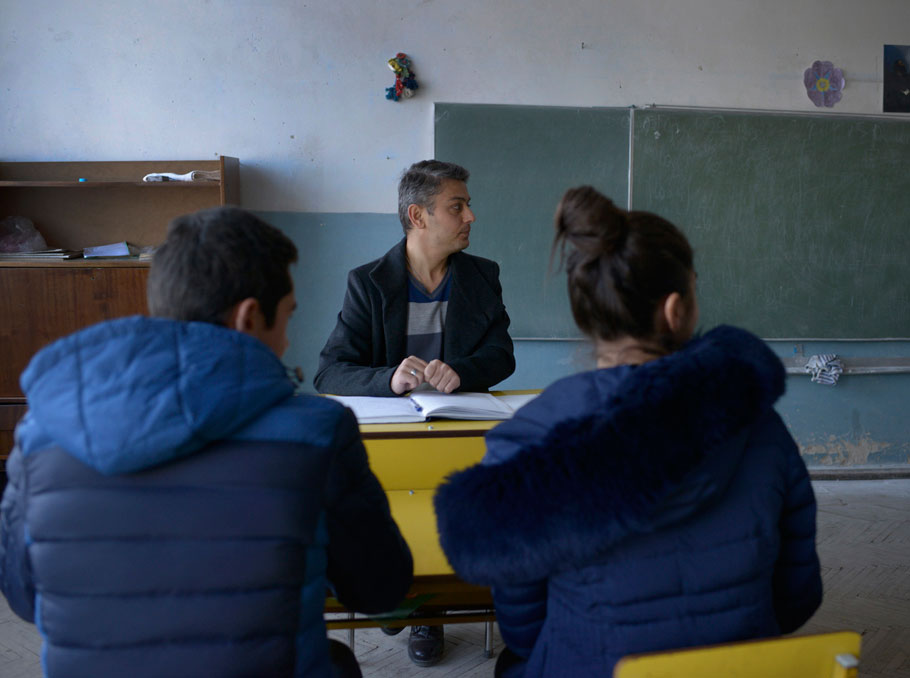 Photo: Vaghinak Ghazaryan/Mediamax


"Being a teacher is hard work, some even call it ungrateful. The results of our work don't become visible immediately. It is important to not only give knowledge, but teach values too: love, respect, humanity, patriotism. If a teacher sets a good example, children accept and love them; they also like the subject and learn it. The teacher's image is very important for the students."

"I am ashamed to say," answers Hushakert school principal, when asked how many students they have per class. According to him, each class used to have 25 students, but now the largest class has only 10 student. In total, 85 students attend the Hushakert school, and a substantial number of classes is comprised of students of different grades.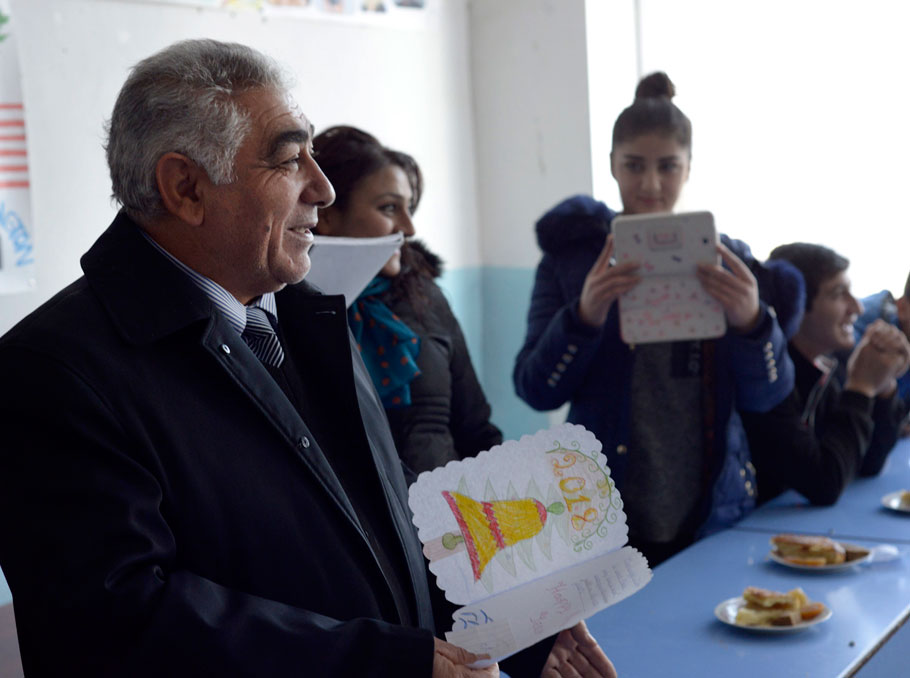 Photo: Vaghinak Ghazaryan/Mediamax


Willy-nilly Garik still compares schools in Yerevan and Hushakert. He was surprised by the small number of students in the village. He says that the number of students in Yerevan allowed him to organize a number of events, while the possibilities were limited in Hushakert. Nevertheless, they try to turn disadvantages into advantages.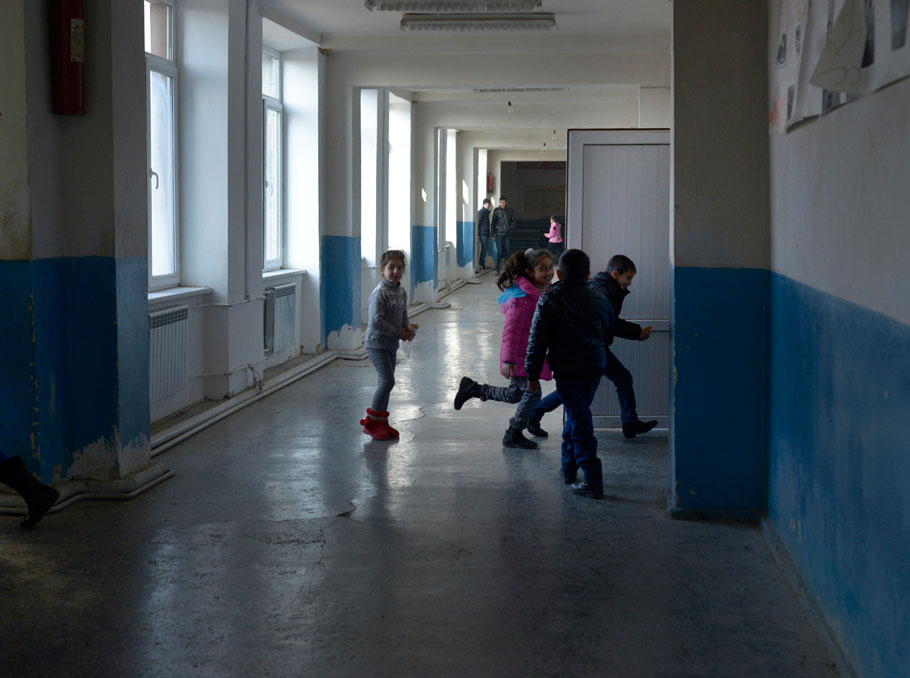 Photo: Vaghinak Ghazaryan/Mediamax


"In Yerevan students were not allowed to hang posters on the walls, as they might damage the renovation. One of the advantages at this school is children's opportunity to create posters and hang them on the walls, as we did during the lesson, dedicated to Petros Tourian's (Western Armenian poet) compositions. In the end, we had 15 new posters in the classroom," Garik laughs.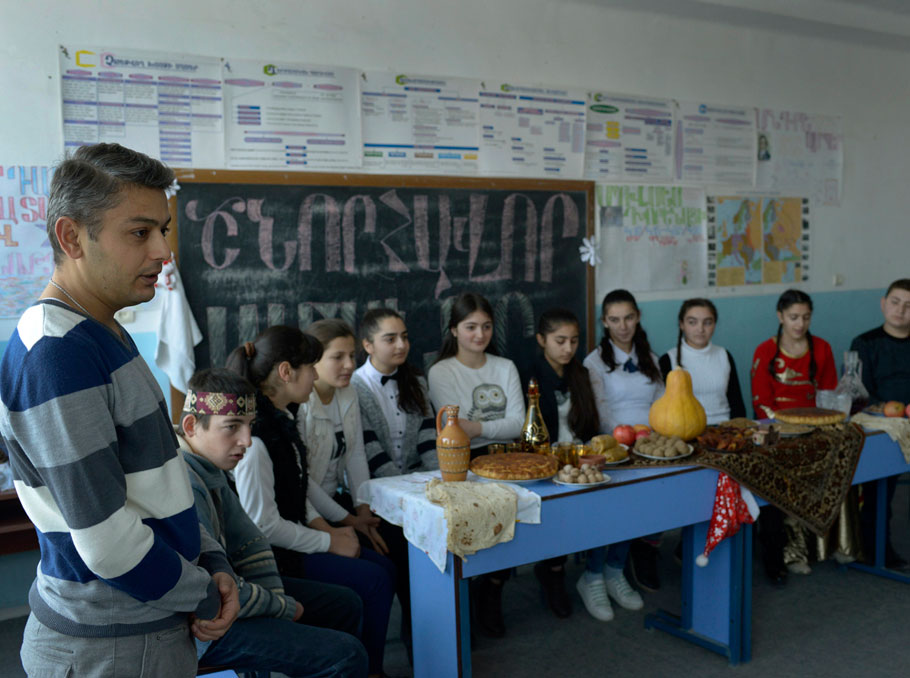 Photo: Vaghinak Ghazaryan/Mediamax


The 9th grade is very busy with extracurricular activity. One day the students put traditional Armenian dishes for New Year celebration on the tables instead of textbooks. "Everything has been prepared by children, except for pasus toma (cabbage leaves filled with various beans) by Mr. Tsatryan's mother," Garik presents the dishes to the guests of the open class. The children explain the origin of the dishes, ask the guests to try the dish, they sing, they dance and make toasts. If someone forgets what they should be saying aloud, Mr. Tsatryan doesn't whisper hints, he just continues like a good student would, "I will say it".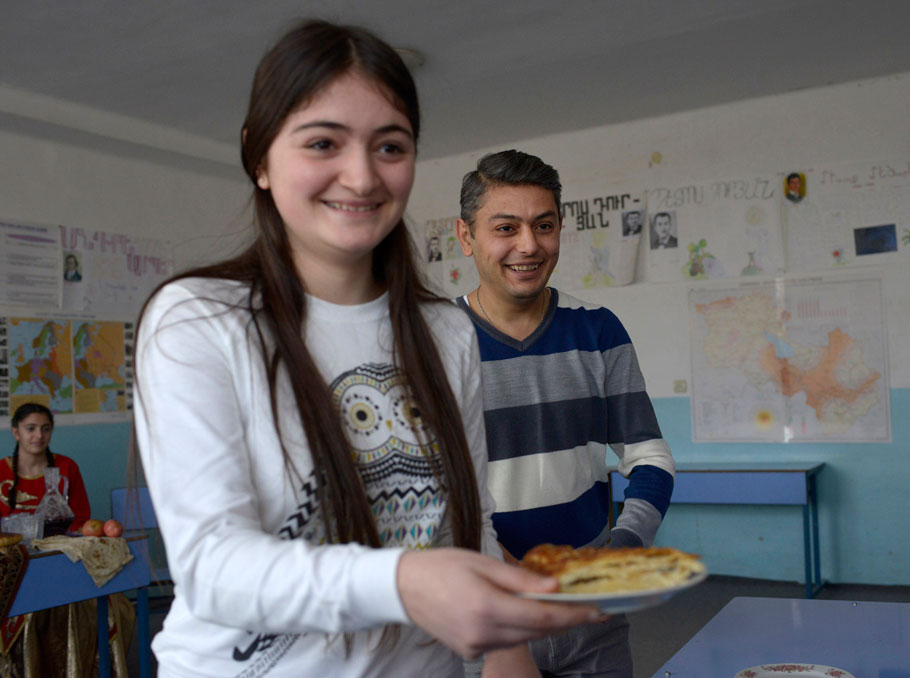 Photo: Vaghinak Ghazaryan/Mediamax


Everyone writes their wishes and dreams on a piece of paper and puts it in a special envelope. They will open it next year to see what has been realized. They know that dreams do not come true on their own, you need to be committed and put efforts, new ideas and knowledge.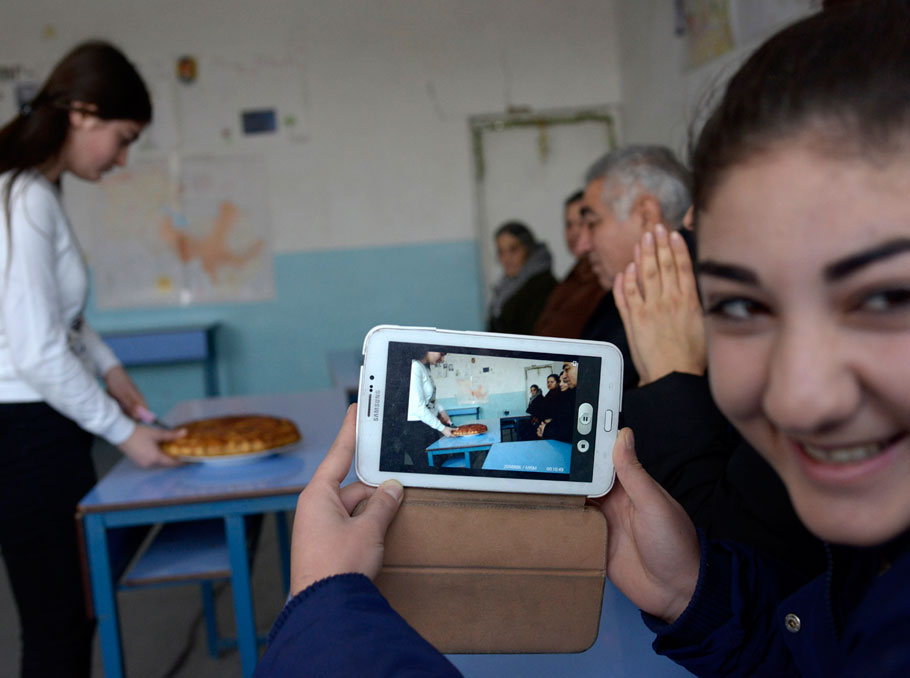 Photo: Vaghinak Ghazaryan/Mediamax


Garik initiated the creation of FLOMaster literary club. Together they chose a book to read, then discussed and analyzed it. Currently they take small books like "The Little Prince", "Jonathan Livingston Seagull", "Nazar the Brave". Many students ask Mr. Tsatryan to recommend some "serious" books for individual reading.

"They read books from "Anna Karenina" on the History of the Ottoman Empire. I would like to develop critical and analytical thinking among my students so that they are able to openly express their views, and understand that only lack of knowledge can prevent them from doing it."

Garik says that it is easy to motivate children in the village, as they are curious, active, initiating, and they participate in everything without complaints.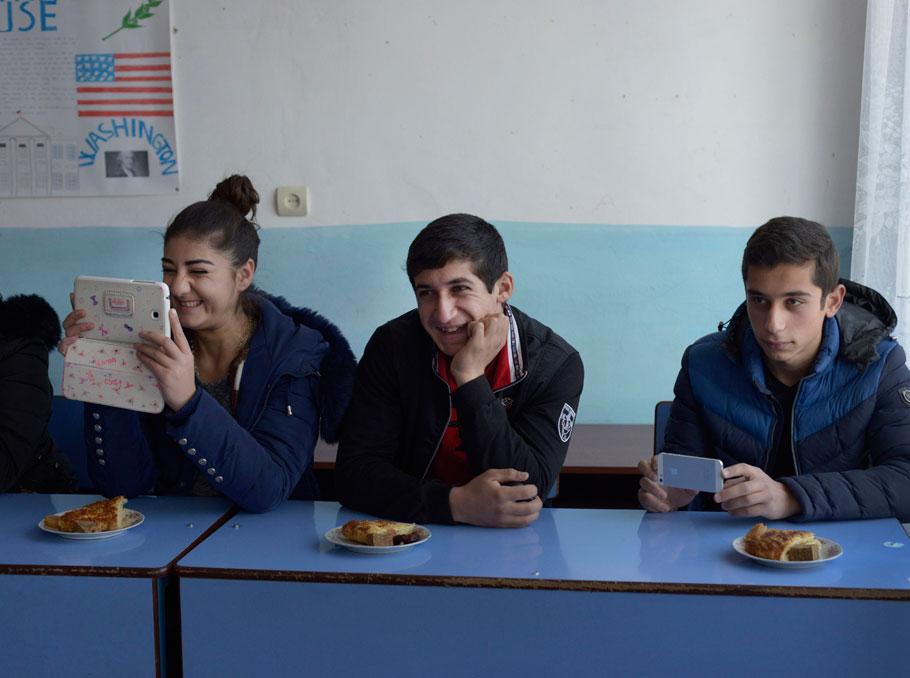 Photo: Vaghinak Ghazaryan/Mediamax


"He holds classes using new methods; he organizes trials and discussions. For example, if the lesson is dedicated to music, we listen to certain songs, discuss them and then speak about our favorite music. We are always looking forward for Mr. Tsatryan's classes," says Angela from the 12th grade.

Garik thought that 2 years of Fellowship is going to be a long time, until he got acquainted with the village and the students. Currently his life is divided into semesters and passes very quickly.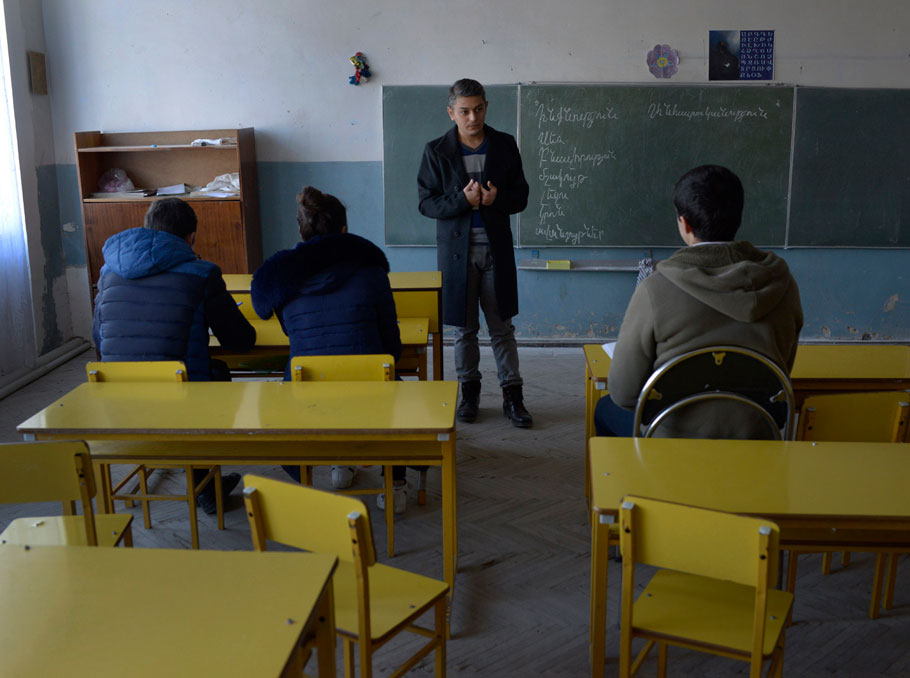 Photo: Vaghinak Ghazaryan/Mediamax


"Out of 4, I have already passed a semester, and I am sure the other 3 will also roll by quickly. Sometimes I just get jealous thinking about who is going to replace me and what he/she will teach these children. I think that my kids will be different in 2 years. Although they might not remember all the numbers from the history book, they will attach importance to having knowledge, learning a lot of important things, which will be useful for them in the future. "

While Garik was explaining social science to the only 3 students of the 12th grade, those from the 9th grade started to clear the tables. They put a letter for Mr. Tsatryan in his belongings and asked him to read it at home.

"Mr Tsatryan, we put the aghandz (roasted wheat, hemp seeds and nuts) in your hat. Your belongings are also there. Thank you for everything."

Lusine Gharibyan

Photos and video by Vaghinak Ghazaryan (for Mediamax)

VivaCell-MTS is the general partner of the project