The Teach For Armenia Fellowship is a two-year leadership development program for graduates and top professionals who speak Armenian and are willing to change not only their lives but also the lives of children living in Armenia. After training at Summer Institute, an intensive and rigorous five-week training program for Teach For Armenia Fellows, the Fellows are than placed for two years in communities where there is a teacher shortage. Fellows not only contribute to the development of children's personal growth and academic knowledge, but also to the development of the communities through extracurricular and community development projects.

Who are these young people who are not afraid of change and difficulties. What motivates them to leave their comfort zones for the greater good, all to inspire children to discover their talents and realize their dreams, while inspiring the future generations?

Through the support of VivaCell-MTS, Mediamax and Teach For Armenia launched a new project to shed light on the work and life of Teach For Armenia Fellows serving students and communities in the most underserved communities across Armenia.

Anyone who knows Mariam Marikyan, knew the three professions she would never be: doctor, teacher, and lawyer. The young theologist is convinced that doctor, teacher, and lawyer change lives and therefore, imply enormous responsibility.

However, volunteer work with school students, abandoned and having disabilities children made Mariam revise her stance. "I wanted to be the teacher I needed when I was a student," said Mariam.

Mariam has been following the Teach For Armenia program since the very beginning. She read enthusiastically about the young teachers who change lives of their students, helping them gain confidence and reach their goals. Into the third year of the program, Mariam finally managed to overcome her doubts and fears and join the program. She began filling the application but left it unfinished, as she got a letter from the Beijing University, notifying her that she was admitted to for a master's degree in the Department of Philosophy. The acceptance letter lacked certain points so Mariam rejected the offer of joining the University.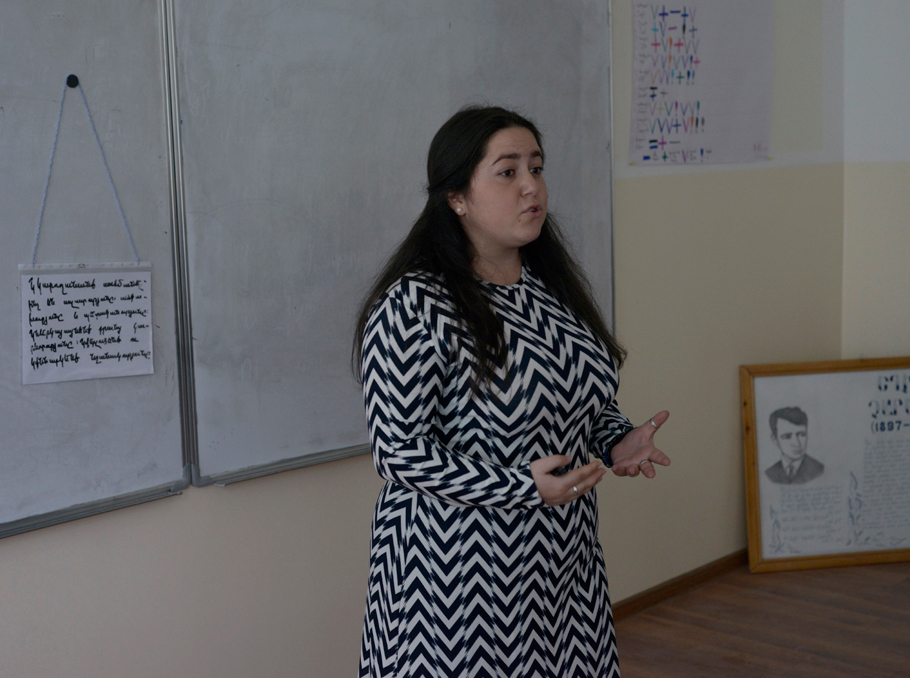 Mariam Marikyan

Photo: Vaghinak Ghazaryan/Mediamax


Later, she learned she was admitted into Oxford, she was excited to receive the acceptance letter but the tuition was high therefore she rejected the offer from Oxford as well. These challenges convinced Mariam she was on the right path, and she went back to the Teach For Armenia application.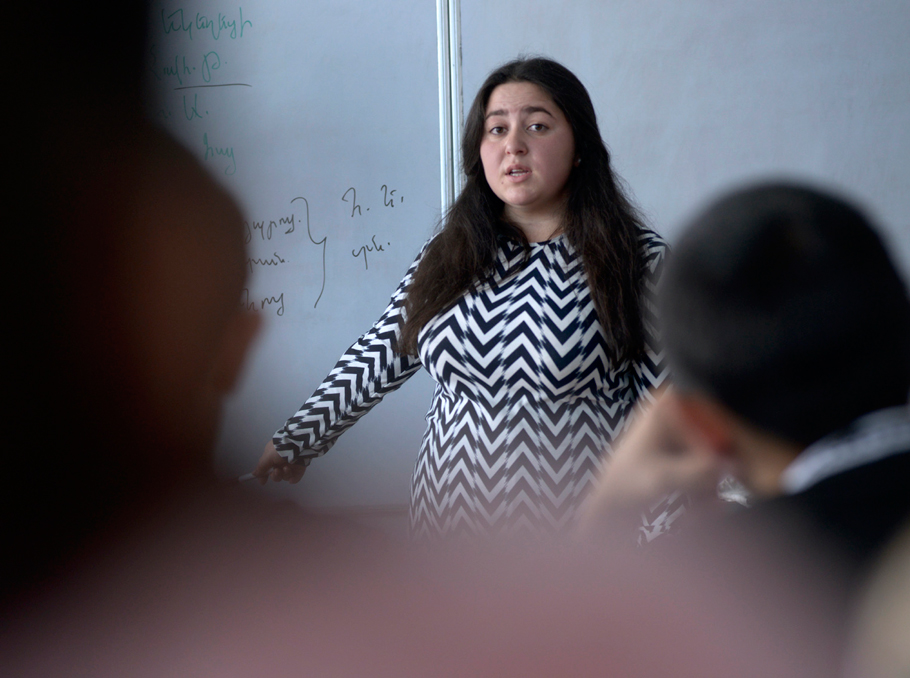 Mariam Marikyan

Photo: Vaghinak Ghazaryan/Mediamax


"I realized I wanted to be part of the Teach For Armenia program. If I am meant to attend Oxford, I will get there one day age is not a limitation," notes Mariam.

She is from Gyulagarak village in Lori marz. Her family moved to Yerevan when Mariam, her brother and sister became students. She is well aware of all the challenges and strengths schools face in regional Armenia. Mariam was hoping not to teach in the capital but in the Nerkin Karmiraghbyur community of Tavush marz (region) and her wish came true when she was placed in Nerkin Karmiraghbyur as an Armenian Church History teacher.

She first visited the community several years ago. At that time Mariam was introducing kids to the Children's Bible with a group of friends.

Mariam's parents were a part of the Artsakh movement, and her mother volunteered as a nurse in Goris. The family follows news from the borders with even greater concern than before (Tavush marz borders with Azerbaijan, and Nerkin Karmiraghbyur is roughly 1km away from the Armenian-Azerbaijani border – Mediamax).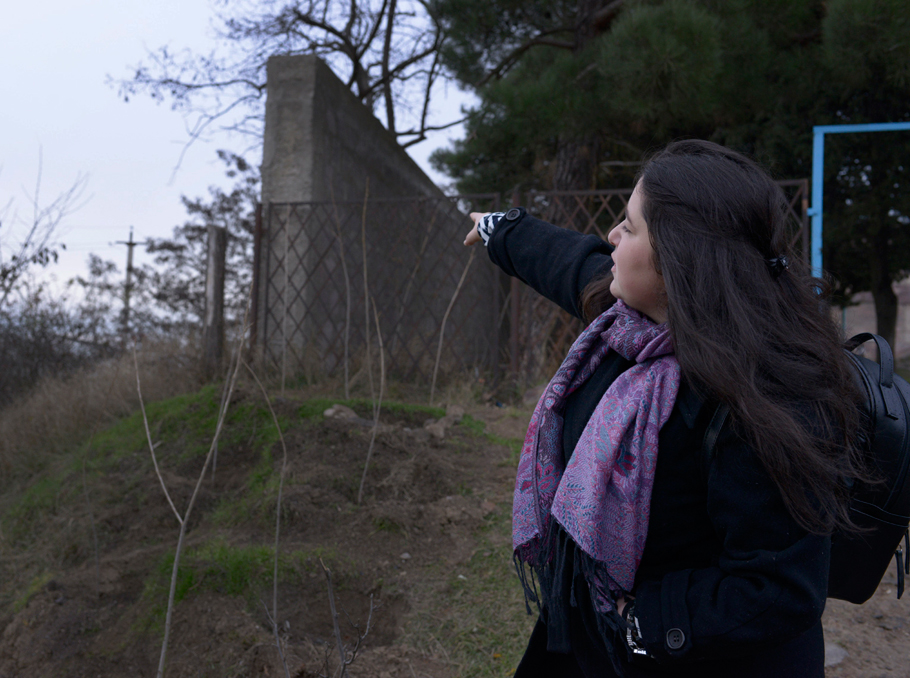 Mariam Marikyan

Photo: Vaghinak Ghazaryan/Mediamax


"My mother sometimes questions my decision of moving to Tavush, then she makes the comment that it was right for me to move to Tavush. My brother completed his army service this January and I went to Tavush in August. According to my mother, now they're waiting for me to complete my service, and they worry for me even more," tells Mariam.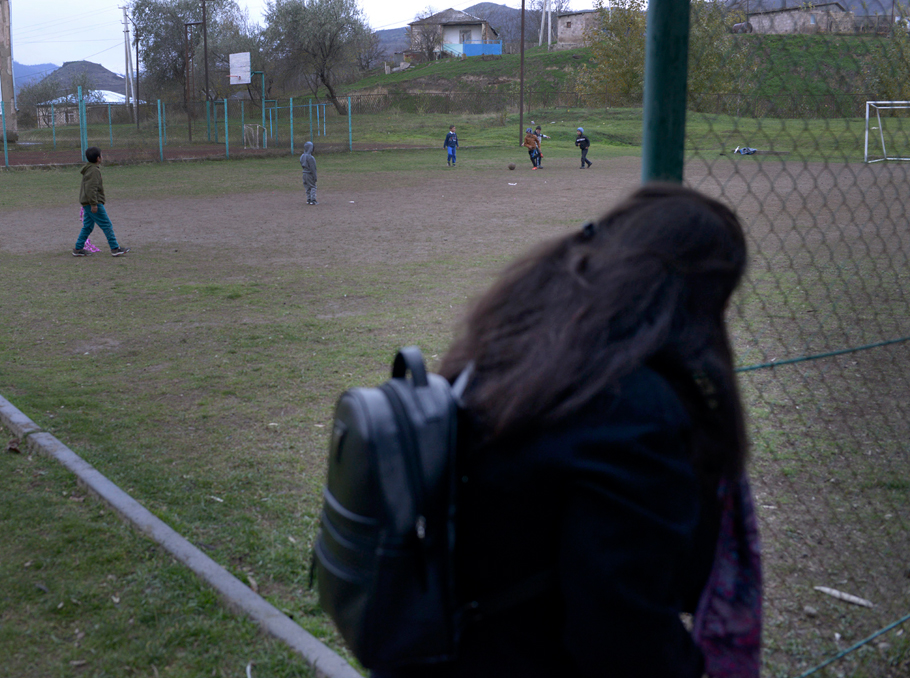 Photo: Vaghinak Ghazaryan/Mediamax


In Nerkin Karmiraghbyur, school principal Nara Papyan brightens up when asked about the number of students in her school. "With pride, she answers we had 74 students in 2016. This year, we recorded an increase! 79 children attended the school," she says.

Mariam teaches Armenian Church History. She doesn't have many classes and still, you can always catch Ms. Marikyan in the school: she leads a national song and dance club, an English club, and debate club called "Banali" ('The Key').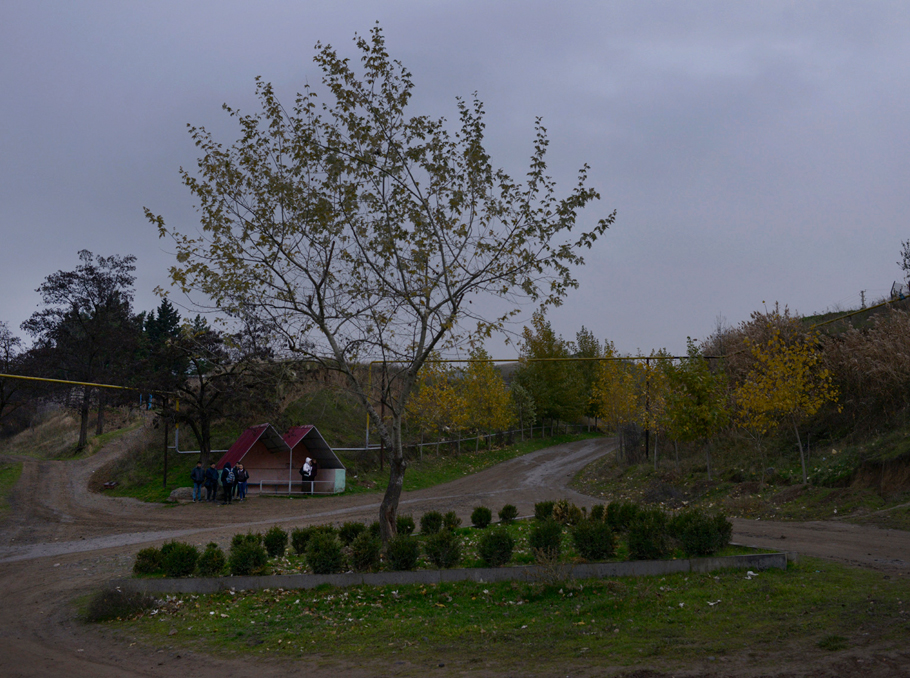 Photo: Vaghinak Ghazaryan/Mediamax


Mariam has already become a part of the community. She socializes with colleagues, students and other residents of Nerkin Karmiraghbyur. She is so comfortable in the community it's hard to believe she has been there for only 3 months. Mariam's "second family" helped her in this regard. She lives in Haykaz and Hamest Vardanyans' house, in the room of their daughter Narine. Narine herself went to a different village in August, also part of the Teach For Armenia Fellowship.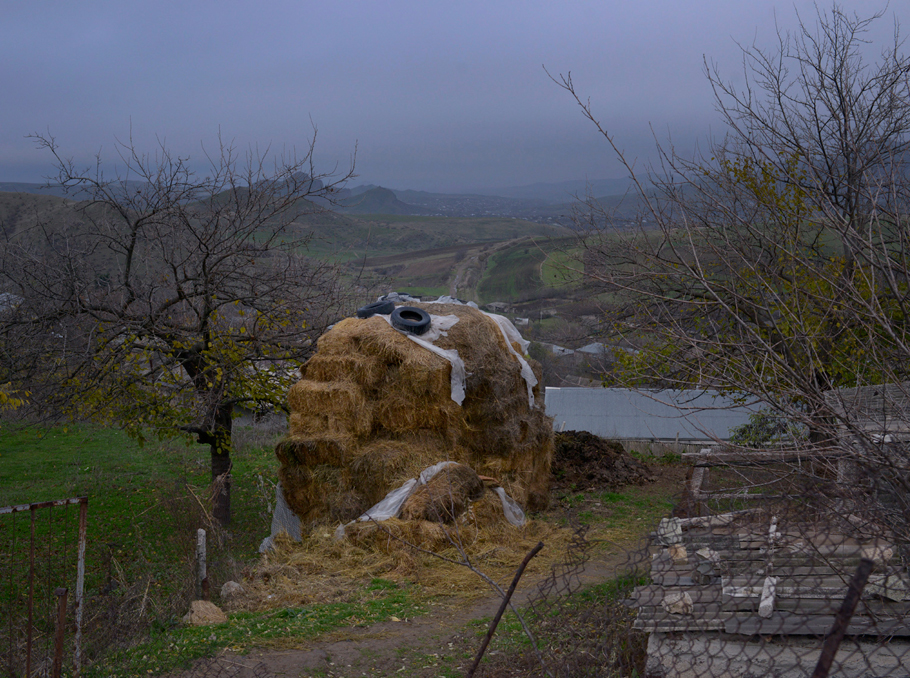 Photo: Vaghinak Ghazaryan/Mediamax


"I owe my quick integration to uncle Haykaz and auntie Hamest. They kept me protected from problems that would fall on my head all at once otherwise. We try to do the housework together. When my mother calls from Yerevan, she asks, "So, how's the family doing?" I have two homes now. As soon as I get home after work, they ask how my day went," comments Mariam.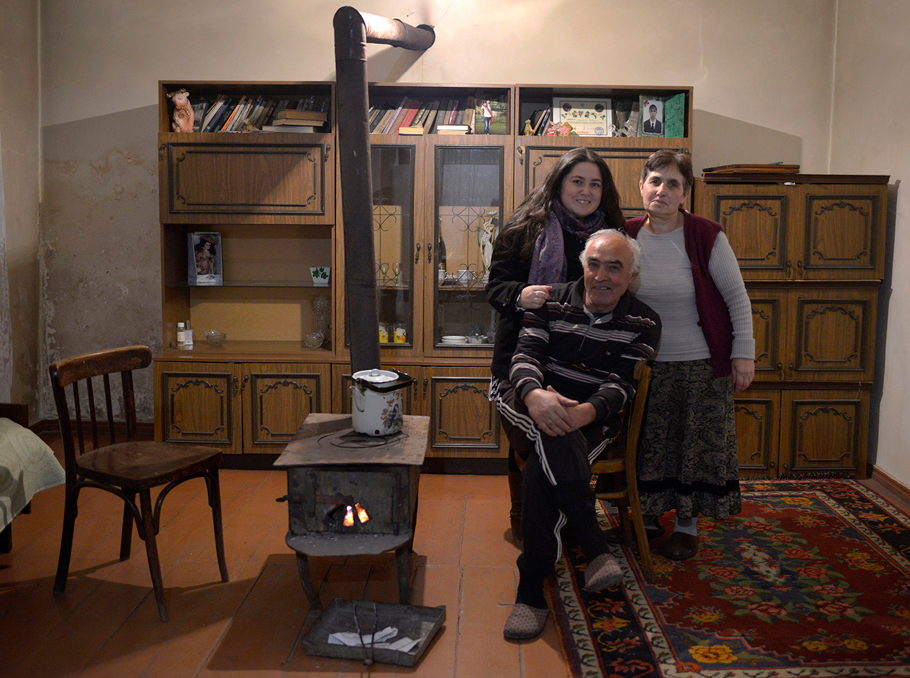 Photo: Vaghinak Ghazaryan/Mediamax


For the Vardanyan family, Mariam is already "their kid". Once she was coughing in her sleep, and they got up and warmed some milk for her. Haykaz Vardanyan tells he has already taught Mariam to distill homemade vodka. Mariam recalls, laughing, that her task was to add fuel to the fire to keep it going, but she was so tired, she fell asleep right next to it.

It turned out in early September that Mariam was also trusted to be the homeroom teacher for the 12th grade students.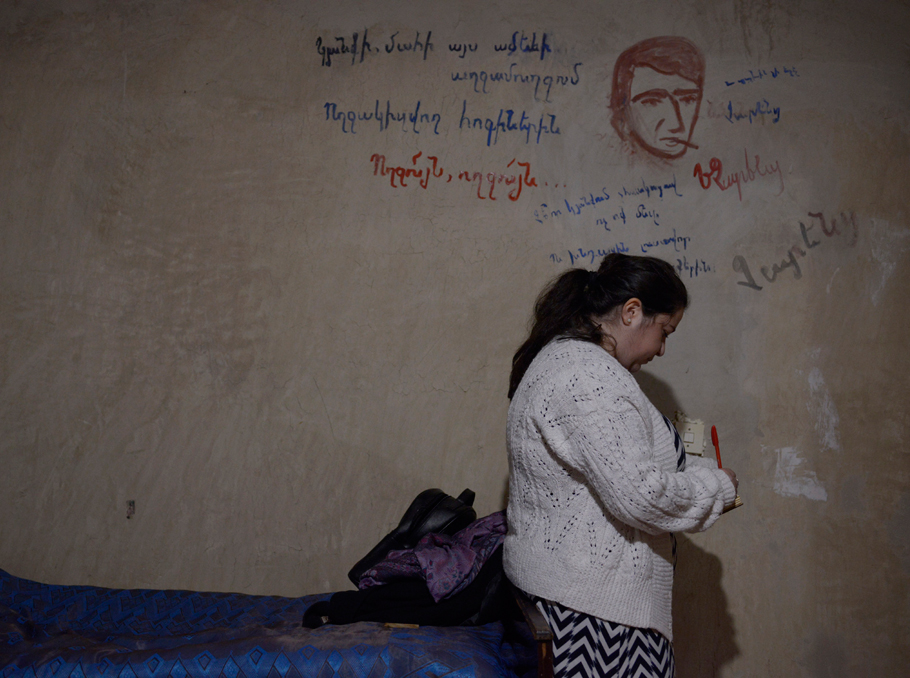 Photo: Vaghinak Ghazaryan/Mediamax


"When Mrs. Papyan told me, I'd be the homeroom teacher for the 12th grade, I looked at her silently, thinking that my students are taller than me with age difference of only 5-6 years. Then I found out that the naughty kids themselves asked Mrs. Papyan to appoint me. I got so emotional, I had to leave the room," tells Mariam.

Living at the border under constant danger makes these children more responsible and mature, it educates them on a different scale. As compared to other rural communities, where children are very careful even when it comes to dreaming, students of Nerkin Karmiraghbyur dream big. They have precise vision of education and future. More importantly, they can be happy about simple things.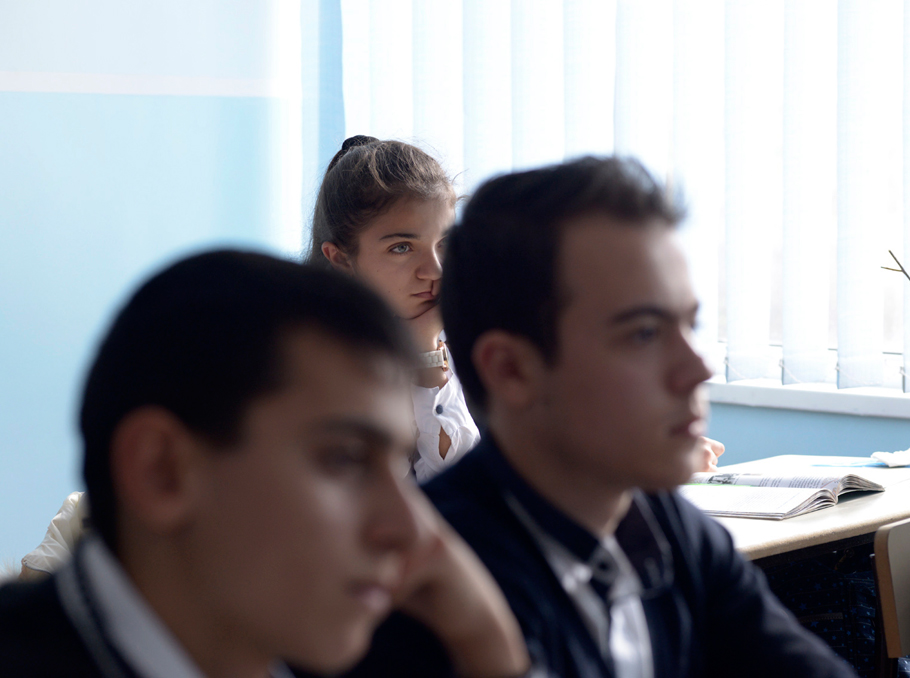 Photo: Vaghinak Ghazaryan/Mediamax



"There are people here who say "yes" to dreams and make them come true. You only need to give these kids a sparkle, and the fire is ready," Mariam says. She came here to give that sparkle, to believe in those children, and make them believe they can do anything.

Ms Marikyan "owns" the first 15 minutes of the lesson, when she presents the new topic. Then students start the discussion, call into question every idea, reject or confirm the truths in the textbooks. Excluding the fear of thinking, analyzing or speaking is Mariam and her students' priority.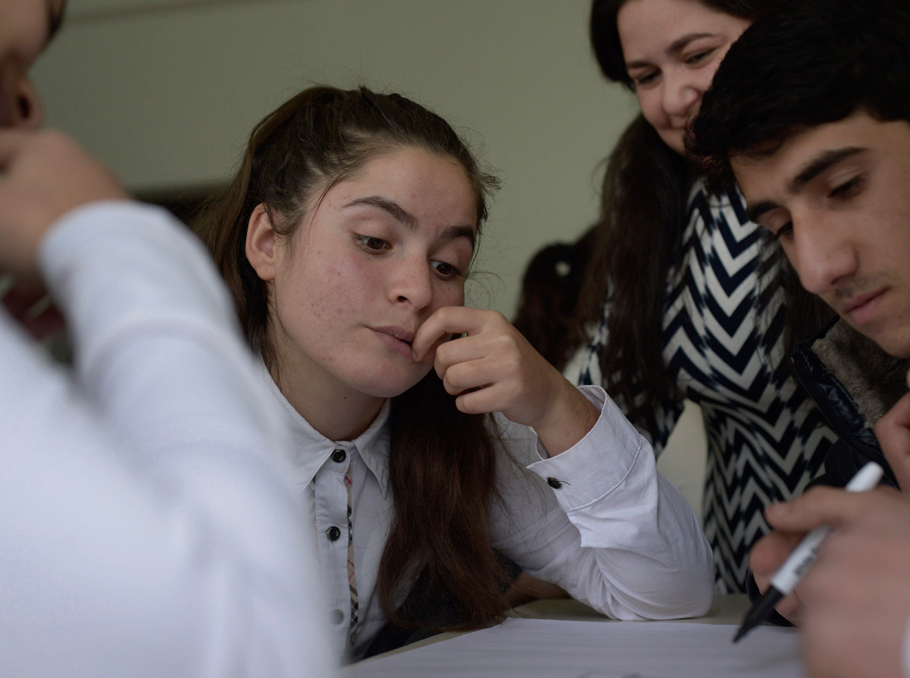 Photo: Vaghinak Ghazaryan/Mediamax


"I always tell them that it is true that a teacher gives you the knowledge, but you should never forget that teachers also may be wrong. I'm not against discussing issues or opposing them. I agree. I do not agree. Why do you agree? Why don't you agree? If we leave those questions out, children will never develop their critical thinking skills" Mariam says.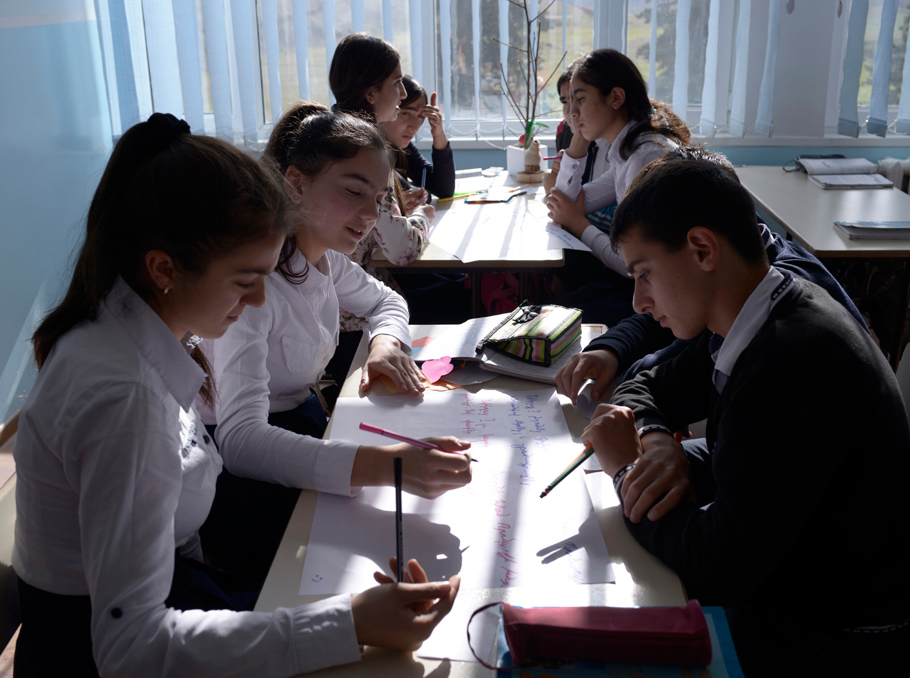 Photo: Vaghinak Ghazaryan/Mediamax


"Hey," comes the loud noise from the corridor, where children have formed two circles (older and younger students separately) and started dancing, by turns including Ms Marikyan in the circle or letting her dance in the center to follow her movements.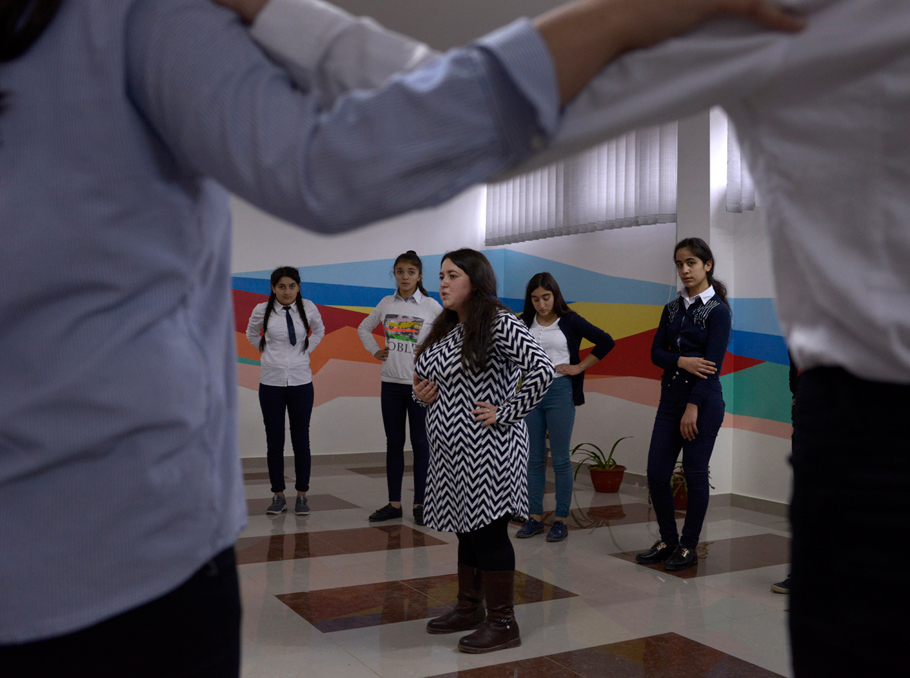 Photo: Vaghinak Ghazaryan/Mediamax


"Do not worry if something isn't going well, you will learn all the movements. Everything in life takes efforts," Mariam motivates the children.




"Ms Marikyan is always there for us, and she values our opinion. We started communicating freely since she joined us. She organizes classes in a way that you do not forget anything. We learn lessons at school and then go home. But most importantly, we want to extend the 2 years of her fellowship at our school," says Mane from the 9th grade.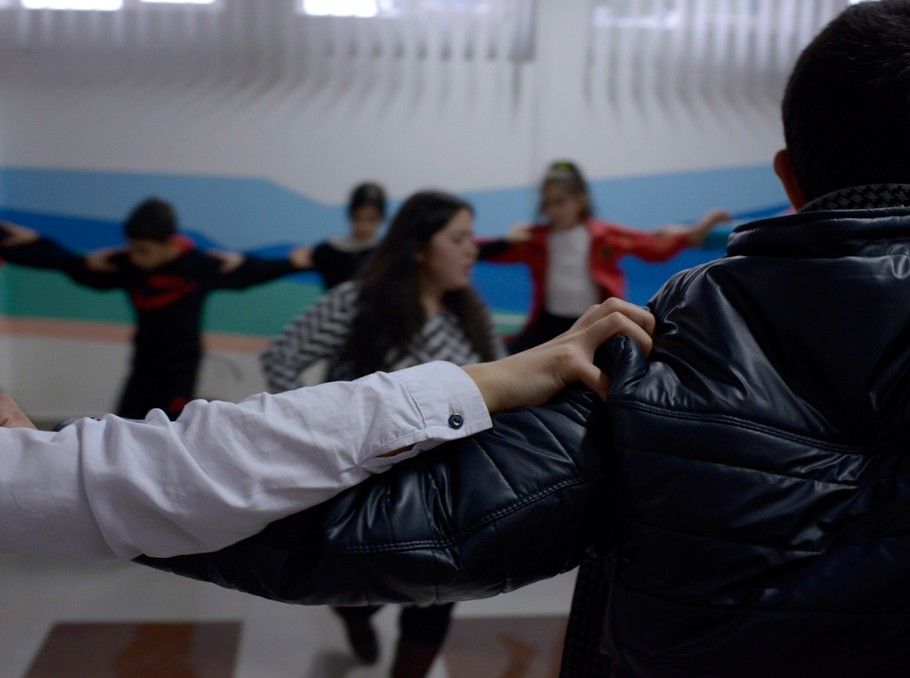 Photo: Vaghinak Ghazaryan/Mediamax


The topic of "in two years" bothers not only the students. The presence of Mariam and Armenian-Lebanese Arshaluys Amsih from Teach For Armenia has changed a lot at the school. "I have no idea what I'm going to do when they leave. I guess Tech For Armenia will have to send new Fellows," remarks the Principal of the school. Mariam also finds it hard to imagine her life without the village and the children she grew to love.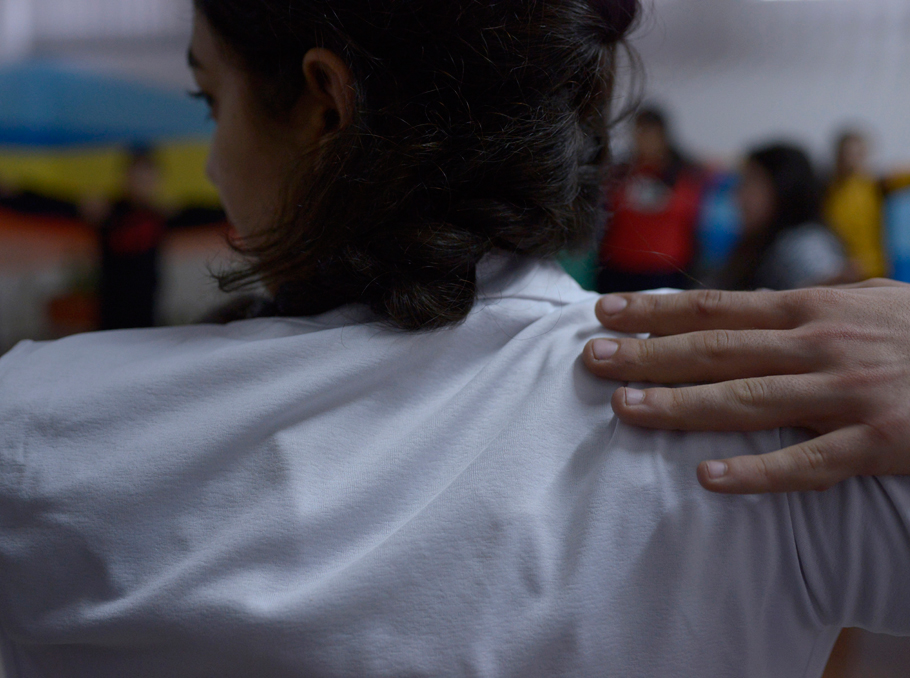 Photo: Vaghinak Ghazaryan/Mediamax


Mariam has already overcome the fear of becoming a teacher. She says it is similar to becoming a mother, when you don't know how to take care of a baby. Currently, she considers her students to be her greatest achievement.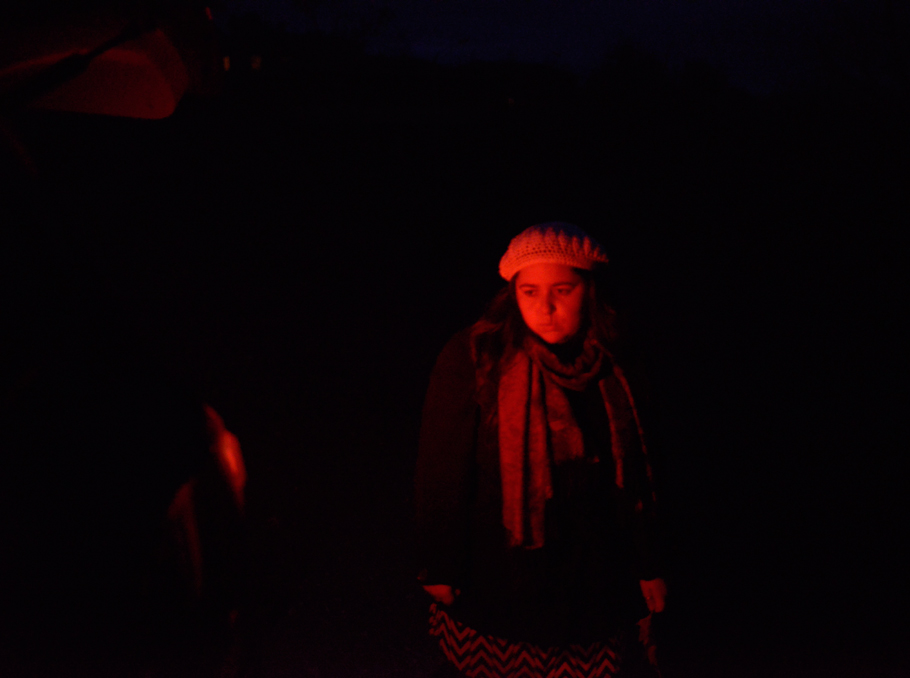 Photo: Vaghinak Ghazaryan/Mediamax


"The shine, the enthusiasm and naughtiness in the eyes of these children justify my mission here. The fear is now overcome, but I am still very careful. Mistakes may happen very often when you do something with fear. I always say to my kids, love what you do. The fear disappears when you do something with love," Mariam says.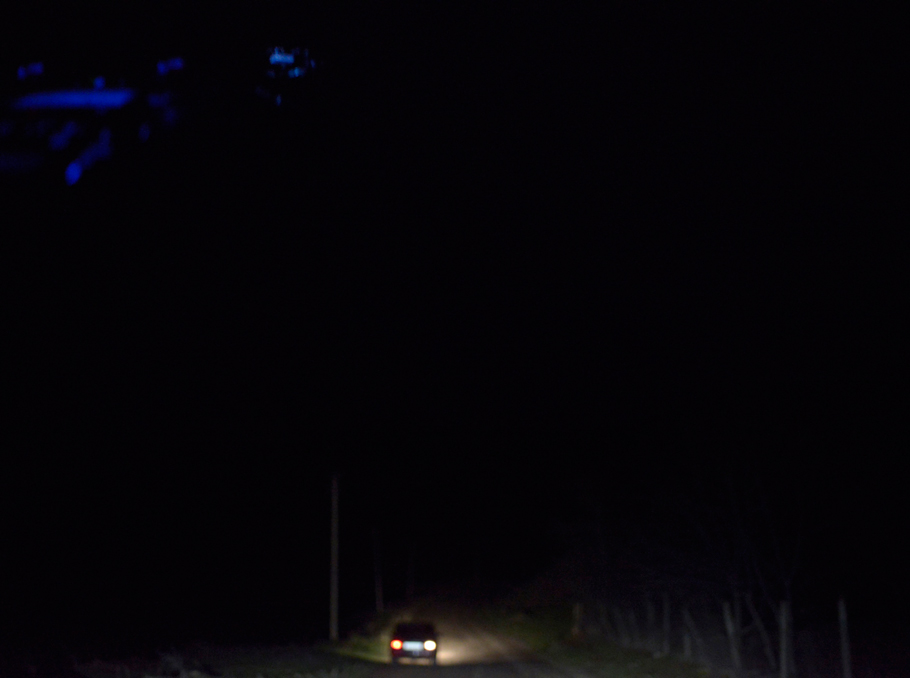 Photo: Vaghinak Ghazaryan/Mediamax


Armenia has seen the first snow, certain areas featuring a cover of several centimeters. The autumn is warm in Nerkin Karmiraghbyur, with persimmons still waiting to be harvested and rose hip leaves maintaining the color red. It is already dark and Mr Haykaz calls Mariam to find out where she is. "I'm on my way, you can go to sleep now," Mariam tells him. "I can't," replies Haykaz, "The roads are frozen and you aren't home yet."

Lusine Gharibyan

Photos and video by Vaghinak Ghazaryan (for Mediamax)

VivaCell-MTS is the general partner of the project