Teach For Armenia is a two-year leadership development program for graduates and top professionals who speak Armenian and are willing to change not only their lives but also the lives of children living in Armenia. After training at Summer Institute, an intensive and rigorous five-week training program for Teach For Armenia Fellows, the Fellows are being placed for two years in communities where there is a need for teachers. Fellows not only contribute to the development of children's personal growth and academic knowledge, but also to the development of the communities through extracurricular and community development projects.

Who are these young people who are not afraid of change and difficulties who leave their comfort zones for the greater good, all to inspire children to discover their talents and realize their dreams, while inspiring the future generations?

Through the support of VivaCell-MTS, Mediamax and Teach For Armenia have launched a new project to shed light on the work and life of Fellows serving students in the most underserved communities of Armenia.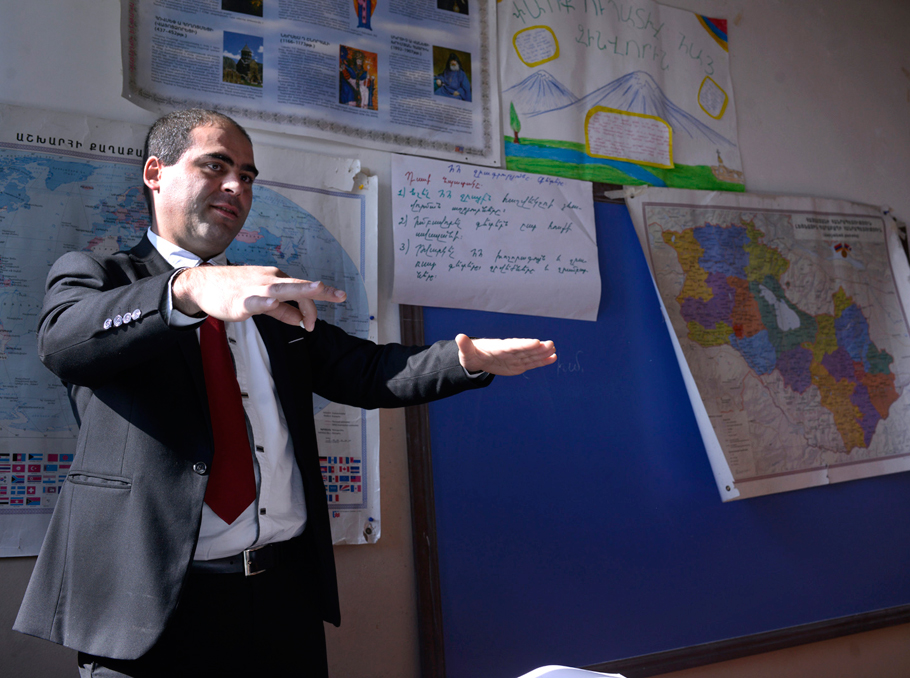 Photo: Vaghinak Ghazaryan/Mediamax


Mr. Martirosyan is the "most desirable" teacher in Yaghdan school. He counts the subjects he teaches: Homeland Studies, World History, Geography, and Social Sciences. Everyone in the school knows Mr. Martorosyan, although he teaches 5-9 grades he takes the time during recess to get to know all the students in the school.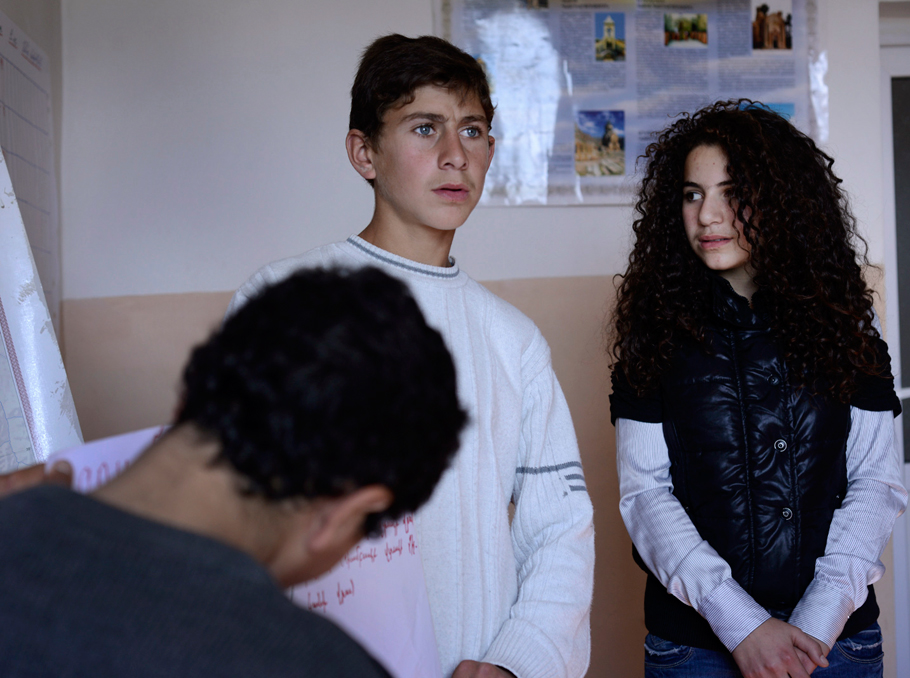 Photo: Vaghinak Ghazaryan/Mediamax


Husik is from Lori region's Lejan village, he teaches in Yaghdan and lives in Stepanavan. After graduating high school, he didn't have a chance to continue towards higher education. He was passionate about learning so he always read, educated himself and did a lot of volunteering with different NGOs. It was one of his friends who made him believe in his own potential and motivated him to seek higher education, 9 years later Husik entered the Vanadzor State University. "We always need that one person who will change our lives in a way that we start believing in ourselves", - says Husik.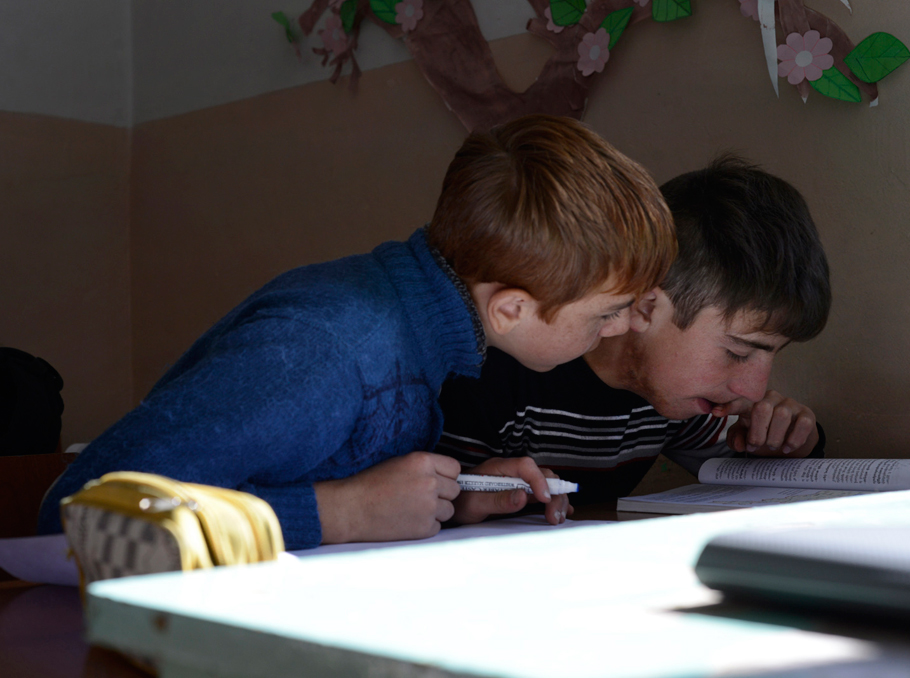 Photo: Vaghinak Ghazaryan/Mediamax


Now Husik is the one who inspires, encourages and leads his students. He says, many people may speculate that he wasn't able to find another job and started teaching but the truth is that Teach For Armenia gave him the chance to do what he loves. "Working with children is my rudiment. I like the process of exchanging information, giving and getting knowledge. Children are the kind of audience that always need to get news. I learn from them they have innovative ideas that I wish I had when I was their age". He remembers the moment when he entered his school for the first time, children were surprised to see him and another Teach For Armenia Fellow Arpine Baghdasaryan coming to their school. School teachers are mostly from Yaghdan, children grew up knowing their teachers before they even enter the classrooms. The appearance of new people in the village and school is uncommon and are considered to be an "event". It's already the second academic year, since Husik entered Yaghdan. "Children are very comfortable and friendly. They have the freedom to express any idea they have", - mentions Husik as his biggest achievement. During a short experience as a teacher he realized that the only thing students need is respect. He also understood that a teacher entering a classroom can't simply just make everything OK. Anahit Simonyan, the school principal, is not surprised that Mr. Martirosyan is the favorite teacher in the school. Every student matters to him. He does not allow for other to put down any of the students, he stands up for all student especially the ones that have been criticized. "We went to Yerevan on a tour. I told the children to be prepared for the lessons the following day. I did not want the students to miss school the day after the tour and use that as an excuse to miss school. One of the boys mentioned that he must go to school because he can't miss Mr. Martirosyan's class. He might not be a top preforming student but he does not want to miss school"- says the principal.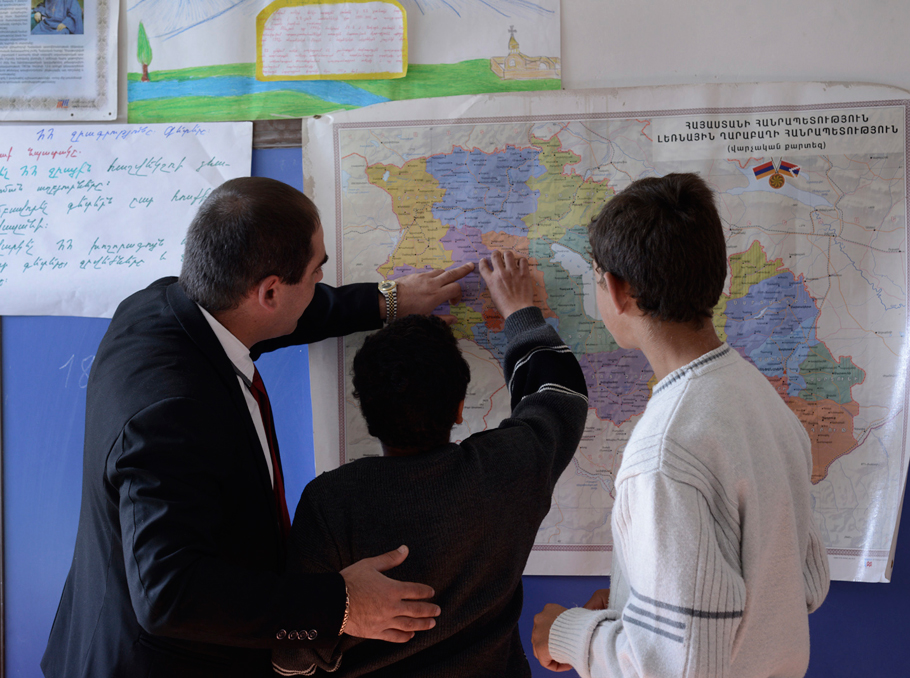 Photo: Vaghinak Ghazaryan/Mediamax


The tables in his 7th grade classroom are set in an uncommon way, the students seat facing each other. Today's subject of discussion is the Arshakuni Kingdom, the students share knowledge, summarize the topic and learn in an intellectual setting. In order for the students to learn in a different setting they play a game with the 8th grade students, teams are sets, questions are written the teams select questions worth 100, 200, and 300 points.



"Looking back now, good teachers during my school years were supposed to keep the class silent. For example, a teacher of mine was considered to be one of the best in the village. When you entered the classroom, you could hear even the sound of flies. Having order in the classroom was good, but nothing more. What will my children get if I teach them the capital of the Philippines by shouting at them? I will only break them. We have no other weapons than to motivate those kids."

Husik tries different ways to inspire his students. He says that the little ones are highly motivated with high marks. You can't motivate the older students with grades, and you can't punish them either. Besides academic growth the older students need real tangible achievements. "We have developed classroom rules together to be aligned and make sure we are all informed. It's simple, if no one breaks the rules they get 7 points, if they break one rule 2 points get subtracted. There are also bonuses for students who have great ideas and are actively engaged in the classrooms". We count the results and based on that we select the best student and give them achievement awards. Instead of giving them gifts we go to a café together. There is mountain in our village that seems impossible to climb, once as a class we climbed this mountain and it was very rewarding for students to do this, they felt empowered doing the "impossible".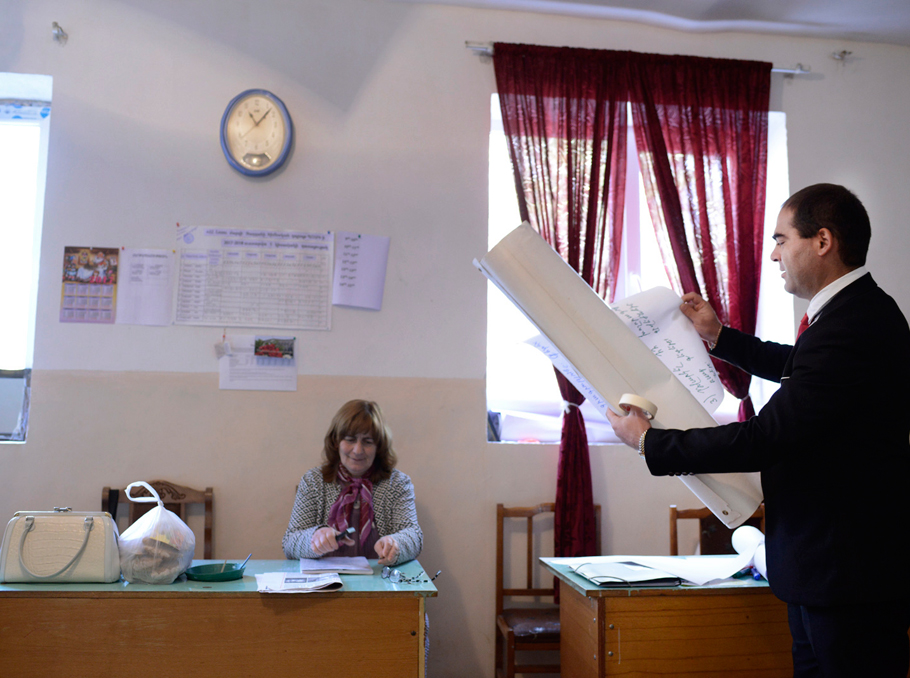 Photo: Vaghinak Ghazaryan/Mediamax


One day Mr. Martirosyan out of excitement threw one of the students in the air. The classmates were surprised by Mr. Martirosyan's excitement so he explains, "the student expressed a brilliant idea and I was so proud and excited that I could not express my feelings with words, I walked up to him hugged him threw him up in the air". The "punishments" are equally as unique for example, if a student does not stop swinging on his chair then his chair is taken away from him therefor, he has to stand up for the rest of the class.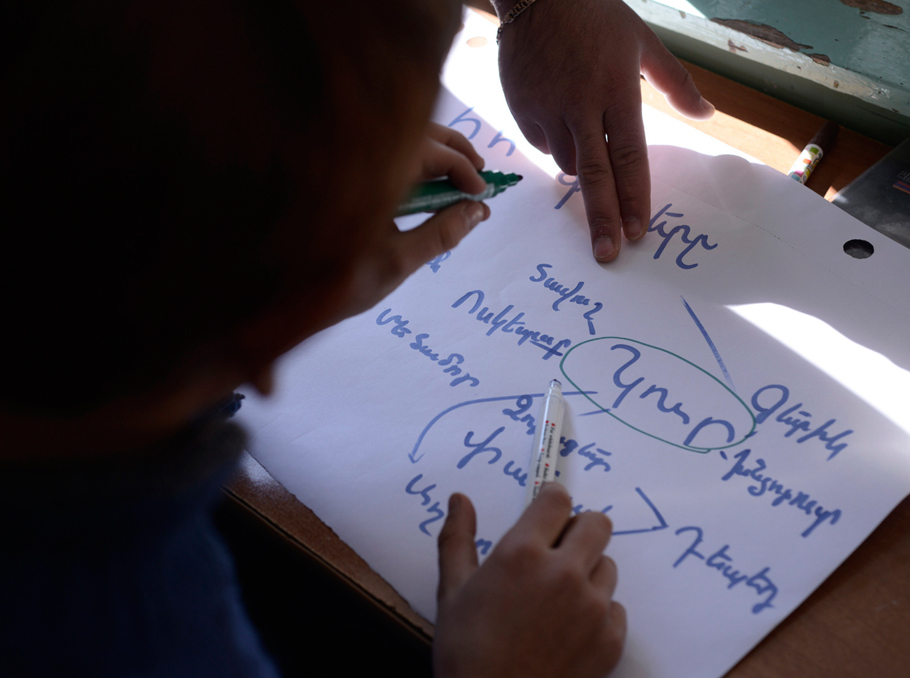 Photo: Vaghinak Ghazaryan/Mediamax


Husik attaches great importance to the role of being a male teacher. He says the problem is not what subject is being taught by a woman or a man, but in general the presence of a male role model is very important. "I do my best to spend more time with the male students both in a school setting and outside of the school. We play football, go fishing, and hangout. I want to see the way they behave in different environments. Every minute I spend with them, I try to show them the future I see for them".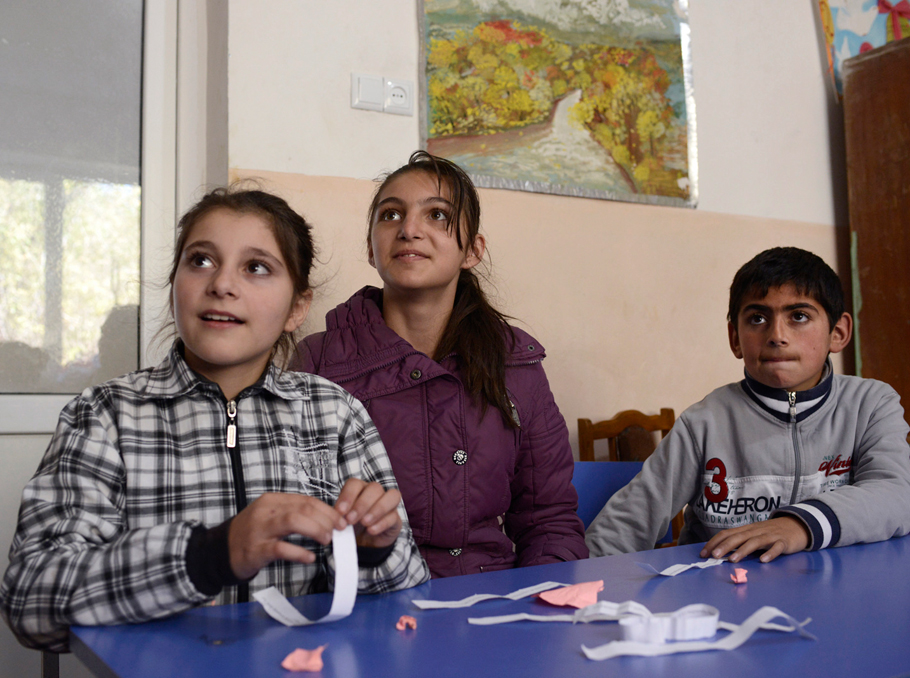 Photo: Vaghinak Ghazaryan/Mediamax


During his first year Husik had a leadership club. They talk about equality, purposefulness, persistence and many other important topics. They initiated important community project to unite children around common goals and increase their responsibility towards their community. They set up a "Park of Peace" in the yard of the school, installed benches, pavilions, and planted trees.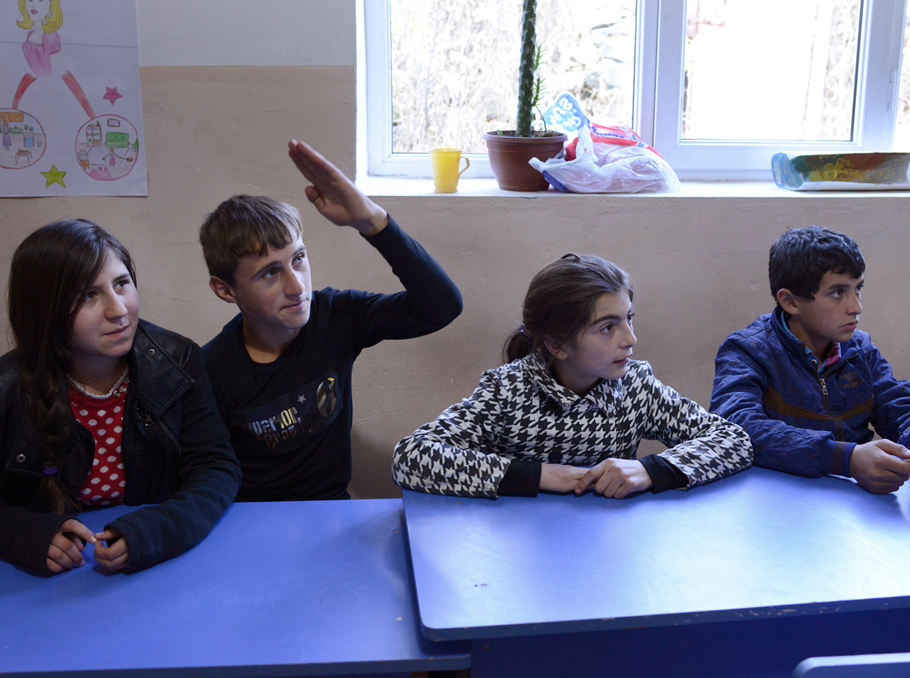 Photo: Vaghinak Ghazaryan/Mediamax


"Having spirit is every important. It's the same in the battlefield, if the soldiers don't have spirit if they don't believe in victory, all their skills will not be utilized. We can equip a child with academic knowledge within a short period of time, however, they will not be ready for life with just academic knowledge. I want to have students who are flexible, know how to use their knowledge and are equipped with the right skills to succeed".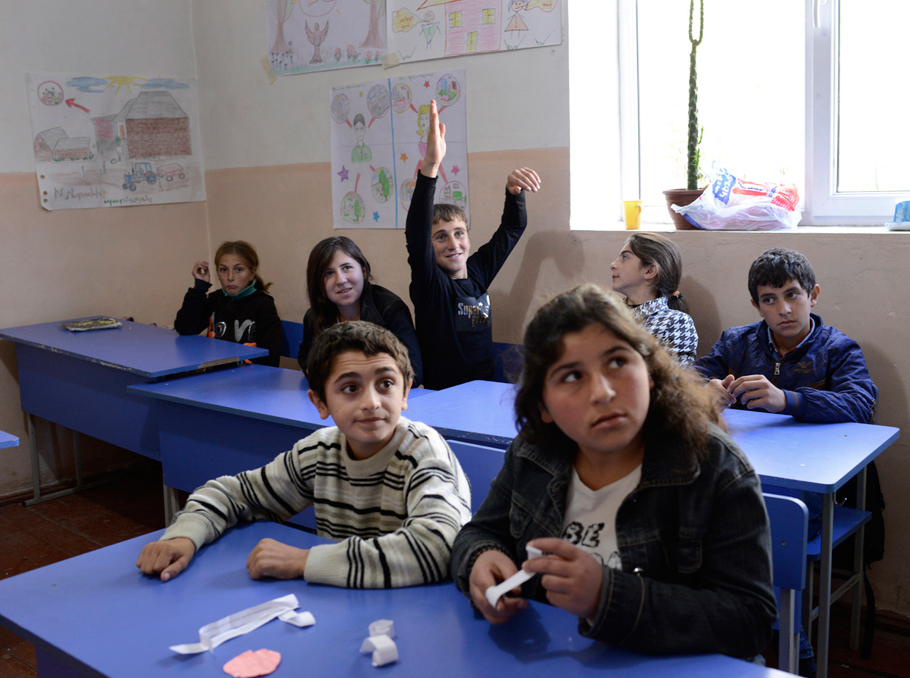 Photo: Vaghinak Ghazaryan/Mediamax


Husik says that in one year his students have changed dramatically. He is having a hard time satisfying their curiosity now. Everyday questions and demands of new knowledge is increasing. Some days he is forced to check something on the internet during his lesson to find necessary information.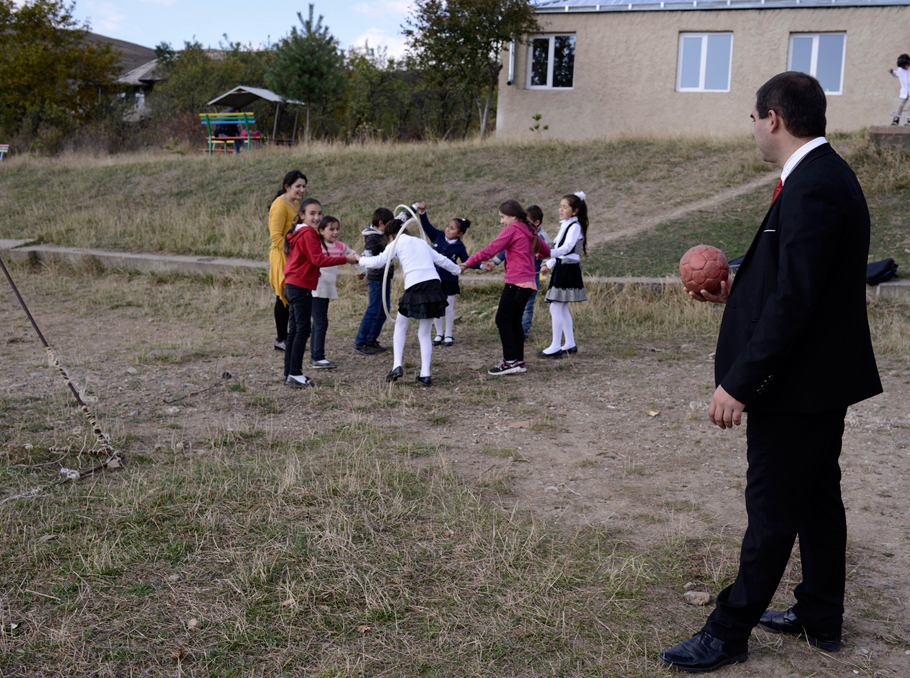 Photo: Vaghinak Ghazaryan/Mediamax


"When you ask children what they want to be when they grow up, they just find a profession out of nowhere and say I want to be a pilot or a football player. But in reality, they know they don't' have opportunities for doing more that their village provides. They know that they will become either a shepherd or a farmer. In their most colorful dreams they imagine themselves as farmers because becoming a shepherd is more of a reality. Once we were discussing that they can become whatever they want to be all they need to do is believe and work hard. One of the children asked, Mr. Martirosyan, who can I be? Here was a child that does not believe in himself and thinks he can't do anything. I worked a lot with this student to make sure he knows that he can be anything he wants to be. My children are very motivated now, I feel the difference. I need to do more, now I need to show them concrete steps on achieving their dreams besides believing in a dream you also need to work hard".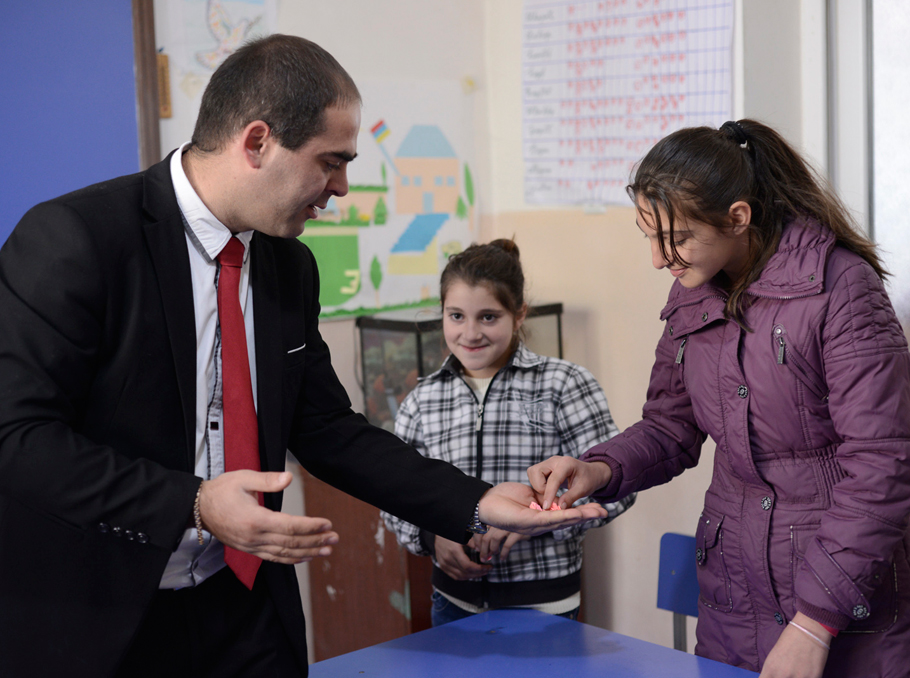 Photo: Vaghinak Ghazaryan/Mediamax


Husik continues to work on his self-development to bring new ides to his classroom and community. This past summer, he participated in Teach For All's Reality Revolve Leadership Development program in Israel. He returned back to his classroom inspired and determined to fight for expanding opportunities and the rights of the new generation of leaders. Husik had the chance to share his experience in USA within "The Role of Social Justice in the Community Development" program. During the three-day meeting, they talked about the importance of personal and professional development, and the ability to make changes through the use of potential.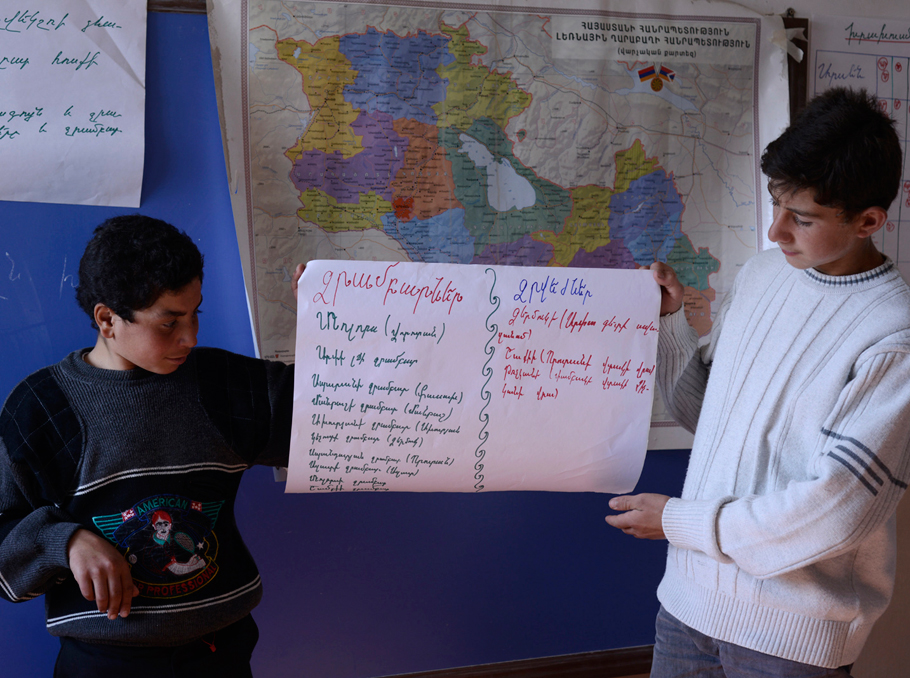 Photo: Vaghinak Ghazaryan/Mediamax


Husik's school principal says that he is very decisive. He sets goals and achieves them. "He wants to become a school principal. I don't know whether he will replace me or another principal", - jokes the principal. Husik smiles when he hears this conversation, he claims that becoming a school principal is not in his plans anytime soon.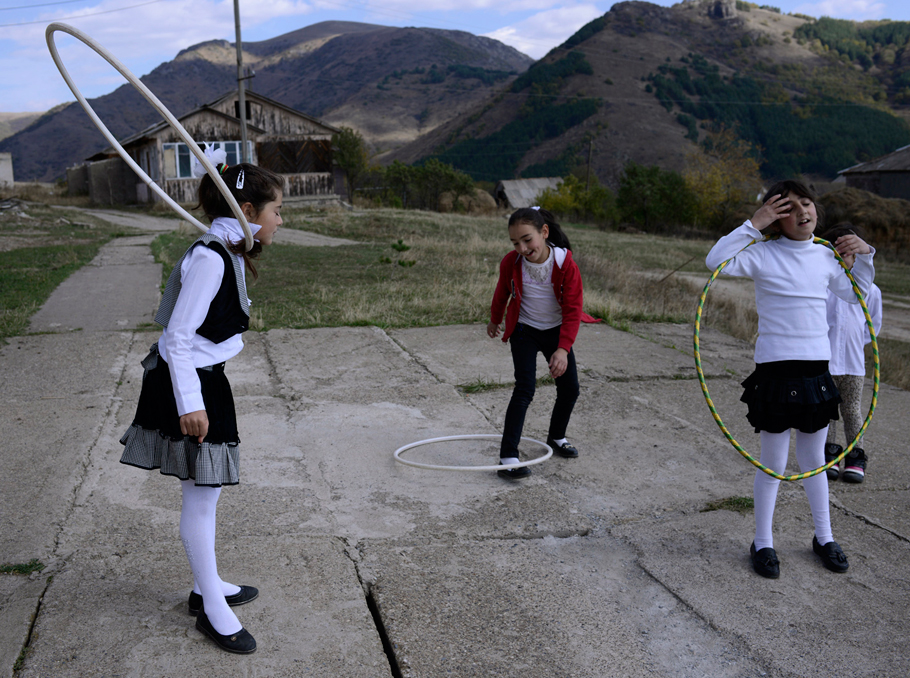 Photo: Vaghinak Ghazaryan/Mediamax


The elections of the community council in the Lori Berd region are coming up soon, Husik wants to participate in them. He is not affiliated with any political party; he doesn't have posters and never organized any meetings with candidates. He says that the community was merged recently, and there is an issue of fair distribution of resources.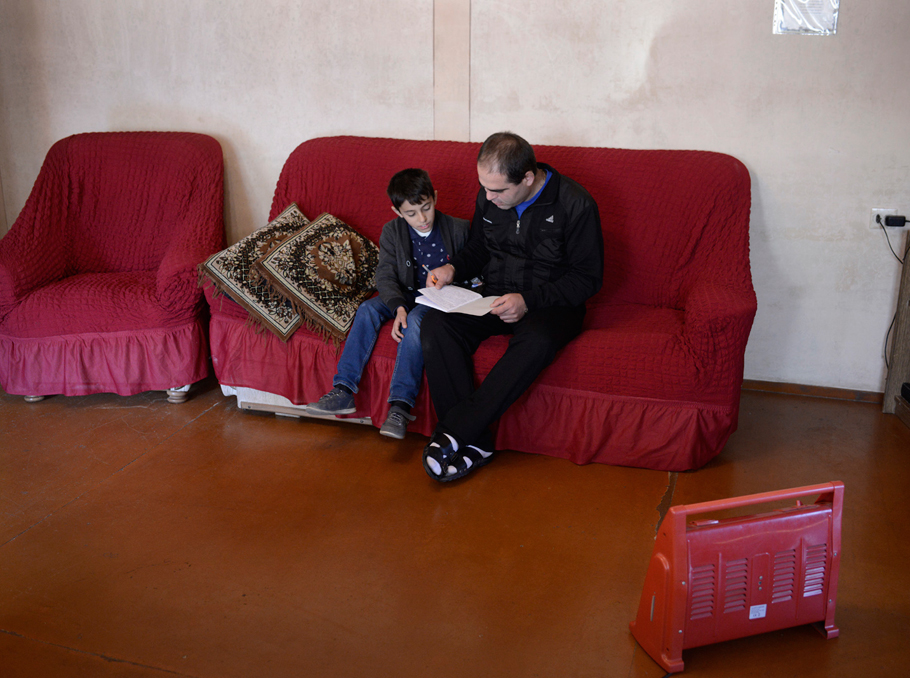 Photo: Vaghinak Ghazaryan/Mediamax


"Everyone needs a well-informed people to guide, to restrain, and to speak of the peoples' interests".

Husik has a lot to do in the Lori region and in Yaghdan school. When he first entered the school, he was convinced that two years was enough time to make changes and have positive results. As time draws to end, the feeling of running out of time is becoming a reality.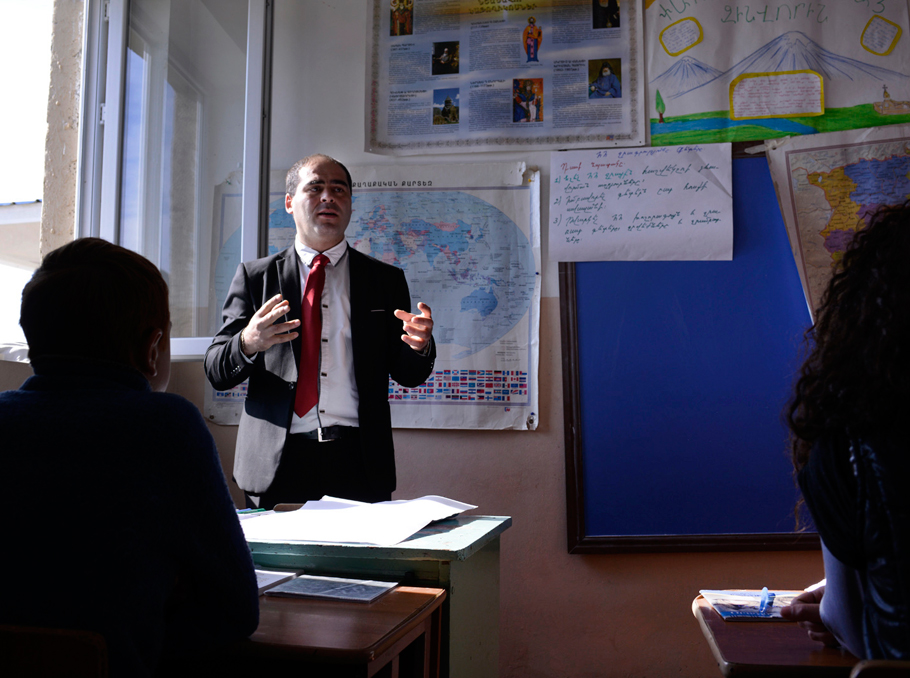 Photo: Vaghinak Ghazaryan/Mediamax


"I was completely a different person before becoming a Teach For Armenia Fellow. We have potential and we need to develop it, and guide in the right direction. As in physics - if we do not move the electrons, no power will be generated, and if we do not direct our thoughts, nothing will happen. I would like many to pass my way. There is no turning back afterwards. They will become those bright lights in the public that will do their job. I am full of hope".

Lusine Gharibyan

Photos and video by Vaghinak Ghazaryan (for Mediamax)

VivaCell-MTS is the general partner of the project