Teach For Armenia is a two-year leadership development program for graduates and top professionals who speak Armenian and are willing to change not only their lives but also the lives of children living in Armenia. After training at Summer Institute, an intensive and rigorous five-week training program for Teach For Armenia Fellows, the Fellows are being placed for two years in communities where there is a need for teachers. Fellows not only contribute to the development of children's personal growth and academic knowledge, but also to the development of the communities through extracurricular and community development projects.

Who are these young people who are not afraid of change and difficulties who leave their comfort zones for the greater good, all to inspire children to discover their talents and realize their dreams, while inspiring the future generations?

Through the support of VivaCell-MTS, Mediamax and Teach For Armenia have launched a new project to shed light on the work and life of Fellows serving students in the most undeserved communities of Armenia.

There are many posters in the corridors of Sarchapet village school. Some of them are about safety rules, patriotism, and quotes from great minds. At the end of this past August one more poster appeared on the wall that read: Thank you, Teach For Armenia. This year Lori region's Sarchapet village school welcomed not only its first-grade students but also new teachers who have moved to their community: Susana Tatyan, Yana Yeghshatyan and Jivan Abrahamyan.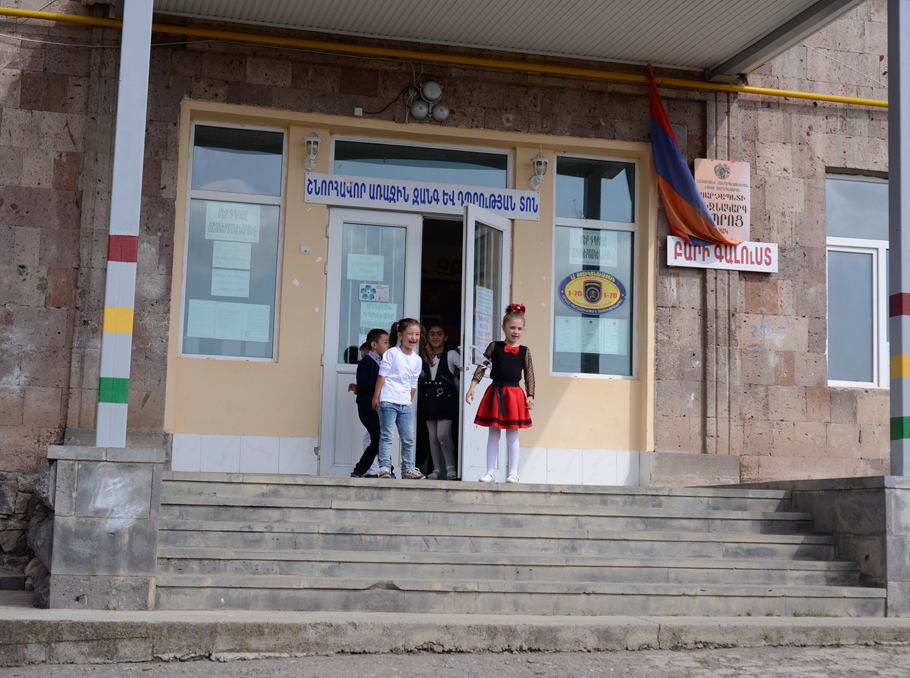 Photo: Vaghinak Ghazaryan/Mediamax


''They are good, the most important thing is they smile as they used to in the Soviet times, they are very enthusiastic'', - says School Principal Hamlet Davtyan.

The longest breaks between the lessons start from 11:10, all teachers gather in teachers' room and share parts of their day. Sarchapet school has 168 students. The principal says if a miracle happens and all the families who left the village one day come back, there will be 500 students in the school. For Susana, who entered the school for the first time, 168 is a big number. She works almost with everyone, teaching English to 3-12 grades students.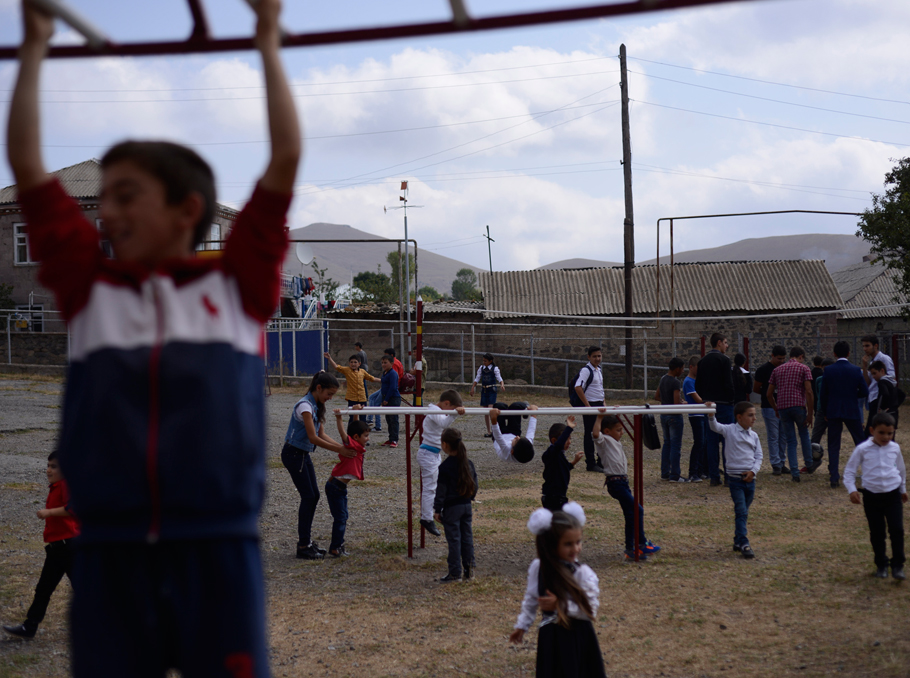 ''When I came to the school for the first time, I was trying to act like a "typical" teacher, but when I saw the children, I wanted to hug everyone. They're looking at us with bewilderment, watching us from head to toe'', - says Susana, who only a month ago added "Miss" in front of her name.

Susana is 27, she graduated the French University's Management Faculty. Nature, mountains, and canyons are Susana's rudiments. She says that the love towards villages and rural communities comes from that.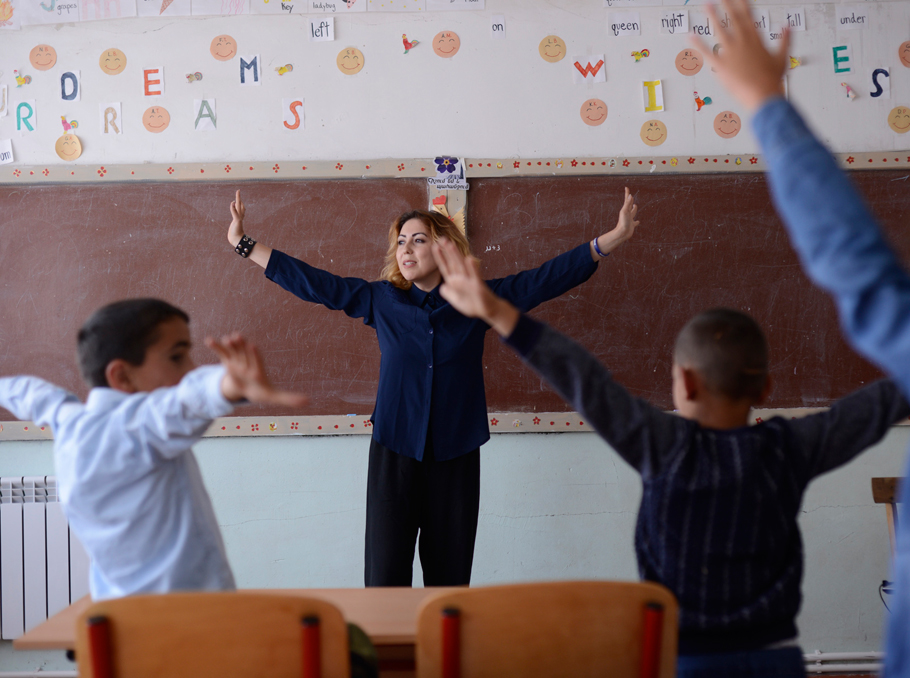 Photo: Vaghinak Ghazaryan/Mediamax


Her last job was at the organization that produced printing materials. A girl approached Susana for printing some documents. Susana saw "Teach For Armenia" on the papers just by chance. She heard about the program before, but didn't have enough courage to apply. She always thought that she wouldn't be able to work far from her family, friends, Yerevan. She started to ask the girl about the program. "When Anna started explaining, I already had made a decision in my mind that I was going to apply", - shares Susana.

It was the last day of the applications. Susana sat for three hours to fill in the online application. Then, she says, everything went very smoothly, one phase of the selection followed another, and in August she found out that for the next two years Sarchapet village would become the center of the Earth for her.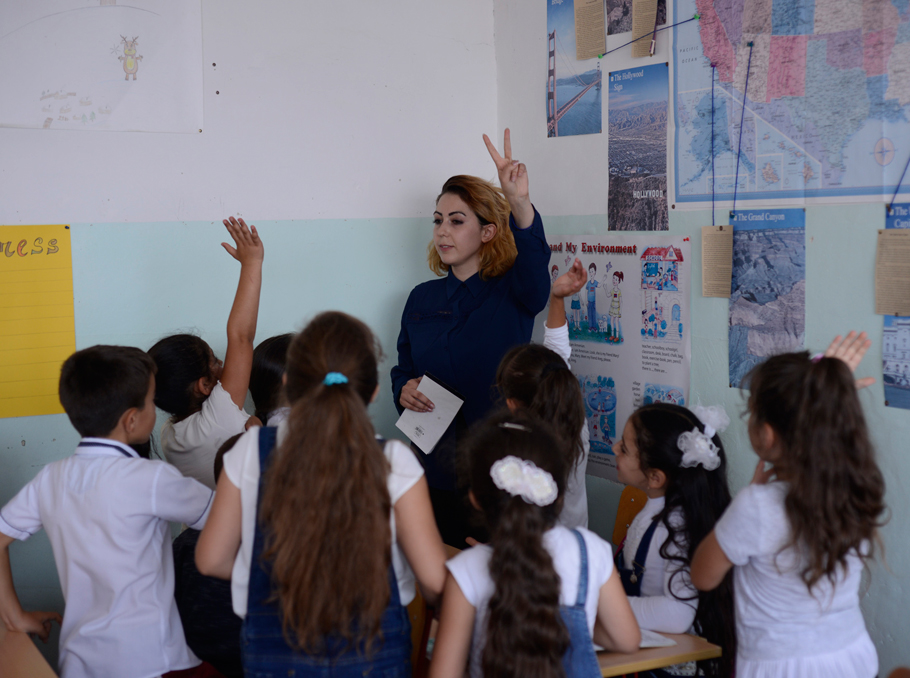 Photo: Vaghinak Ghazaryan/Mediamax


"There is such a saying "Be afraid of your dreams, they may come true". That's what happened to me. A couple of days ago I put everything aside and was trying to realize where I am, what am I doing. At that time, I realized that I dreamt about this, I always wanted this, maybe only subconsciously. I worked in many places, interacted with so many people, but I didn't feel comfortable. Now almost everything contributes to the fact that I can understand that this is mine. This is what I need right now, for my personal growth, I have a goal and I work towards it. Now I am on my way to achieving those goals".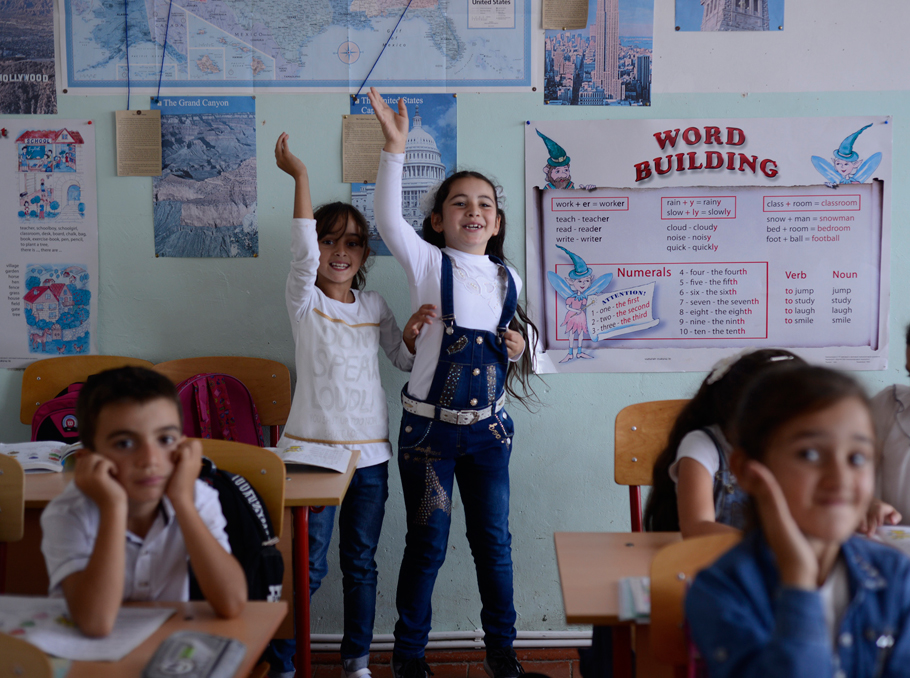 Photo: Vaghinak Ghazaryan/Mediamax


Everyone welcomed the teachers in a very warm way. Susana says that moving from Yerevan to Lori wasn't hard for her. She just misses everyone. She lives in Tashir but has already found a house in Sarchapet and wants to move there. Despite the fact that the living conditions in Tashir are better, Susana wants to become part of the community, be closer to her students and other colleagues from Teach For Armenia – Jivan and Yana, who live in Sarchapet.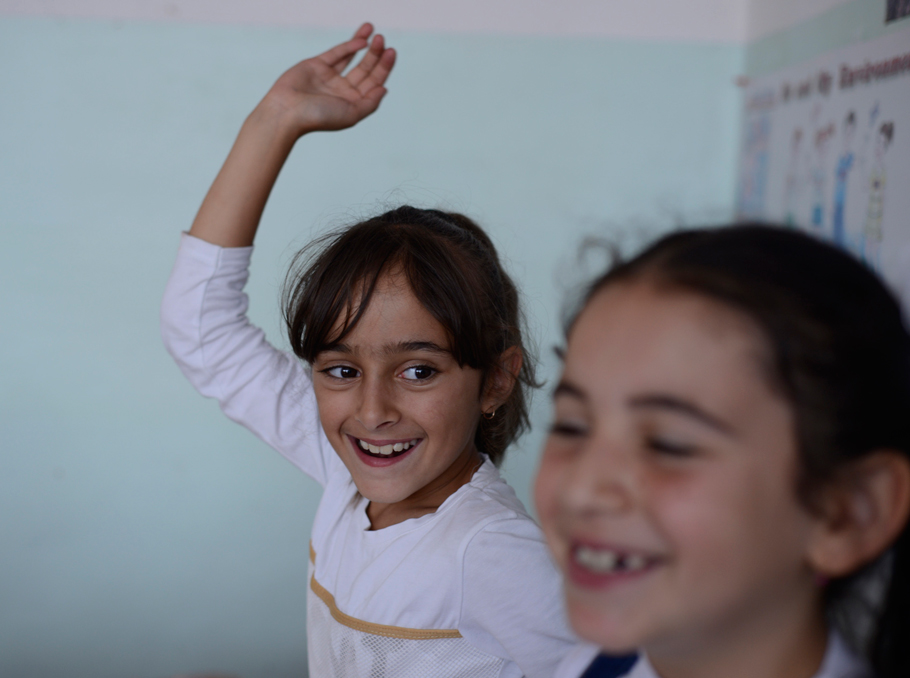 Photo: Vaghinak Ghazaryan/Mediamax


''I know for sure that my work will be more productive here. I have never thought of being a teacher in a city school. I know that they need me here. Even a wish to change something will have its positive impact both in the community and our lives. This work is not an aim in itself. All the Fellows have their deep stories of why they joined Teach For Armenia and work with children''.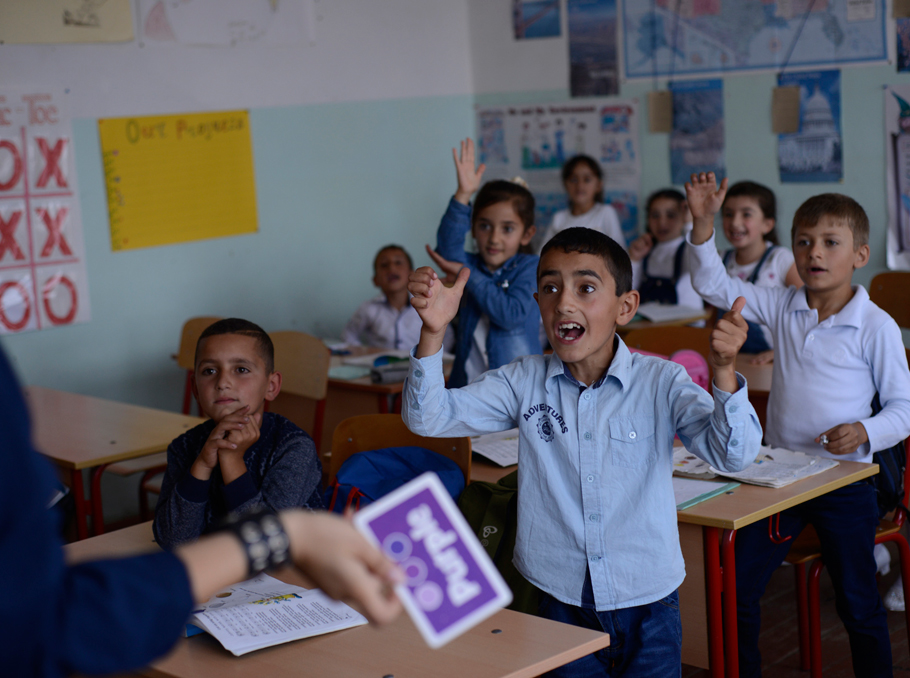 Photo: Vaghinak Ghazaryan/Mediamax


Young teachers are not afraid of difficulties. She says that when she realizes why she is in Lori region, all the problems move aside. She understands that she needs to seek ways for solving problems, to develop as a person and a professional. Children are great "teachers" too.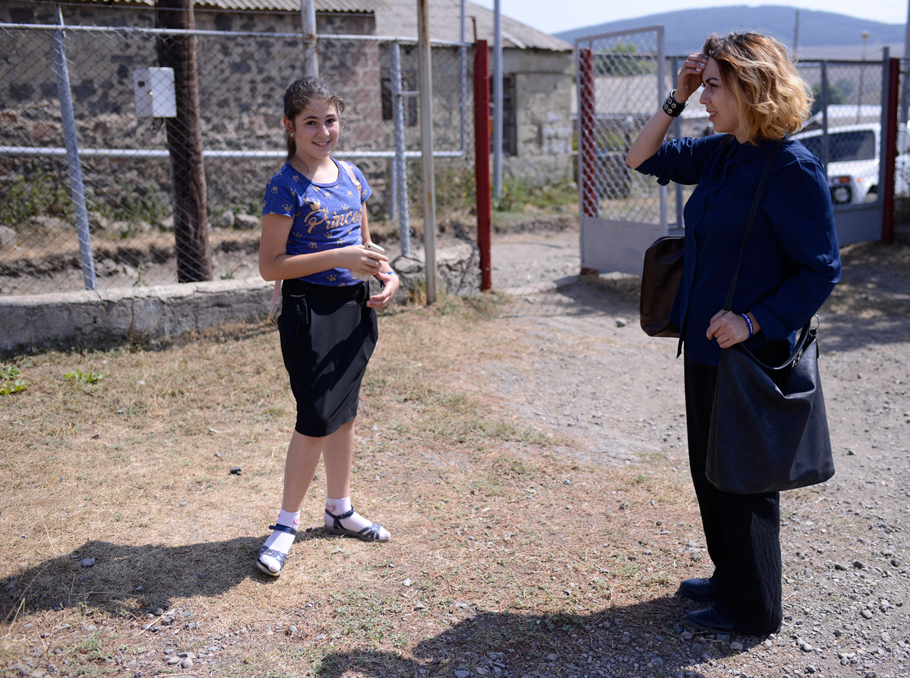 Photo: Vaghinak Ghazaryan/Mediamax


When they run into me in the street, they always say: Good morning, Miss. Susanna. At school, in front of everyone, they may just smile or whisper Miss Susana, Miss Susana, to each other. They are not the same with Jivan. When we enter the school together, they say "Hello, Mr. Abrahamyan". I am here too, then they smile and I calm down, it's important", - laughs Susana.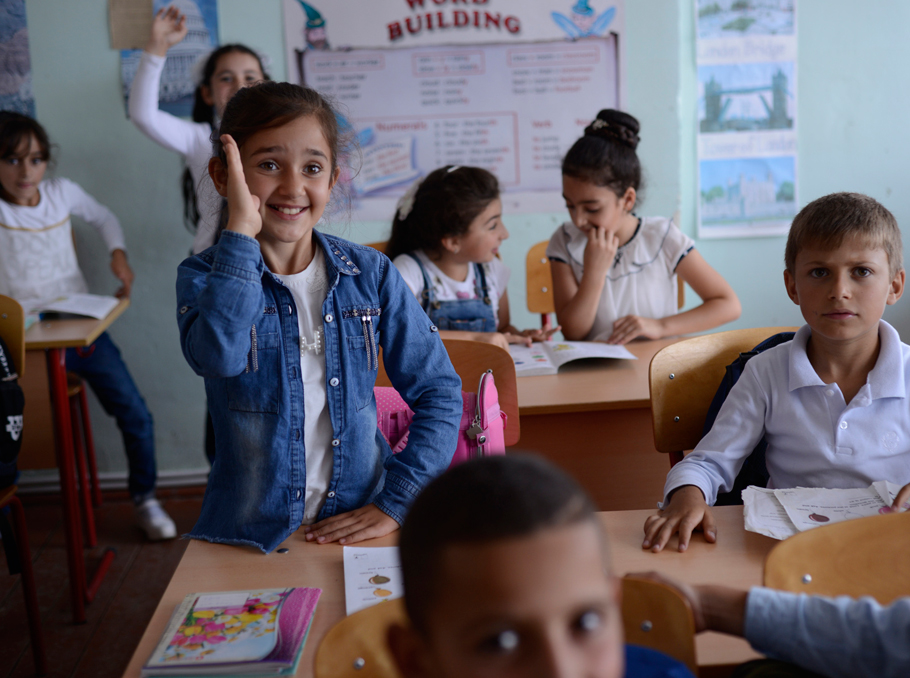 Photo: Vaghinak Ghazaryan/Mediamax


Every school subject has a special classroom. The keys for the English room were handed to Miss Susana. The rules of their "family" were discussed together with students. The red card is given if someone breaks the rules, stars are given for progression. There is a competition between 3-12 grades: from now until the end of the semester they are getting stars on the "Our progression" poster, the winner will be the team who gets the most stars on the poster.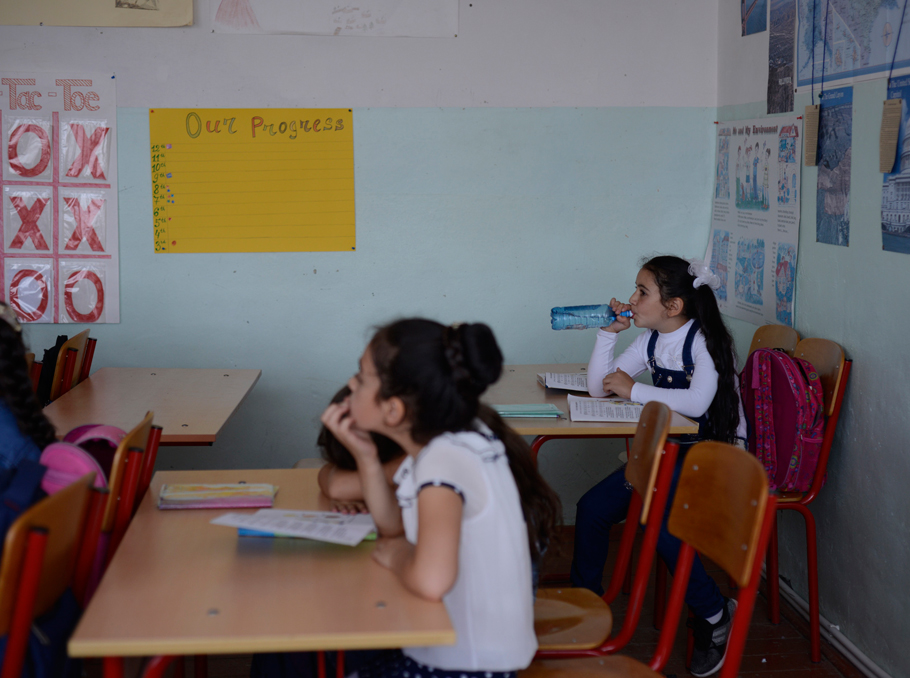 Photo: Vaghinak Ghazaryan/Mediamax


"It works. The more stars they get the higher their level of understanding will be. I have to justify their expectations. In case of higher grades, I focus more on the human friction. I can't say you will get a red card, that will not motivate them, it's better to talk to them, explain everything, so they know what the right behavior is".



Susana is very excited to share her first achievements during the month, making friends with her students, and building good relations with members of the community. Then she stops "my 3rd graders are an exception". The 3rd graders are Susana's smallest and the most active students, they are a handful for the young teacher. She says that after the Summer Institute in Dilijan, where all of the Fellows went through the training, we thought that we had gained all the skills and were ready for everything and anything. But as it turned out, there are many questions that need our own solutions.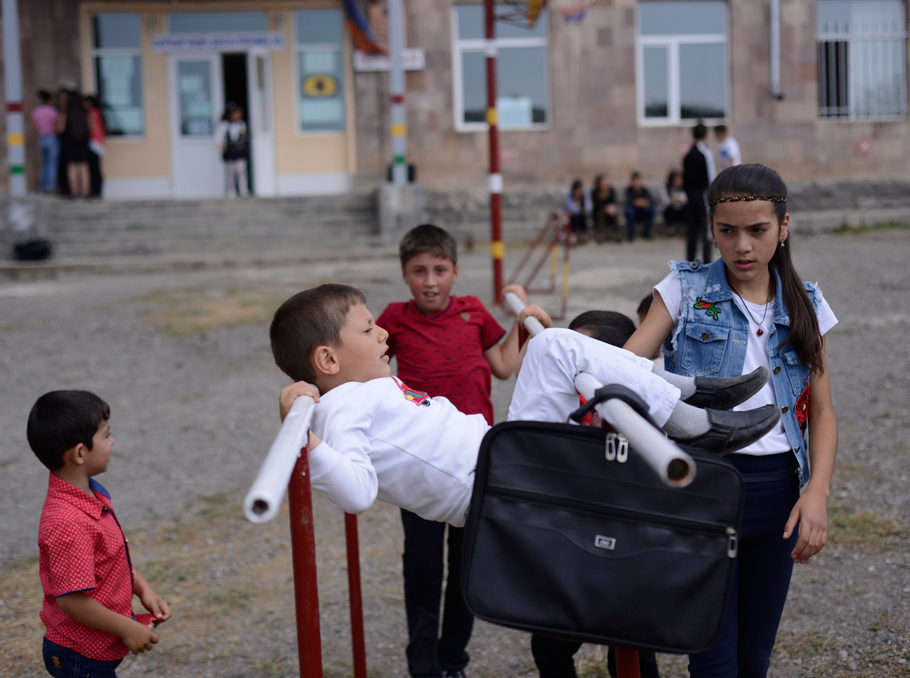 Photo: Vaghinak Ghazaryan/Mediamax


The home room teacher of the 3rd graders is another Teach For Armenia Fellow Yana Yeghshatyan. She accompanies her students to the classroom and before Susana arrives she tries to calm them down.

"Today we will have a colorful lesson", - inspires Susana and takes colorful cards from her bag, they need them for learning colors in English. Some days children forgot to raise their hands and give answer but when Miss Susana asks the question. "Do you want to watch a video?" Children immediately raise their thumbs ups.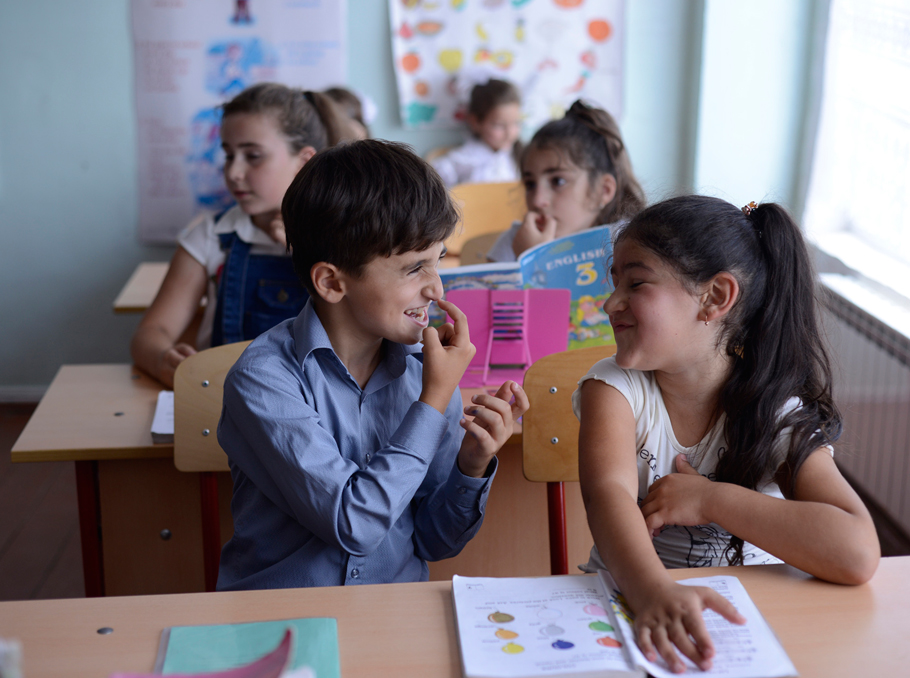 Photo: Vaghinak Ghazaryan/Mediamax


"I always ask them "Do you agree with me, what is your opinion?" I want them to express their opinion even with some hand gestures. I don't want them to think that if I say anything or it's written in the book it's an absolute truth. I want to develop their critical thinking skills, to take their opinions into consideration and attach importance to their thinking.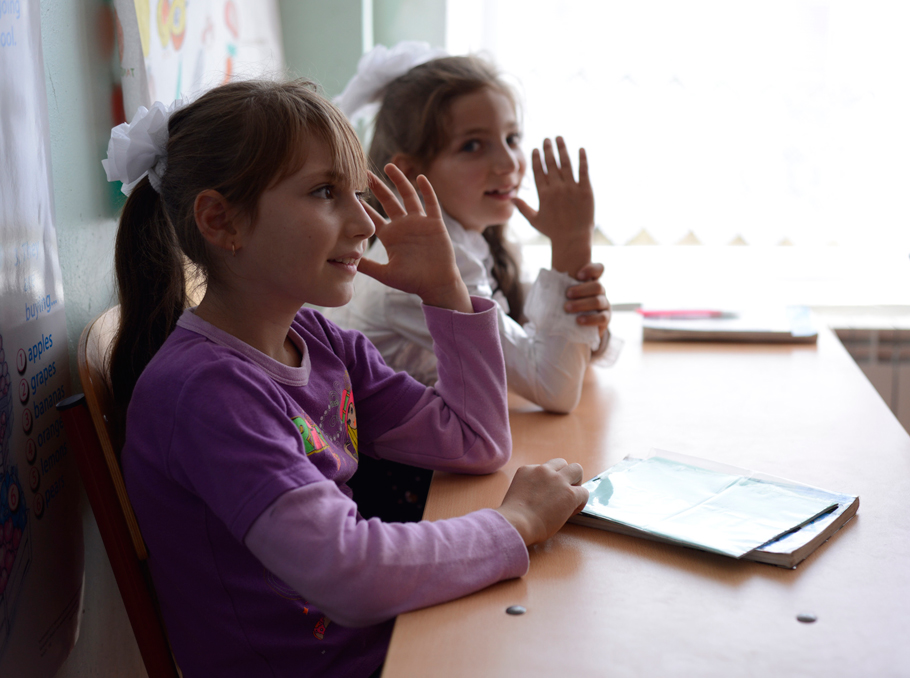 Photo: Vaghinak Ghazaryan/Mediamax


I had that problem during my school years, I was ashamed to express my opinion. Now I feel how their eyes sparkle when they want to say something but they are not doing it, because they are afraid that someone will not accept it or children will start laughing. I am trying to spend some time on discussing different topics. Our mission is to educate them about the world as well".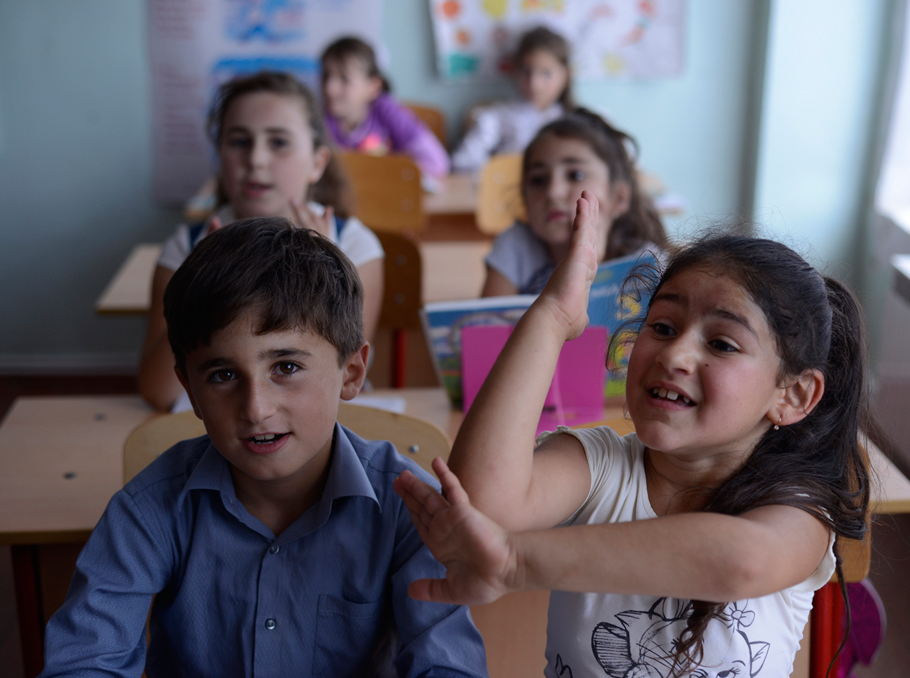 Photo: Vaghinak Ghazaryan/Mediamax


Susana says that interacting with all the students: from elementary to the highest grades, gives her opportunity to find new ways of communicating.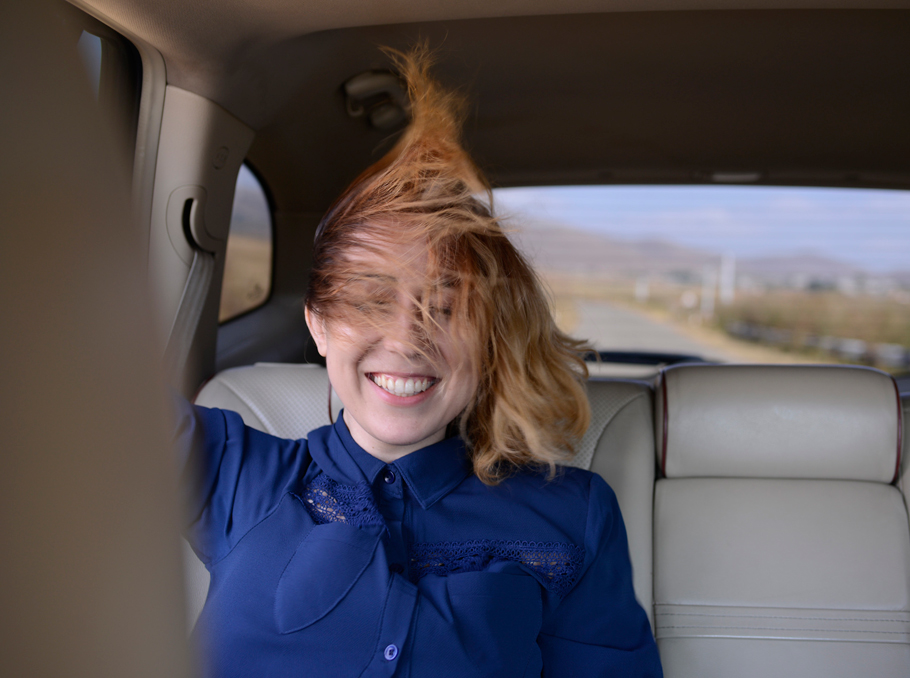 Photo: Vaghinak Ghazaryan/Mediamax


They always meet with other Teach For Armenia teachers who live in Lori region, get strength from each other, ask for advice, discuss different issues.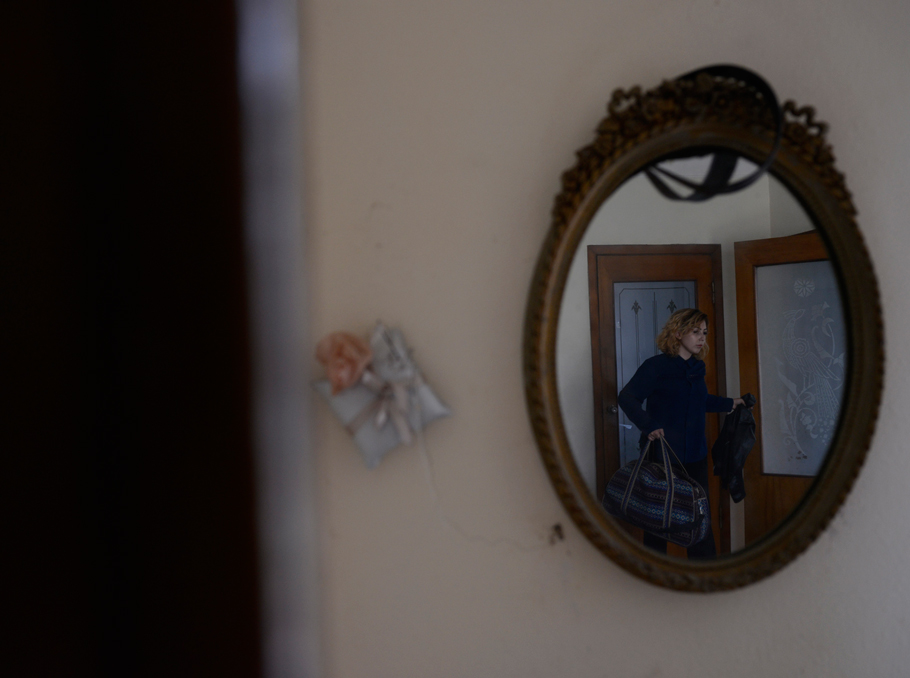 Photo: Vaghinak Ghazaryan/Mediamax


"We are being boiled in the same pot, the problems are very similar, we know how to have each other's backs. We gather together, cook dinner. Our Armen is a very good cook; we are always having dinner at his place. I have so many things to learn from him. But even during our dinners, coffee time our main topic of conversation are children. What they did, what they said, did we finish our lesson plans, were we able to follow all the lesson steps, did we put some drive into the lesson plan. I can't imagine my life without them. Our goals, our hearts have lead us to the same direction and it's a huge strength, which I really needed".

Lusine Gharibyan

Photos and video by Vaghinak Ghazaryan (for Mediamax)

VivaCell-MTS is the general partner of the project