On February 12, Mediamax and German Ambassador to Armenia Matthias Kiesler visited distinguished Armenian linguist Manush Harutyunyan to wish her a happy birthday. Mediamax came up with the initiative of the surprise visit and Ambassador Kiesler was happy to participate. Manush Harutyunyan had no idea about the surprise, but the staff at Hospice made sure she was prepared for the meeting.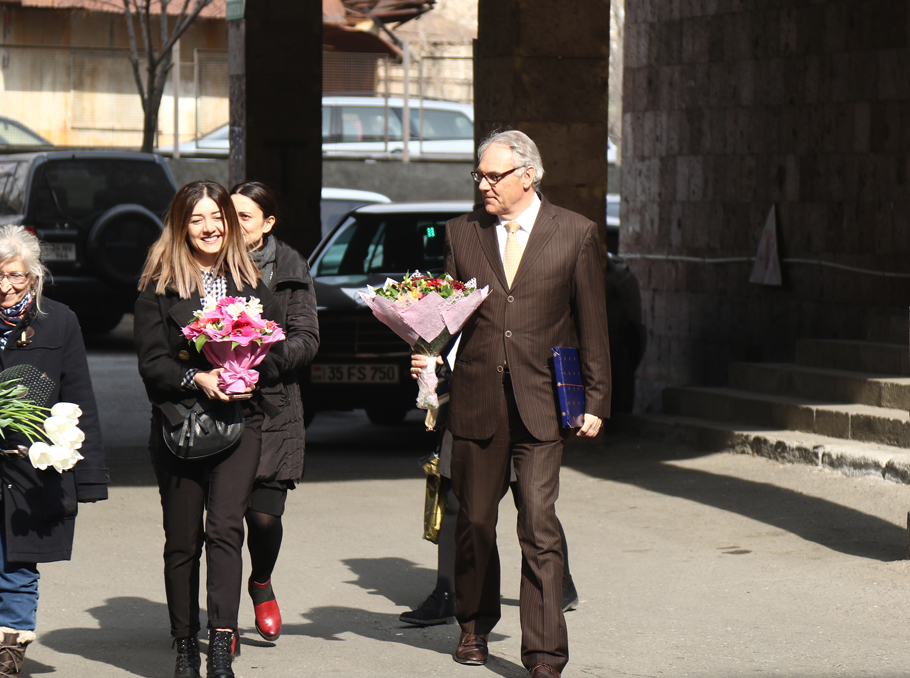 Photo: Mediamax


Her door is closed and the first thing I notice when I open it is glitter on the floor. So, they have begun celebrating. Mrs. Harutyunyan is sitting in her armchair. She is nicely dressed today and wears a pearl necklace. I approach her and say my birthday wishes, and she recognizes me immediately.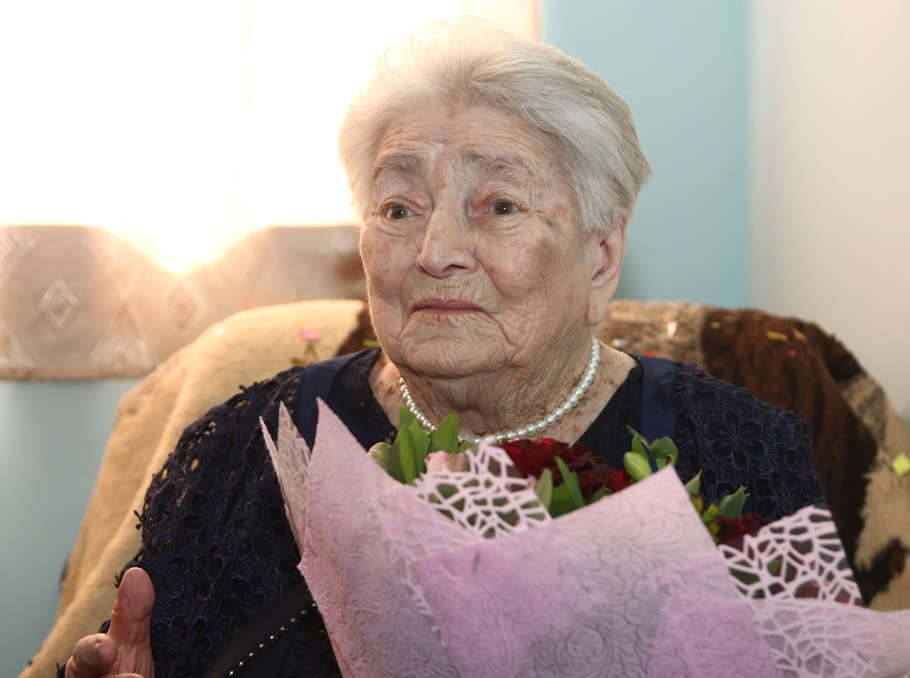 Photo: Mediamax


"I am so happy to see you! I wondered when you would be back, it's so good to talk with you again. Look, how well-dressed I am today. I have never put that much effort into clothing, but the staff here helped me get my best look."

"Mrs. Harutyunyan, we have brought someone with us. You have a special guest."

Her tears well up and she casts an anxious look at the door. I tell her it is the German Ambassador, but it takes some time for her to catch my meaning.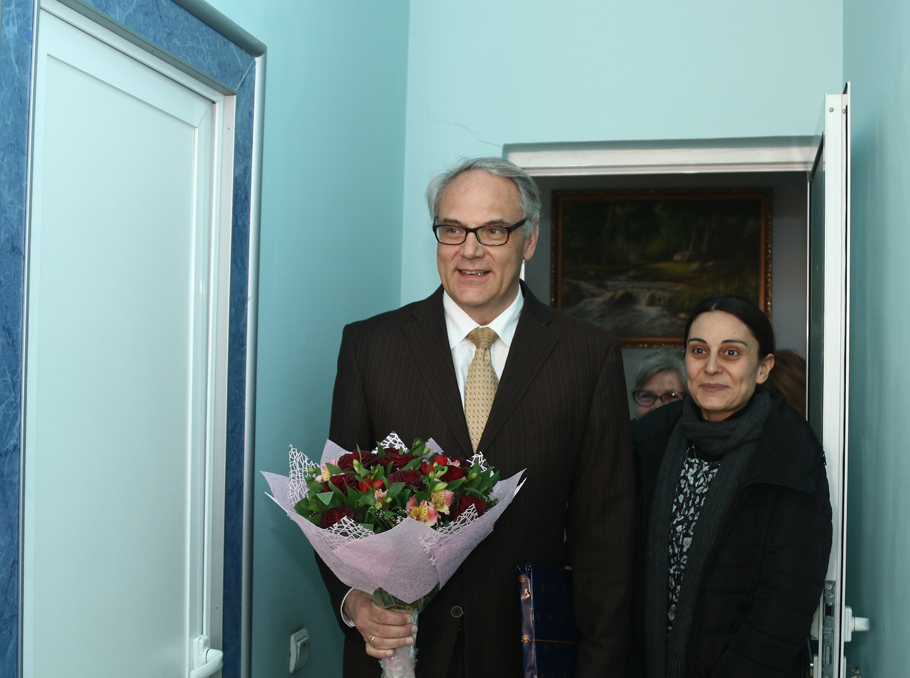 Photo: Mediamax


Ambassador Kiesler enters the room and starts speaking in German, which gets Mrs. Harutyunyan emotional.

"I have not spoken German for five years… I don't know if I can be fluent now."

"Your German is fantastic," argues the Ambassador and gives Professor Harutyunyan an affectionate hug.

They talk in German For the following 40 minutes.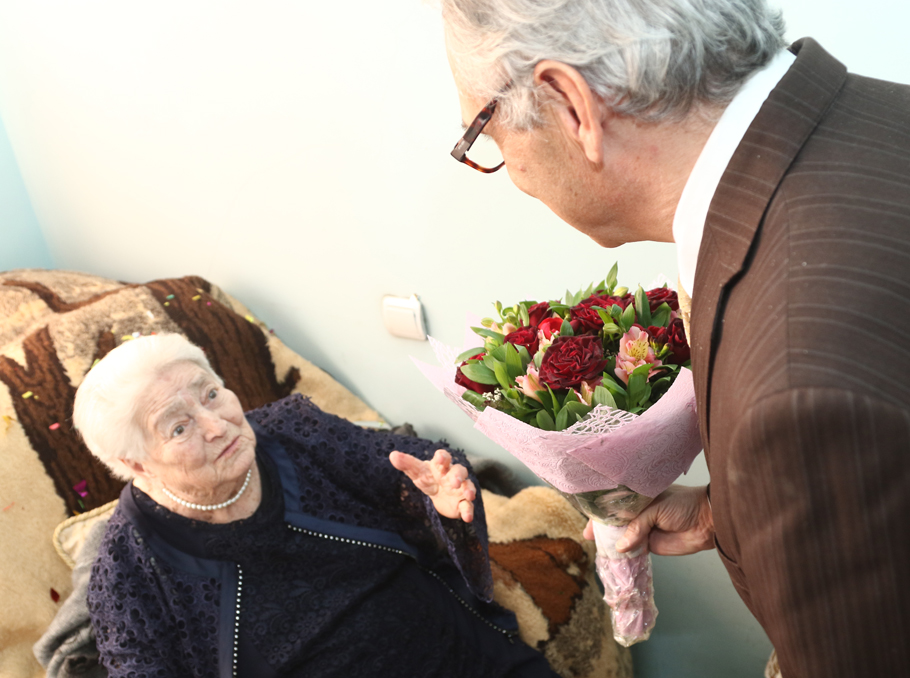 Photo: Mediamax


A member of our group approaches Mrs. Harutyunyan sometime later and addresses her a little thank you speech. It is Mary Karapetyan. She works at the German Embassy and she is a former student of the elderly professor. Apart from wishing her beloved teacher happy birthday, she wants to pass to her the words of gratitude from all her students.

"How are you feeling, Mrs. Harutyunyan?" I ask as I sit beside her.

"Great, and very proud too. Thank you for bringing this man, I have missed German. I am so happy to have had the chance to speak it again."

"He is the German Ambassador to Armenia, I'm not sure if you have caught that."

"What do you mean, ambassador? Oh my God…"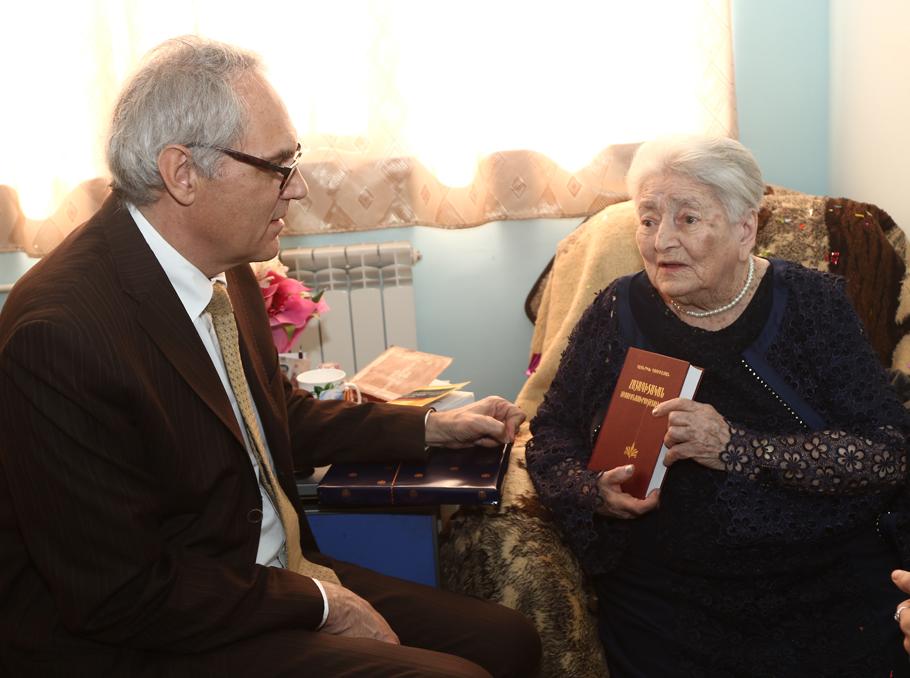 Photo: Mediamax


The late revelation is distressing for her and she looks sideways for some time, but then she turns to Ambassador Kiesler again. She tells him several key stories of her life: how she learned German, defended her thesis, translated "Armenian studies" by Heinrich Hübschmann, which would become the most important work of hers…

Mr. Kiesler listens to her keenly and the conversation stops only when it is time to cut the birthday cake.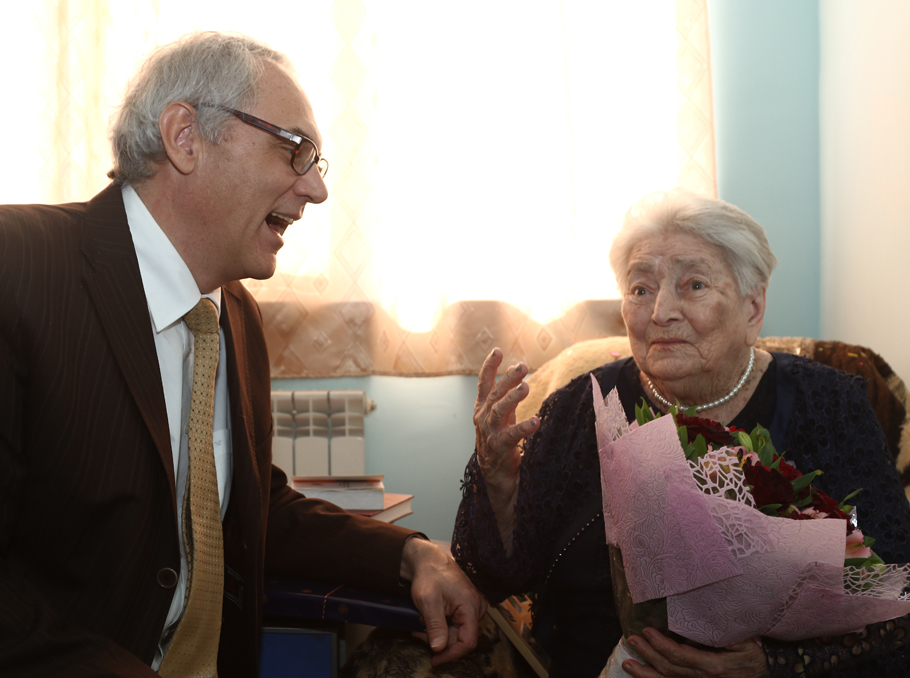 Photo: Mediamax


"It is a great honor for me to meet the woman who has contributed so much to development of German studies in Armenia and to hear about Professor Harutyunyan's impressive biography from her. I am touched to have met a person who says they have not spoken German for five years, but who talks with me in perfect German. Being an ambassador, I get to meet many interesting people, but it is rare that I make acquaintance with an individual who has advanced the relations through language the way that Mrs. Harutyunyan has," said Matthias Kiesler after exiting the room.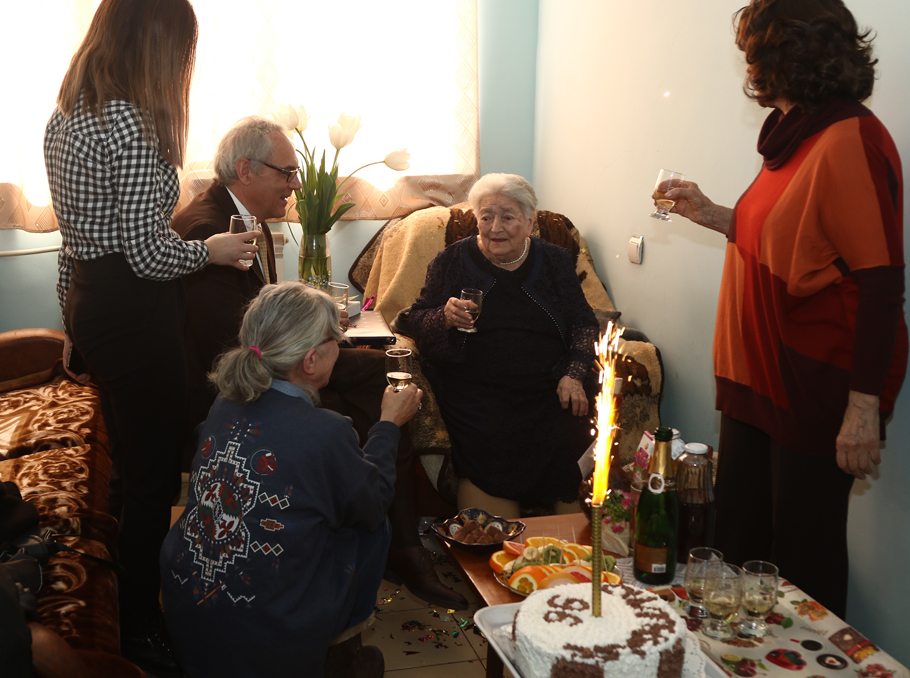 Photo: Mediamax


I bid farewell to the Ambassador and return to the room, where Mrs. Harutyunyan is with close friends, who have come to celebrate with her. When I come up to her and take her hand, she starts speaking in a trembling voice, and her eyes are shining.

"You have done a wonderful thing for me. I have never done anything to get a 'thanks', you see, never chased gratitude. I simply did what I thought was needed to be done. I have never refused anyone kindness, perhaps, that is why I have lived for so long."

Marie Taryan

Photos by Emin Aristakesyan