"People are the most important assets in law firms - their knowledge, experience, skills and ability to work in team," says senior partner of Concern Dialog Law Firm, attorney Narine Beglaryan.
In the conversation with Mediamax, she spoke about the peculiarities of office management, work principles and the leading position in the international rating lists.
Knowledge and experience that change practice
Since 1998, Concern Dialog Law Firm has been a reliable partner for businesses and individuals in all areas of law, from consulting to judicial protection. The Firm is managed as a consulting company relying on the knowledge, experience, skills and teamwork of the employees. In the field of providing consulting services, the most decisive factor is the person, his/her knowledge and experience, because this is the main resource through which the Firm provides service. This is what is "sold" and determines the quality of the Firm.
At the core of the management of Concern Dialog is the growth opportunity for the best, talented employees, until the Firm's share ownership. We have examples when employees have grown from a junior lawyer to shareholders of the Firm. Meanwhile, this should be understood correctly. Only really talented lawyers can become shareholders of the Firm. There is no clear-cut structure in our Firm; there are no departments, managers, subordinates and bosses. Concern Dialog works on various projects, each of which has designated team and coordinator. The same specialist can be involved in several projects concurrently. This is a positive practice, because in this way the lawyer deals with different areas and gains experience in each of them.
The values and ideas of the Firm were introduced by the late managing partner Sedrak Asatryan. Although Mr. Asatryan is no longer with us, the values and ideas introduced in the Firm continue to be a benchmark. They are built on the ideology of consulting specialist David Maister, according to which it is professionalism when you sell not just by selling, but by caring, when you have values that you do not betray.
Create added value and care about
The phrase "care about" may cause confusion. I don't mean at all that a lawyer should call the client every day and ask "how are you" (smiles - author). "Care about" is a compassionate, responsible approach to work, timely response, comprehensive thinking about problems. Caring implies informing the client clearly when to wait for the court act on the case and to soothe him not to worry much until then. Unfortunately, many lawyers keep clients in uncertainty, which is contrary to our values. When we start working on this or that case, we feel committed to create added value for the client. This is not necessarily winning the case or guaranteeing its positive outcome. In general, I consider such an approach inadmissible. People should get rid of the mindset of demanding guarantees from an attorney and understand that the decision maker is the judge. A good lawyer can only do his/her best.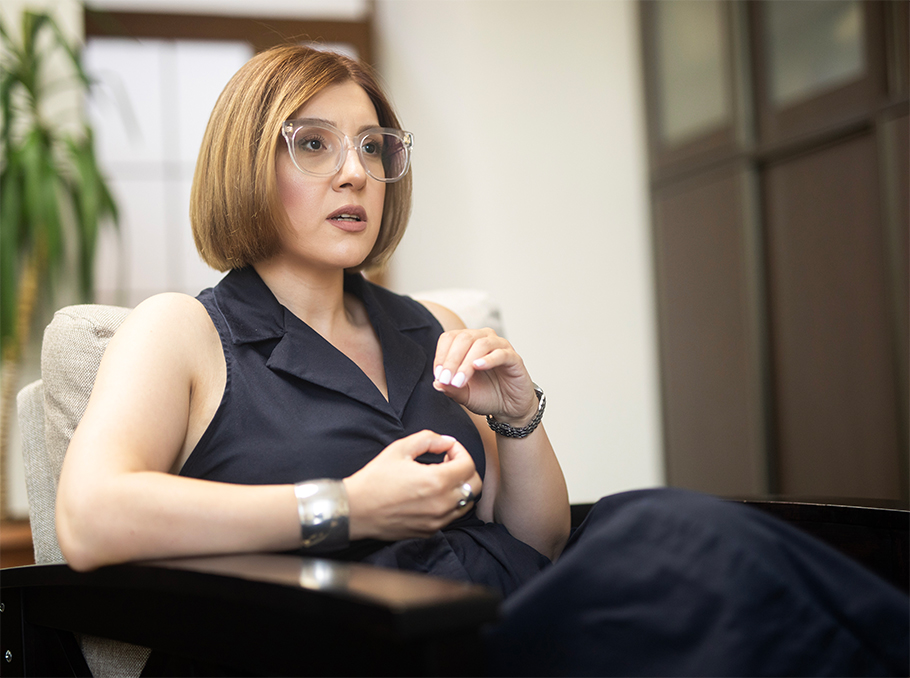 Narine Beglaryan
Photo: Mediamax
A simple example of what it means to create value: the client asks the lawyer, "How to get a license?" Some specialists may answer, "You should submit an application to an authorized body and get a license in compliance with the procedure established by the Government, which you can familiarize yourself with at this link." There is "zero" value in this approach. The client pays the lawyer for telling who the authorized body is, reading the Government decision, all related laws and sub-legislative acts, and then explaining the whole procedure to the client in a way that he/she understands. If at that moment the client understands everything, then the lawyer has already created value.
"The matter of cost"
Indeed, Concern Dialog never discloses the names of clients, unless the case itself requires public campaigning. In this case, we do so in agreement with the client. This is one of our principles, because we do not want to promote ourselves at the expense of the client or the case. I can only say that there is no area where we have not provided or are not providing or are not ready to provide service. I can state that we have been and are involved in various and numerous judicial cases. I can also boldly state that our litigation team is a leader in experience, especially in civil, administrative and arbitration cases with multi-layered and complex issues. The team of the Firm specialized in criminal cases is also distinguished by its professional abilities. It is important to note that when deliberating on the strategy and tactics of cases, the collaborative work of a team of lawyers with different experience and specialization has a positive effect on the end result.
Furthermore, we have another peculiarity as well. The price, the cost of the service is the last point that we address during the meeting with the people who have applied to us. First, we try to understand the problem and how, or whether at all, we can help, and then we consider the "matter of the cost". If for some reason we cannot be of help, we try to direct the people who have contacted us correctly. For example, there may be cases where it is desirable to settle the matter through negotiations rather than through court. We never avoid advising an option of amicable settlement.
Meantime, in case of complex problems, we try to form the right expectations at the client: if you involve the experts of Concern Dialogue, it does not mean yet that the matter will definitely be resolved. Indeed, we are professionals, we find extraordinary solutions, shape and change practices, we have earned repute and weight, but we are not "Superman". Only after going through all these points, we present the price of the service to be rendered. It is formed by a very simple approach. We engage our lawyers to deal with the problem, using their knowledge, experience and time, so the measurement unit of cost calculation is the experience of the engaged team of lawyers and the time spent on the case. We like to do the job well, which means we spend a lot of time on it. It is not always that the client agrees with this option. Furthermore, it is not always that there is a need for a lawyer's involvement in this or that case.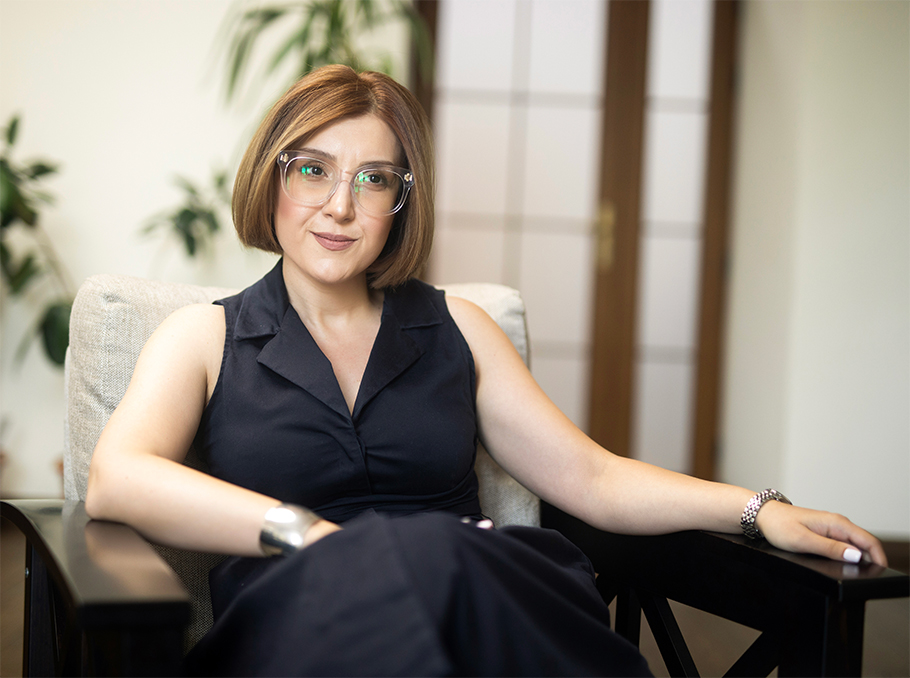 Narine Beglaryan
Photo: Mediamax
It happens, however, that the client himself/herself insists on involving a lawyer in the case. We understand that in this case he/she is paying for his/her own peace of mind and confidence. I would like to clarify that participation in court sessions is, as a rule, determined as a session fee rather than calculated by an hourly fee. I would like to emphasize that expensiveness of services of Concern Dialog is seeming – the quality of our services definitely corresponds to the price, which the client pays.
International independent rating reaffirms the Firm's reputation of a company providing premium services
The Firm has gone a long way in years to build reputation and trust among representatives of foreign and local businesses. We have clients who over the years apply to Concern Dialog if they face problems and recommend the same to their friends and acquaintances. Another question is how foreign companies start cooperating with us. In this regard, international ranking is a very useful tool. There are structures whose rating is never questioned, and foreign companies looking for a partner in Armenia simply open the list and contact us too as the leader of the Armenian market.
Concern Dialog has been among the leading law firms in the ranking list of Chambers Global and Chambers Europe of the reputable international organization Chambers and Partners. In the last two years in a row, we are the only Firm with a top rating (Band 1) among Armenian law firms.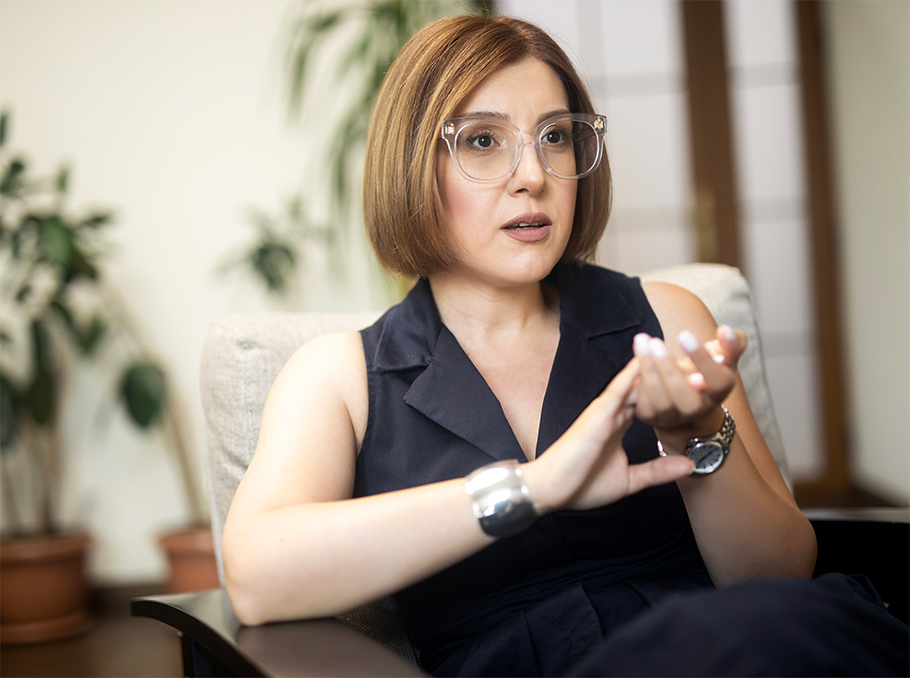 Narine Beglaryan
Photo: Mediamax
Chambers and Partners is a professional structure that never provides a rating for money, moreover, it is impossible to obtain a top rating immediately after applying for the first time. In order to apply, a company fills out a template, introduces up to 20 of its most interesting cases and provides contacts of clients and partners, of course, upon obtaining their consent. "Chambers and Partners" first examines the presented cases to understand how they are precedential and have an impact on practice. Then they talk with the partners and clients of the applicant-company. In other words, other law firms as well express their opinion about the firm in concern, and only after that the results are summarized and published. Individual lawyers are ranked here as well. Another specialized international rating organization, Legal 500, works on almost the same principle, where our Firm has been included in the highest ranking group (Tier 1) for several years in a row.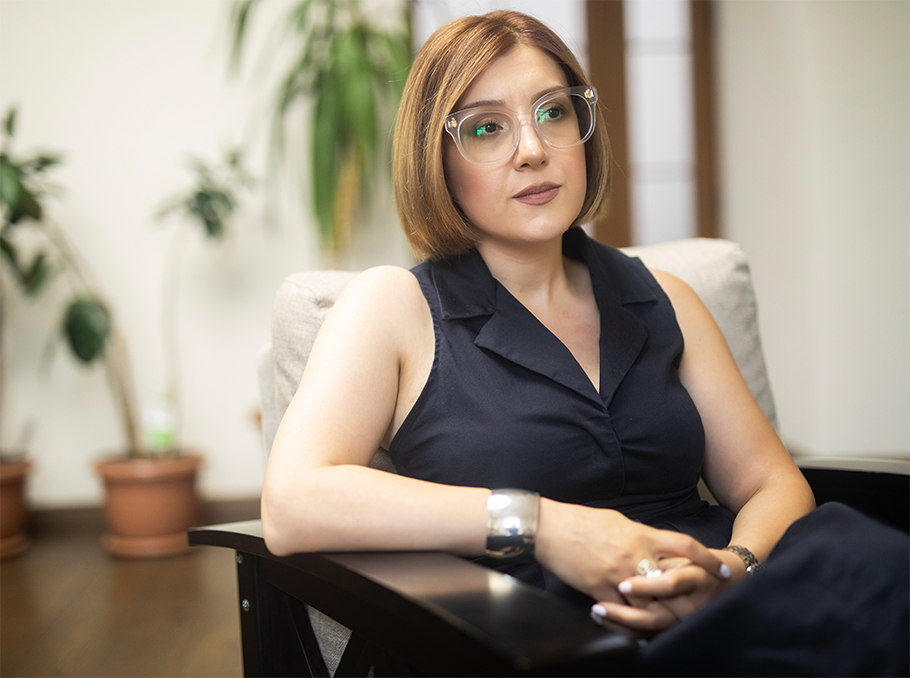 Narine Beglaryan
Photo: Mediamax
International rating is particularly important when working with large foreign companies, but this is not the only way.
Our membership in TagLaw and Nextlaw networks and cooperation with local legal organizations operating in individual countries allow us to create an opportunity for Armenian clients to receive quality services in any country worldwide. Thanks to this cooperation, our clients were able to receive services in the United Kingdom, Spain, Estonia, Cyprus, France, Denmark, Georgia, and several states of the USA. If you are a small company with no offices abroad, such associations are an excellent tool for establishing new partnerships.
Lawyering is teamwork
At Concern Dialog, lawyering is teamwork, because even the best lawyer can't look at a case from as many different angles as a team of lawyers would. The best solutions can be found relying on opinions and experiences of individuals with different mindsets and outlook. Certainly, there are problems in the field of human resources nowadays. First, specialists of different generations, whose thinking varies greatly, work together. But it is important to listen, understand, and learn from each other. The process of recruiting new employees has become difficult. This is the problem voiced not only by us, but generally by employers in all sectors. Candidates have stopped responding to job announcements; this refers not only to experienced lawyers, but also those who graduated from the university only two or three years ago. This reduces the possibility of choice. For me personally, the other big problem is that law students start working very early, from the second year of their study, as a result of which they do not devote sufficient time to study and face shortage of knowledge while working. This is unfortunate because knowledge implies understanding of jurisprudence rather than knowing laws by heart. The law may change after two months, whereas a lawyer should understand the underlying logic, the theory of law. This can only be achieved by mastering theoretical knowledge; instead, many students want to get into practice as soon as possible, not realizing that without sufficient theoretical knowledge they become uncompetitive.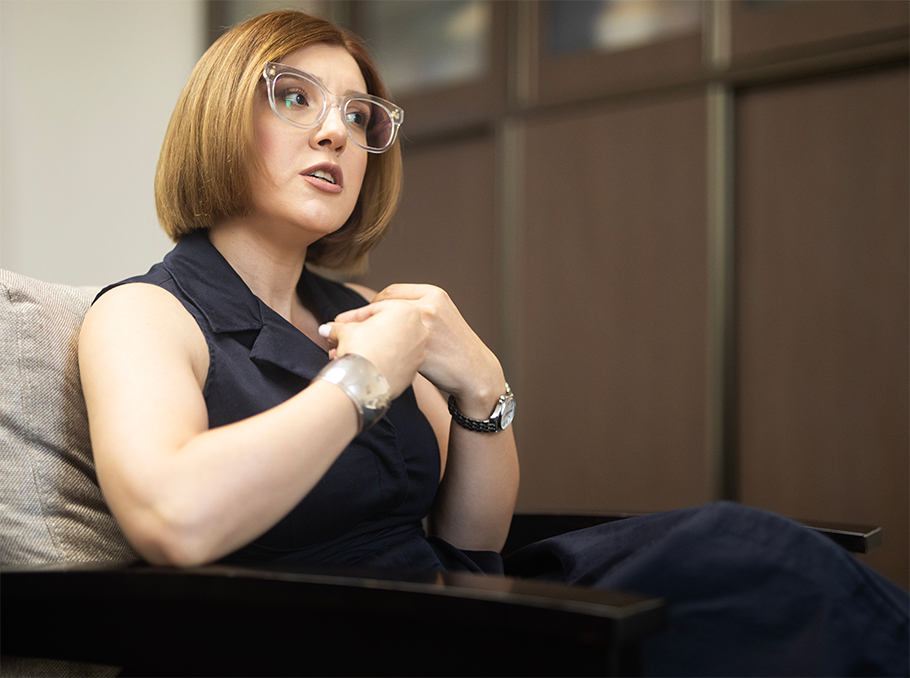 Narine Beglaryan
Photo: Mediamax
The equal involvement of representatives of different genders in the workplace is also becoming a problem. Today, mostly women study law, which makes it difficult to balance the number of female and male lawyers in the team, which I do not consider a positive phenomenon, since the balance of representatives of different genders allows inclusion of specialists of different mindsets in a team and looking at the matter from different perspectives. How do we choose our employees? Very difficultly (laughs - author). Apart from knowledge and a requirement to hold a bachelor's degree in law, the personality of the applicant is important. An employee of Concern Dialog should be a learner, challenge- and change-loving and courageous individual. In exchange for these qualities, our Firm offers interesting work, a high and regularly reviewed salary, and endless learning opportunities. If you're also a talented lawyer with a unique mindset, you may have growth reaching to the status of a shareholder of the Firm.
Yana Shakhramanyan
Photos by Emin Aristakesyan