Yerevan /Mediamax/. MaxMonitor, a media monitoring, analysis and measurement platform developed by Mediamax media company, introduces the volume of online media coverage of Armenian ministers in January 2018.
The January review of 130 media websites shows that the trio of the most mentioned ministers is as follows:

1. Minister of Defense Vigen Sargsyan: 1468 mentions;

2. Minister of Foreign Affairs Edward Nalbandian: 1159 mentions;

3. Minister of Justice Davit Harutyunyan: 559 mentions.

The trio of the least mentioned ministers is as follows:

1. Minister of Diaspora of Armenia Hranush Hakobyan: 100 mentions;

2. Ministry of Economic Development and Investments Suren Karayan: 82 mentions;

3. Minister of Sport and Youth Affairs Hrachya Rostomyan: 81 mentions.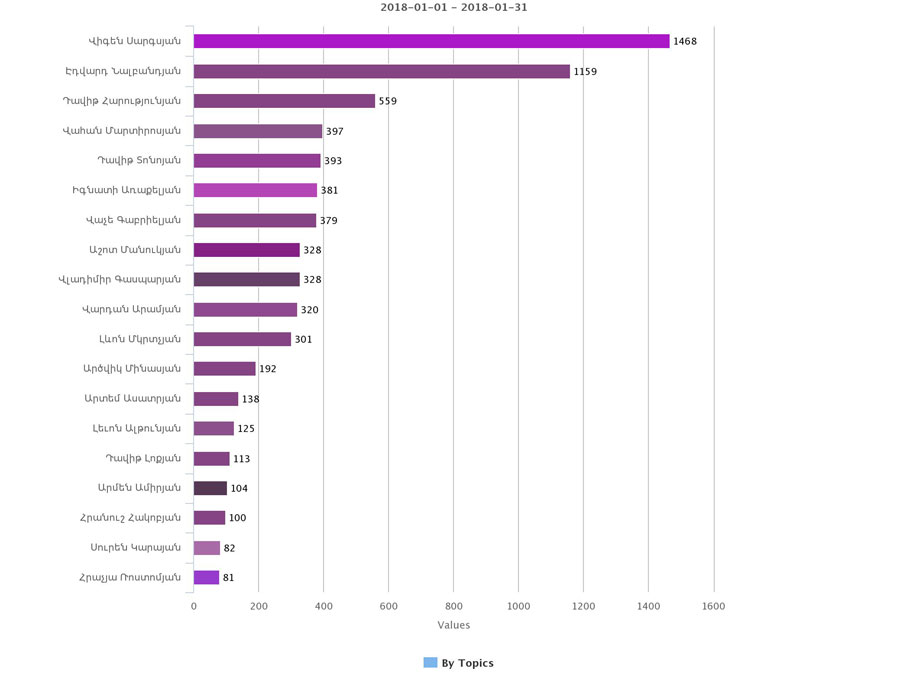 The presented data relates exclusively to the number of mentions.

MaxMonitor specialists separately analyze publications of 13 news media websites (168.am, 1in.am, A1plus.am, Aravot.am, Armenpress.am, Armlur.am, Blognews.am, Hraparak.am, Lragir.am, Mediamax.am, News.am, Panorama.am, Tert.am), which makes it possible to map the mentions with positive, neutral, and negative undertones. The results for January 2018 are displayed in the chart below.


| | | | |
| --- | --- | --- | --- |
| Minister | Positive | Neutral | Negative |
| Vigen Sargsyan | 157 | 220 | 28 |
| Edward Nalbandian | 100 | 257 | 3 |
| Davit Harutyunyan | 32 | 131 | 2 |
| Ignati Arakelyan | 57 | 55 | 6 |
| Vahan Martirosyan | 41 | 68 | 9 |
| Davit Tonoyan | 50 | 60 | 0 |
| Vache Gabrielyan | 22 | 84 | 1 |
| Vladimir Gasparyan | 27 | 70 | 2 |
| Ashot Manukyan | 14 | 75 | 2 |
| Vardan Aramyan | 39 | 42 | 8 |
| Levon Mkrtchyan | 51 | 24 | 1 |
| Artsvik Minasyan | 21 | 43 | 3 |
| Artem Asatryan | 24 | 18 | 1 |
| Davit Lokyan | 20 | 13 | 1 |
| Hranush Hakobyan | 22 | 12 | 0 |
| Armen Amiryan | 21 | 8 | 1 |
| Levon Altunyan | 17 | 11 | 2 |
| Hrachya Rostomyan | 9 | 9 | 3 |
| Suren Karayan | 3 | 17 | 0 |

Mediamax media company with its MaxMonitor platform is the leader in Armenian media monitoring, analysis and measurement market. Several dozens of private companies, banks, telecommunication operators, ministries and state agencies, international organizations and embassies are subscribed to the platform