Mathematics is the driving force of love, justice, and progress. Mediamax and VOLO launch a joint project, MathArt. It will tell about the talents developing Mathematics in Armenia, and their work.
Mathematics is of key value in the modern world and we hope that MathArt will help attract Armenian youngsters into that particular science.
Hayk Saribekyan has loved to "play" with numbers and find qualities since childhood. Throughout years, his favorite game has turned into a conscious choice to discover the world of numbers.
"I remember my happiness when after learning the multiplication table I discovered that to multiply a number by ten you may just add a zero to the end of it. Later in school it turned out that some qualities I had "discovered" had their proper names, for example the distributive law. Consciously I have loved math since the 6th or 7th grade when I studied at Quantum College. But just loving the subject in school is not enough to pursue it seriously in the future. Fortunately the school's highly motivating environment has intensified my interest in the subject and I decided to pursue it. In my last years of school I was focused on Olympiads, mainly mathematical ones. I used to spend hours solving math problems and discussing them with my friends," says Hayk, who is currently undertaking doctoral studies in Computer Science at the University of Cambridge.
Math and art
Mathematics is huge but it is based on rather little and simple fundamental facts, using which we can build a logical chain and as a result get the big theory. This is why debates are a rare thing in math: all the facts are objectively based on initial statements. Very often mathematicians can approach daily issues and debates this way. Mathematical thinking helps find out the main provisions due to which something is happening, or if there is some discrepancy or different interpretation of the facts.
Mastering mathematics on some level is as important as studying history, physics, music, politics and any other discipline. No more, no less. These are the qualities that any educated person should possess. It's true that many natural processes are described and new technologies are being created through math, but any scientific and liberal discipline has and has always had its unique role and importance throughout history.
Elementary math knowledge may help people in everyday life. Besides simple calculations it develops logic, provides analytical way of thinking which is important almost in every area.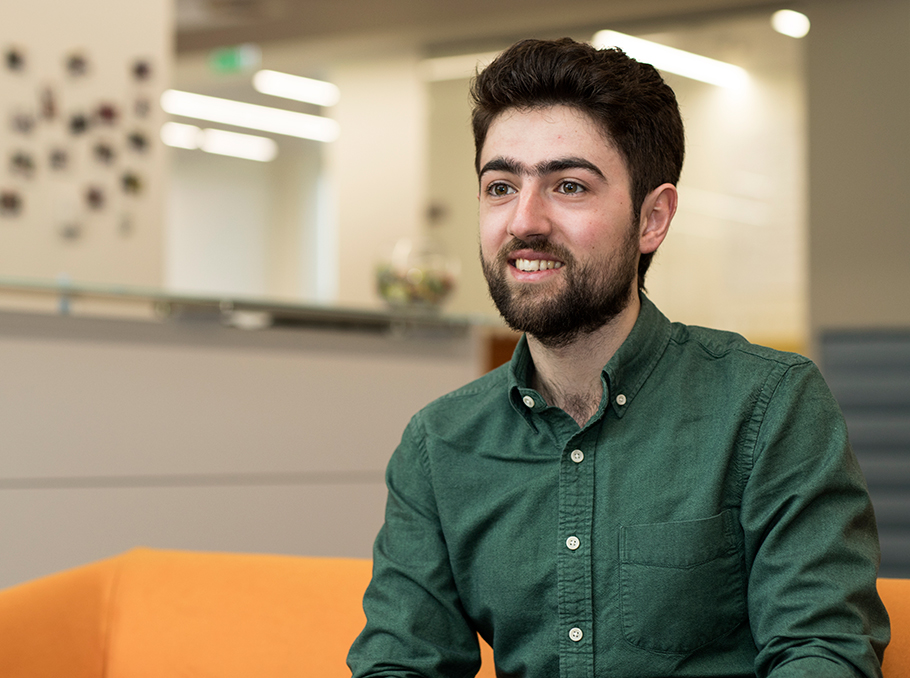 Hayk Saribekyan
Photo: Mediamax
There is another important reason to study math. For most of the mathematicians math is like an art. Behind complicated and mixed formulas they see beautiful and pure expressions. You can understand math just like Bach's music: it's deep, but even having elementary knowledge you can see and appreciate the beauty. Even school knowledge is enough to notice many beautiful things about math and that's why it is very important to study it. Unfortunately, many school programs focus just on exams leaving the beautiful and important aspects behind.
Consensus problem
I have a favorite result in math, which in computer science is called a Consensus Problem. Let's try to understand how it happens that when walking along the hallway we sometimes (almost) bump into people coming our way from the opposite direction. We look at them and then decide which way to move. If we move in the same direction, we look again and keep walking and so on. Several hundreds of milliseconds pass between looking and walking. It turns out that due to that period of time it is theoretically impossible never to bump into someone, as the process of looking and moving might go on forever. This problem doesn't arise while walking, because people move approximately at the same speed and such "meetings" are predicted a few meters ahead.
However, imagine that instead of people we have various programs which are trying to coordinate their actions while using the same "hallway", for example computer memory. These programs can operate million times faster than one another, appear and disappear at any time. How do they coordinate their actions? Back in 1980s it was proved that it was impossible to solve this problem only by "looking and moving". That's why multi-processor computers (take any modern phone today) should be able to "look" and "move" simultaneously. After this theoretical result, processor producing companies have modified their products, which resulted in up-to-date powerful and multi-processor systems.
Education abroad and investments in Armenia
The idea to study abroad was born when I was still in school. It was not a spontaneous decision. My parents have always wanted me to get the best education possible and that's why I transferred to Quantum College. Some of my older school friends were studying at the best universities of USA and England. I also decided to apply and got accepted to Massachusetts Institute of Technology. I have been taking doctoral studies in Computer Science at the University of Cambridge, MA since 2017.
Of course I would like to contribute to the development of mathematics and science in general in Armenia. Armenia is much dearer to my heart than any other place. I have always been interested in teaching and tried to organize some courses for schools. For example I brought a month-long summer computer science course of the Massachusetts Institute of Technology to Armenia with the assistance of Luys Foundation. Hopefully, by deepening my knowledge I will be able to get involved in Armenia's scientific life in the course of time and cooperate with my Armenian colleagues.
Unusual computers
I work in theoretical computer science, which studies computation methods from mathematical viewpoint trying to get theoretical guarantees about their work (for instance, the speed of methods, accuracy).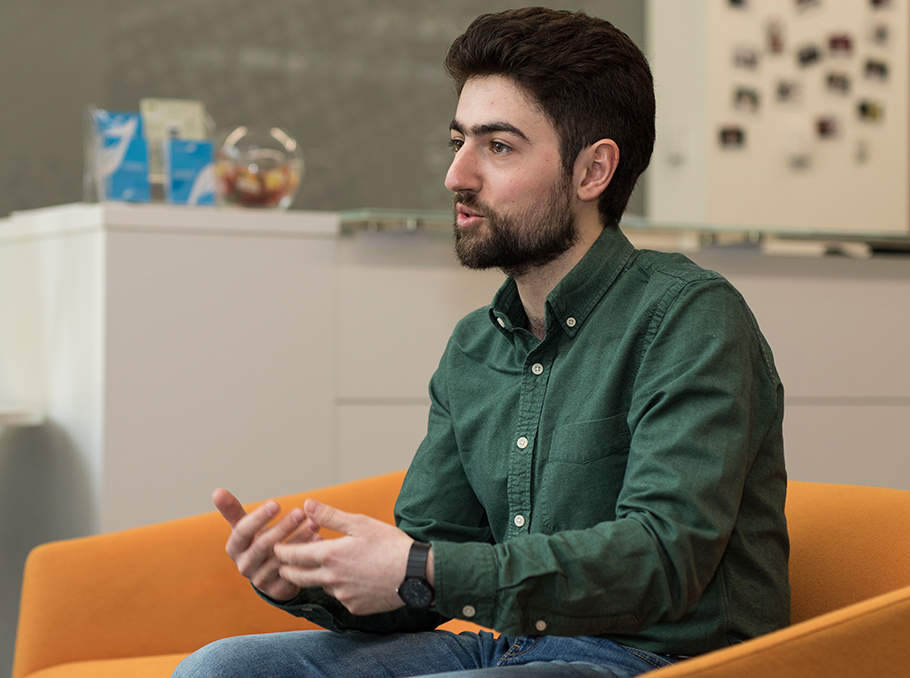 Hayk Saribekyan
Photo: Mediamax
Imagine a system with many simple particles. These particles interact with each other (in pairs, triples, etc), as a result of which they change in accord with laws that have been chosen in advance. In real life these particles can be programs in a complex computer network, many robots communicating with one another or molecules. Although individual particles are simple, the system as a whole can perform rather complex actions and computations. I examine various models of such systems and try to evaluate their strength in theory: how fast they can solve definite tasks (for example the consensus problem). Such "computers", unlike ordinary ones, can simultaneously perform huge amounts of computations at once, which can be practical in many problems. In fact "physical" computers where created using DNA molecules.
Math in the school-university-scientific institution chain
There are very good schools in Armenia today and their graduates can easily compete with the first grade students studying at the best international universities.
These schools also have a very healthy Olympic movement thanks to which pupils are able to get access to extra-curriculum materials. It's a big problem to spread this experience in order to have a more homogenous situation in the country. Of course separate schools cannot do it because it requires enormous resources. To make a change we also need committed teachers, who are ready to try out new methods and work on themselves. This is also a problem, because unfortunately today teacher's work doesn't attract young people much.
Universities also have their problems. Very often for best students the tempo at universities is much slower than it was at school which may halt their progress. Students start to work and classes lose their appeal. The problem has several angles and it's difficult to find a solution. It's not only in Armenia that abstract and fundamental sciences are not interesting for young people because one can find a highly paid job even without them.
Universities have to do their best to motivate students, since fundamental knowledge can serve them much longer. It's very important to encourage students to engage in scientific research from the first or second year. Starting from small projects they can draft their thesis for their Master's or PhD degree.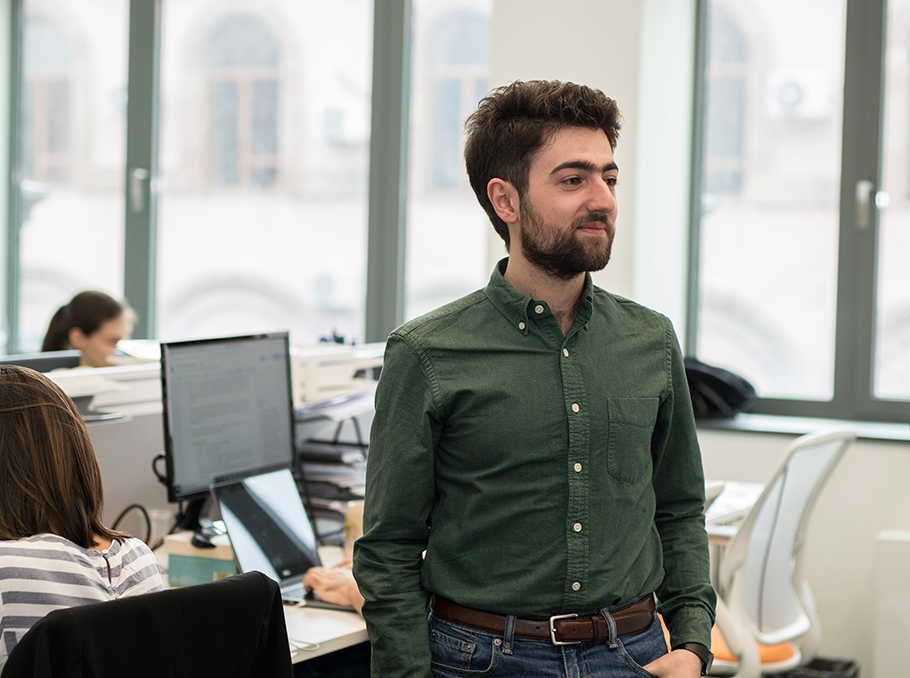 Hayk Saribekyan
Photo: Mediamax
The outflow of young talents has always been mentioned as a factor hampering the development of Armenia's science. This problem exists everywhere. It even existed in the Soviet times: the best students studied in Moscow or in Leningrad. Some returned to Armenia only after they completed their education and became professionals. Armenia should attract successful scientists with international experience. I hope that FAST, the Foundation for Armenian Science and Technology (I am a member of its Next Generation Council), will contribute to the resolution of this issue.
Attracting with technical subjects
For most of the pupils and students mathematics is an extremely abstract subject. Therefore, it becomes boring and you simply have to learn a lot of things by heart. One can teach new mathematical ideas through puzzles, simple logical problems, which develop mathematical thinking. Interesting theories often hide behind common, simple problems.
To simplify abstract notions today we can also use computational methods. This can be done also in physics and other technical subjects. For example, in school we learn that all bodies interact with the force of gravity. Many don't realize that it causes the earth to revolve around the sun. However, by creating simple models pupils can see it for themselves. There are so many such examples using which in teaching will stir the interest towards technical subjects.
Armenia's potential
Armenia has a great potential to grow in some scientific fields and compete on the market. But we have to understand that it's a small country after all, and we shouldn't have some unrealistic expectations. Armenia's science flourished during Soviet times when huge amounts and resources were spent on the development of science. These resources were incompatible with Armenia's size. Unfortunately it's unrealistic to expect such international resources today.
In this regard, with limited resources preference is given to applied and practical spheres. Significant part of mathematics has a little or doesn't have direct application at all. Therefore I think it's realistic to focus on the development of applied math in Armenia. It requires minimal funding but plays an important role in the development of modern technologies.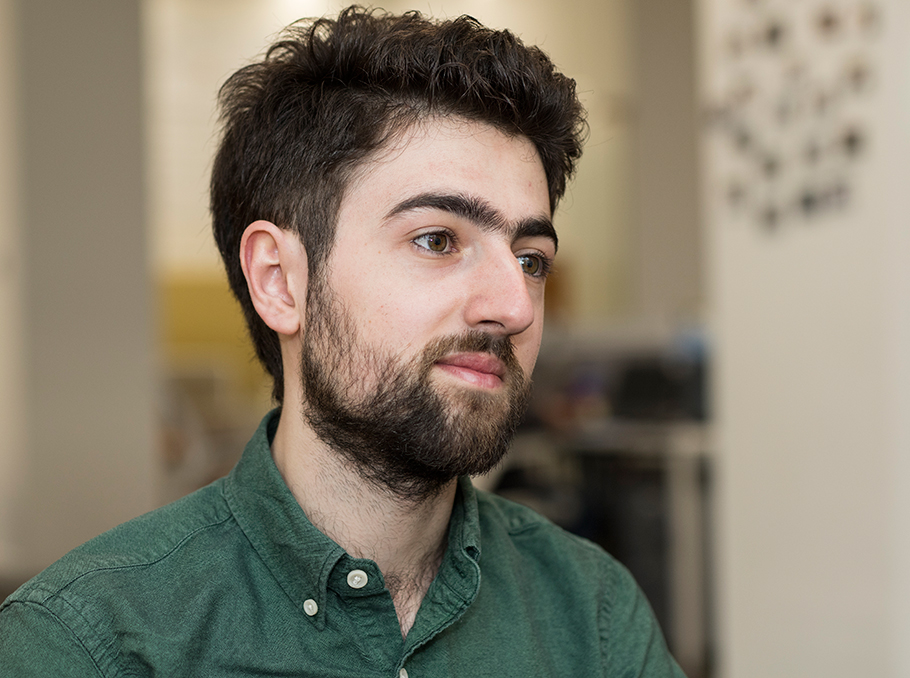 Hayk Saribekyan
Photo: Mediamax
FAST Foundation can play a significant role in this regard, even though it's a relatively new structure and seeing the results of scientific reforms may take some time. In fact, this is one of the reasons for the low funding of science: long-term investments are rarely made with low resources.
FAST is trying to create an environment which will attract scientists both in Armenia and abroad thanks to which science will become more attractive for young people. I don't think it's possible to achieve long-term goals in the sphere of education only through FAST and alike organizations. First of all, FAST focuses only on technology, but other areas are equally important. This requires the assistance of the state. Besides funding, the state should also encourage school students and young people to pursue science. So, not only schools and universalities but the media as well play an important role in this issue. I hope that in the course of years we will have a favorable environment which will push school students and young people towards science.
VOLO is the general partner of the project
Marie Taryan
Photos by Emin Aristakesyan