Mathematics is the driving force of love, justice, and progress. Mediamax and VOLO launch a joint project, MathArt. It will tell about the talents developing Mathematics in Armenia, and their work.

Mathematics is of key value in the modern world and we hope that MathArt will help attract Armenian youngsters into that particular science.

Senior researcher at the Institute of Mathematics of the National Academy of Sciences (NAS) of Armenia, Doctor of physico-mathematical sciences Khachatur Khachatryan, describes his and human life by the Pythagorean Theorem.

"The Pythagorean Theorem is one of the most stable facts in science. Today, of course, it's considered as something simple, but it's nevertheless one of the most brilliant things in the history of mankind. Even if humanity disappears from earth, the Pythagorean Theorem will still remain intact," he says.

Mathematics - an endless ocean

Khachatur's parents are both mathematicians, so his household revolved around mathematics. In the 6th grade he transferred to Physics and Mathematics Specialized School and ever since then has been addicted.

"Besides my parents I was hugely inspired by the king of Armenian Mathematics Sergey Mergelyan, my professors, my scientific supervisor, Academician Vladimirov and many other foreign scientists. Today mathematics and I go through life side by side. Sometimes I would even bolt up in the middle of the night just to solve a math problem. I can't imagine my life without math," claims the 35-year-old mathematician.

After finishing school with honors, Khachatur Khachatryan entered Yerevan State University's Faculty of Mathematics and Mechanics. During those years at the university he realized that it was his destiny.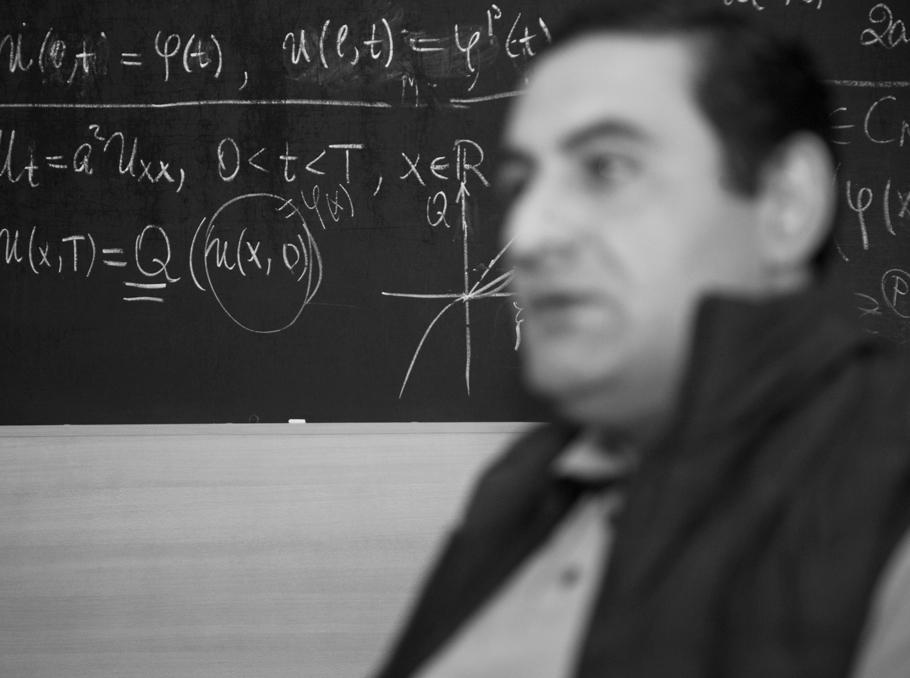 Khachatur Khachatryan

Photo: Mediamax


"Math is the most exact science of all. It is both the queen of science and its servant. The queen, because it's the most exact one and the servant, because it serves other scientific fields. Math is a divine science, something beyond your reach. When you constantly widen your knowledge horizon and register new results, you come to realize just how little you know. Math is an endless ocean and you are simply a little bucket of water in it. And herein lays the temptation."

The chain of mathematical interests

Khachatur Khachatryan has been working at the Institute of Mathematics of NAS Armenia since 2005. He is a Sergey Mergelyan first prize laureate. Nowadays he studies several topics: non-linear Boltzmann equation; the theory of wealth distribution in the country, which is widely applied in economics and aims to find an average income; p adic mathematical physics, which is a new direction.

Equations emerging in p adic mathematical physics are free boundary problems, and Khachatur Khachatryan so far has had noticeable results in terms of their solution, existence, uniqueness and smoothness.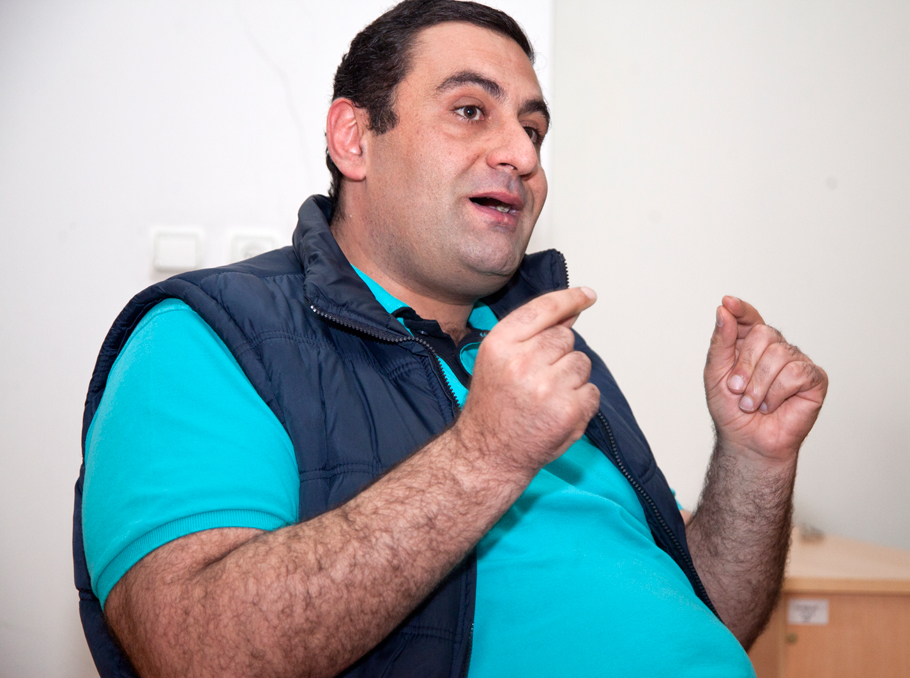 Khachatur Khachatryan

Photo: Mediamax


Khachatur Khachatryan describes the nonlinear Boltzmann equation by the example of flying devices: "After the flying device (for example a spacecraft) takes off at high speed and reaches certain height, a so-called wall is formed as a result of friction, outside of which the temperature is different. The question here is how much the difference between the outside temperature and the one applied on the flying device will be. Temperature difference is crucial for spacecrafts and is described by a very complex non-linear integral-differential equation, which scientists have not solved yet. In such cases scientists create models, and I have got quite important results in terms of these models."

The secret of keeping young people in science

Khachatur Khachatryan says that he sees a big scientific potential for young people in Armenia. He has got 4 candidates of science and 3 PhD students, and every day he tries to motivate them to stay in science even though researchers earn too little. According to him, young people can solve this issue by attracting grants and actively cooperating with their international colleagues.

"Scientific supervisors play an enormous role in rousing the students' interest in science. I always help my students out and guide them. Afterwards, it is up to them to decide what route to take in life."

Interdisciplinary scientific link

According to Khachatur Khachatryan, Armenia's position in the math world is quite promising in terms of the Theory of Differential Equations. There are excellent Armenian mathematicians who have registered outstanding results.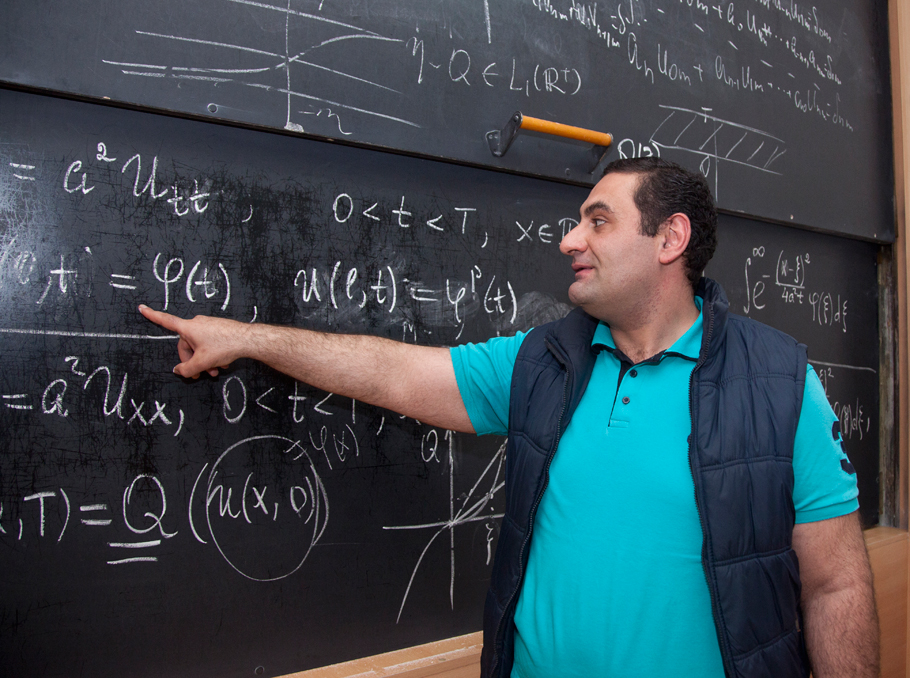 Khachatur Khachatryan

Photo: Mediamax


"Today p adic mathematical physics, nanotechnology, problems arising within economic models, bioinformatics and the coding theory are rapidly developing branches in math. These are top directions in math which should further be developed.

A theorem which is not being used is worthless on the mathematical market. The theoretician can find a theorem, apply it in some way, but it should be further used by specialists involved in related scientific fields. The interdisciplinary scientific link and cooperation are very important, and the foundation for that should be laid in school."

VOLO is the general partner of the project
Marie Taryan
Photos by Emin Aristakesyan