Yerevan /Mediamax/. President of Armenia Serzh Sargsyan said that "The people of Nagorno Karabakh are fighting for their right to freedom, self-determination, which will definitely have a favorable outcome."
President Sargsyan said this in his statement after the meeting with President of France Emmanuel Macron on January 23 within the frames of his working visit to France.

"I highly appreciate the long-term efforts and approaches of France, as Co-Chair of OSCE Minsk Group, directed at peaceful settlement of NK issue and establishment of security, stability and cooperation in our region. Armenia is committed to continuing the negotiations with mediation of OSCE Co-Chairs," Serzh Sargsyan said.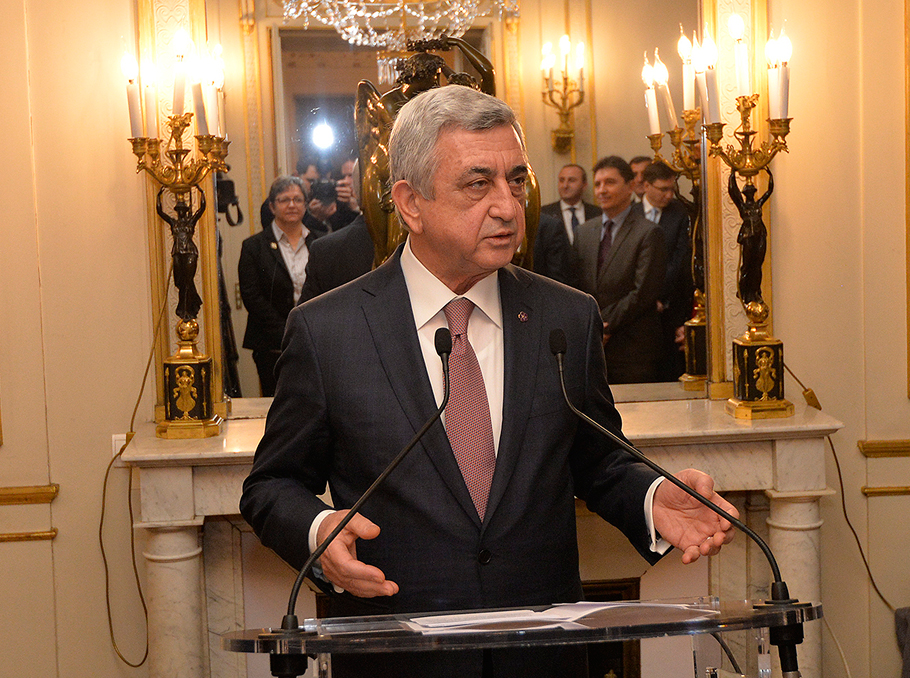 Photo: Press service of the Armenian President


The Armenian President also discussed NK settlement during the meeting with members of France-Armenia Parliamentary Friendship Group.

"We are convinced that there is no alternative to peaceful settlement of NK issue. I have announced this within all possible high-level formats, and now I would like reiterate our commitment.

We highly appreciate the efforts of France, our friendly and reliable partner. As OSCE Minsk Group Co-chair your country significantly contributes to the peaceful settlement of NK issue. At the same time, everyone should be aware of the fact that NK issue is a matter of human rights, so it should be settled in accordance with the fundamental and inalienable right of people to self-determination.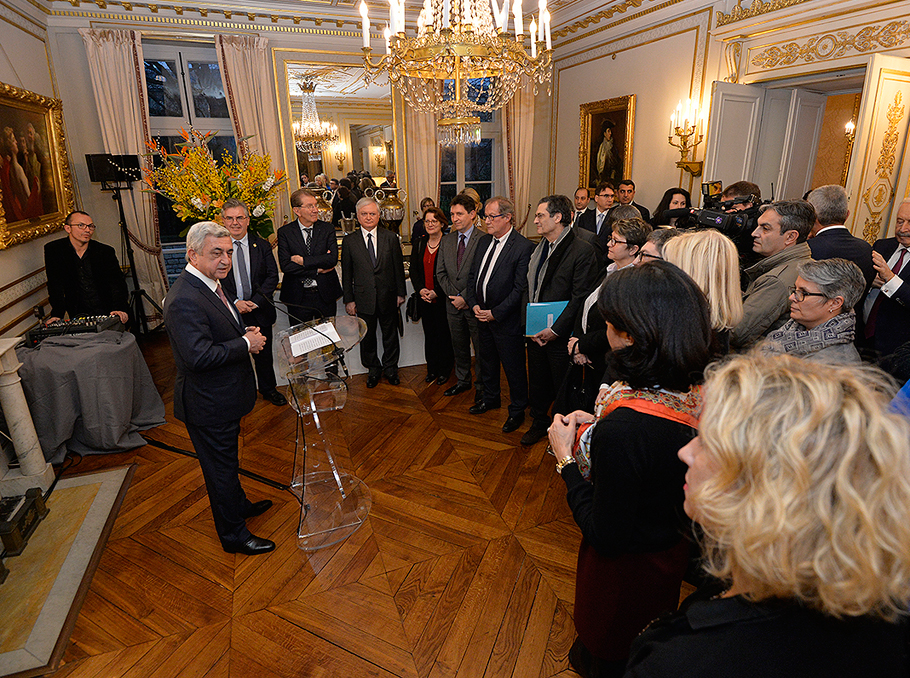 Photo: Press service of the Armenian President


Azerbaijan should recognize and respect the right of Artsakh people to decide their own destiny, while the security of Artsakh Armenians should be guaranteed by all domestic and international mechanisms possible.

In this context I attach special importance to the visit of French MPs to Artsakh, and the fact they introduced French people to what they witnessed, which is a great and invaluable contribution to the just settlement of NK issue. Following your example, delegations from many more countries now visit Artsakh, which certainly brings about some very positive results. Thanks to similar efforts from our friendly countries, Artsakh takes small but confident steps towards overcoming Azerbaijani false propaganda," Serzh Sargsyan concluded.