For the first time Armenia will be broadly presented at the annual Smithsonian Folklife Festival. The festival will take place June 27-July 1 and July 4-8 in Washington, DC. It is produced by the Center for Folklife and Cultural Heritage. Over 50 years, the Festival has brought more than 30,000 musicians, artists, performers, craftspeople, cooks and others from over 100 countries to strengthen and preserve cultures by presenting them on the National Mall in Washington, DC.

This year the Festival will be international and will present the cultural heritage of Armenia, Africa and Catalonia. Armenia is the first country from the region to be featured. The annual ten-day event is free to the public, people can experience living traditions, learn about Armenia and its cultural identity through tasting Armenian food and wine. Armenian cooks will teach visitors to cook lavash in tonir, make cheese, and grill khorovats. Besides, people will be able to engage with Armenian designers and artisans, learn and try their hand at weaving, embroidery and carving. Feasting will be continued till evening with concerts featuring Armenian folk and jazz music.

Mediamax talked to Halle Butvin, one of the program's curators.

2018 Festival's attention will turn internationally and will highlight the cultural heritage of Armenia, Africa and Catalonia. How and why have been chosen particularly these cultures?

The theme of this year's festival is a community-based cultural heritage enterprise. So we were looking for programs that we can tell the story of a particular place and people. For Armenia we were looking more at enterprises of businesses related to food, wine, crafts and how those enterprises keep Armenian culture vibrate.

It is the first time that Armenia takes part in the festival and it is also the first country from the region.

The festival is based on research and the Center for Folklife and Cultural Heritage has teams of curators that each year decides the project based on themes, as well as the research and the relationships that the curators have. Armenia was selected because we have a program with Armenia called My Armenia Cultural Heritage Tourism. It has enabled our research center to be working for the last three years in Armenia, so that was how we decided to move forward with an Armenian festival.

Because we have been doing a lot of research which is very exciting, we thought that now it is actually a really good time to present the cultural heritage of Armenia at the festival.

You have recently visited Armenia. Was the visit related to the festival?

I have a few different projects in Armenia. I started working in Armenia in 2014 - I was part of the team at My Armenia Cultural Heritage Tourism Program with Smithsonian and USAID. I run artisan initiative for the My Armenian program and I also worked with the local festival organizers. It was only last year that I decided to curate the program for the festival.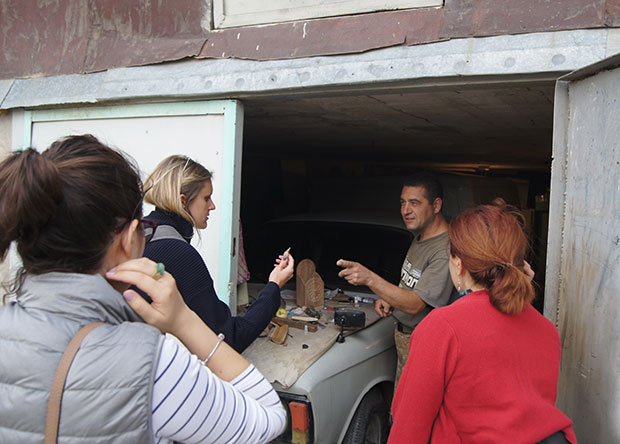 Halle Butvin in Armenia

Photo: Halle Butvin's archive


Who is going to take part in the festival and how is going to be the selection process?

We plan to have 75 participants and 15 presenters. We are going to have two types of participants, one is the majority of the tradition bearers, the second are presenters who need to be very comfortable in speaking in the public with a lot of people, they need to speak Armenian as well as English, and they would not simply translate but also interpret.

A lot of participants do not speak English and it is not a requirement. For example a person carving khachkar is going to focus and talk about it, but then the presenter is going to help the audience with questions and understanding what is going on.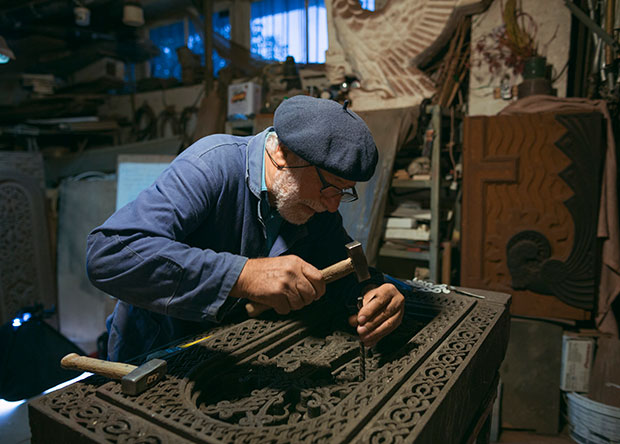 Photo: Smithsonian Institution


The majority is from Armenia, but we also have some participants from the Diaspora. The curatorial team drives the decision making and we are the ones who figure out who is going to be the best person to present the traditions, but then we rely a lot on the conversations with a lot of people. We have a lot of different advisers, a curatorial team from Institute for Archaeology and Ethnography and My Armenia project have also been conducting a lot of ethnographic field research to see what is going on in cultural traditions especially in Armenian regions.

Do you know who is already going to participate? Will they be the famous ones?

I do think some Armenians will recognize some of the musicians, but not all of them, although I can't tell you yet who they are. The idea of the festivals is to create a platform for folk and traditional arts. We have a lot of participants coming from the regions, so it will be exciting for people to see there are so many talents not only in Yerevan but in Armenian regions as well. We cover all of the costs of participation and take care of everything.

What is especially essential to emphasize for Armenian participants? What is the preferable way to introduce Armenian culture?

For participants it is really important just to tell their stories. From the curatorial aspect what we want to present about Armenians is that we want the American public first of all to feel the warmth and generosity of the Armenian people. We were looking at food and drink and that welcoming feeling that people have as visitors coming to Armenia.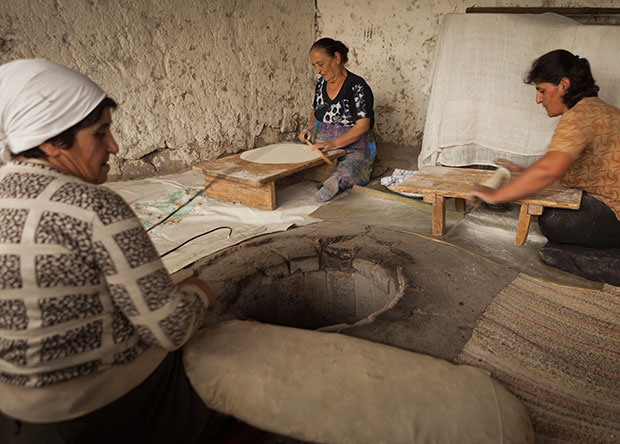 Photo: Sossi Madzounian/ Smithsonian Institution


You welcome people at your homes and share meals, people are very open in that way. So we definitely want to convey this and we select participants with that in mind. It is not just about the demonstration, it is about sharing their personal stories. We are looking for people who have a unique story to share, we are selecting people who are really passionate about what they do, and can really share Armenians' culture in a way that the message will be conveyed to the public.

How important do you think the festival is for Armenians? How the local Armenians are also going to benefit from it?

It has a lot of value for people from Armenia and Diaspora. It is the biggest stage in the United States, we have nearly a million people who come to the festival, and then we have millions more online. We have presented cultures from over 100 countries and one of the things that I think is really valuable is that there is so much interest from the American public and curiosity which is very motivating for the participants. Participants stay together, you have this whole delegation which stays with the Catalans as well. People start new organizations, start to work in new places, and you just start to see a lot more activity. You see that other people really value what you do and that confidence is really motivating. This is the cultural component, but there is also an economic component. All of the products that are made by participants, we sell them in the market place. It is a really nice access point, so the participants will make money while being there and selling their products, but they also can have access to the new customers. That is going to be true for craft but also for food and wine. We will introduce a lot of people to amazing Armenian wine for the first time. I think that is going to be really exciting.

How much is the importance of the festival for the Diaspora as well?

I want the American public to know what an incredible group of people Armenian Americans are in the USA and how many amazing things they have accomplished being here. Besides, I hope to surprise some of the Diaspora that comes for the festival because I think many of them don't come to Armenia but they are really aware of what's going on. We are sharing stories of traditions, we are also experimenting the reality, and kind of showing some of the new technology that is happening in Armenia.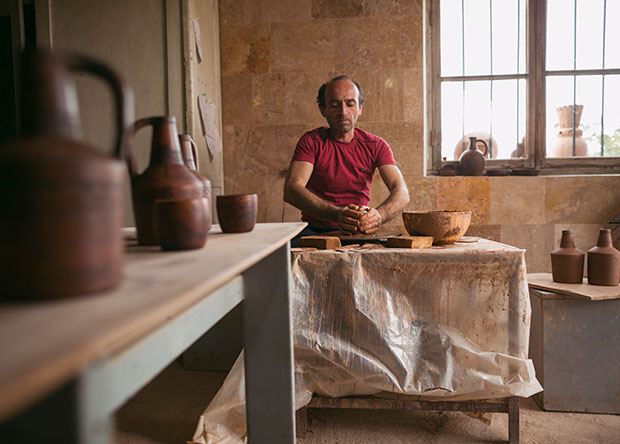 Photo: Narek Harutyunyan/Smithsonian Institution


If Americans know anything about Armenians at all they might have learnt it from the Armenian American community, but a lot of Armenians in the US are from the Western Armenia. They have different traditions than some of the traditions presented in Eastern Armenia. A lot of Armenian Americans do not know about what is going on in Armenia and why, I think for them bringing something new about the place that many of them consider as a homeland will be super exciting.

Amalie Khachatryan talked to Halle Butvin