Today we live in a society, which can not imagine life without expressing views on social media. Probably it does have certain advantages. Nevertheless, many participants of active discussions have already forgotten or do not even know about the developments, which unfolded in Armenia 5, 10 or 15 years ago.

To fill the gap Mediamax presents 5/10/15 project, which introduce developments in Armenia 5, 10 and 15 years ago.

• 15 YEARS AGO: SEPTEMBER 10-16, 2003

"Important step"

On September 10, Council of Europe Secretary General Walter Schwimmer and PACE President Peter Schieder welcomed the decision by the Armenian National Assembly to ratify Protocol No. 6 to the European Convention on Human Rights, which abolishes death penalty.

Walter Schwimmer and Peter Shieder noted in their joint statement that "this important step brings Europe closer to total abolition of the death penalty."

A private lecture by Ter-Petrosyan

"Haykakan Zhamanak" newspaper reported on September 13 that former president of Armenia Levon Ter-Petrosyan delivered a private lecture on the Nagorno-Karabakh conflict settlement for a group of graduates of the University of Stanford, who were visiting the region.

"Strangely enough, Levon Ter-Petrosyan complied with Stanford graduates' request despite remaining silent for the last few years," wrote "Haykakan Zhamanak".

"South Caucasus on the orbit of EU interest"

"Armenia wants the European Union to work out and voice its position over the region of South Caucasus," Armenian President Robert Kocharyan said at the joint press conference with the President of Lithuania Rolandas Paksas on September 15.

"We want South Caucasus to be involved on the orbit of European Union's direct interest," said Kocharyan. According to him, democratic and economic reforms in Armenia were aimed at the rapprochement of the country to the EU standards.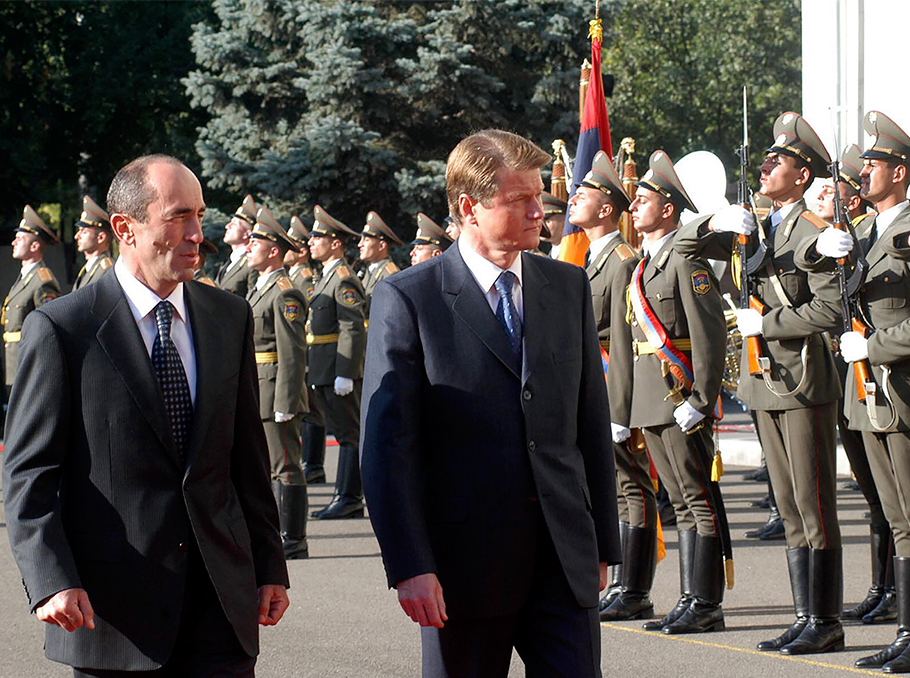 Robert Kocharyan and Rolandas Paksas in Yerevan, September 2003

Photo: Photolure


Robert Kocharyan pointed out that the process of European integration would become much more effective if all three countries of the South Caucasus region coordinated their efforts. He also noted that the coordination of efforts for the European integration would increase the investment attractiveness of the South Caucasus. In particular, said Kocharyan, the investors would perceive the region as a common economic space.

• 10 YEARS AGO: SEPTEMBER 10-16, 2008

Bryza comments on Russia's moves

U.S. Deputy Assistance Secretary of State, OSCE Minsk Group U.S. Co-chair Matthew Bryza said that the recognition of independence of Abkhazia and South Ossetia by Russia was illegal from the point of view of international law.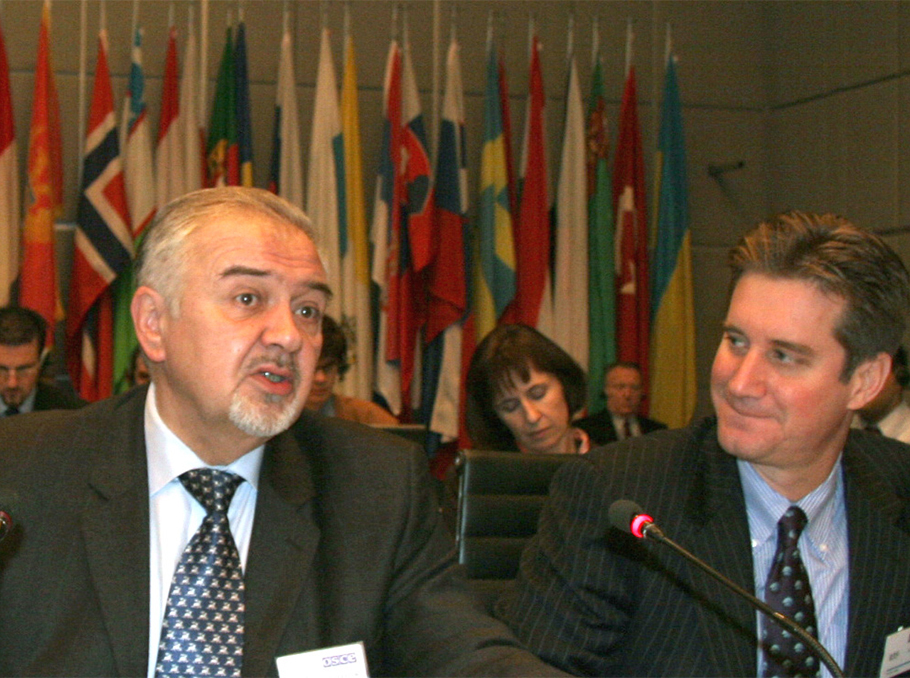 OSCE Minsk Group's Russian and U.S. Co-chairs Yury Merzlyakov and Matthew Bryza


While speaking in Stepanakert on September 12, Matthew Bryza stated, "If Moscow believes that the conflicts are resolved, it is mistaken." He stressed there could be no military solution to a conflict, including the one over Nagorno-Karabakh, which was obvious from the example of Abkhazia and South Ossetia.

ICC would not get involved

On September 16, Official representative of the International Criminal Court Nicola Fletcher said that the court would not consider the initiative of the Armenian opposition to bring former President of Armenia Robert Kocharyan to justice.

"Since Armenia is not a State Party to the Rome Statute, we would have no jurisdiction here," Nicola Fletcher said in response to the signatures collection by the Armenian opposition to support the request to bring Kocharyan to account.

Torosyan's resignation

On the same day Speaker of Armenian National Assembly Tigran Torosyan announced his resignation. He also withdrew from the ruling Republican Party of Armenia (RPA).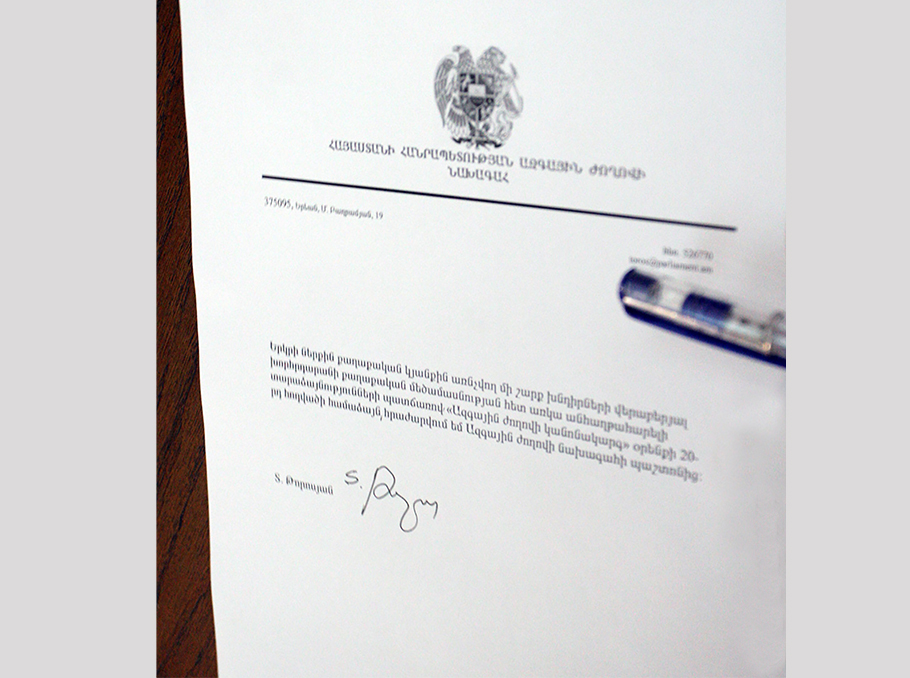 Tigran Torosyan's resignation paper

Photo: Photolure


Earlier, the executive body of RPA decided that the further tenure of the parliament speaker's office by Tigran Torosyan was inexpedient and nominated former head of presidential administration Hovik Abramyan for that position.

• 5 YEARS AGO: SEPTEMBER 10-16, 2013

Stefan Fule in Yerevan

"Armenian partners assured me there had been no pressure on Armenia," EU Commissioner Stefan Fule said at the press conference after the informal meeting between foreign ministers of EaP member states in Yerevan on September 13.

Fule's statement came as the comment on the claims that Armenia decided to join the Customs Union under Russia's pressure.

"Do I have the right to question these assurances?" said Stefan Fule.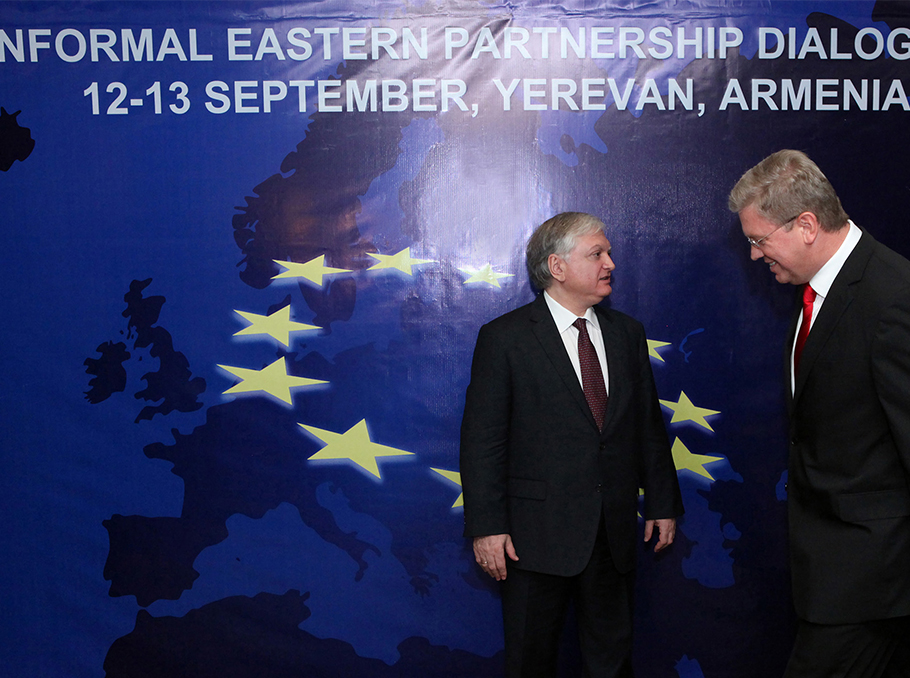 Stefan Fule and Edward Nalbandyan in Yerevan, September 2013

Photo: Photolure


He said that the Association Agreement with the EU would not be initialed during the Vilnius Summit. He stressed that the agreement was a single document composed of 2 parts. According to him, it was negotiated with the Armenian partners in integrity and could not be decoupled.

"I have come to Armenia with very simple ideas - to listen to and understand our Armenian partners' intentions, wills and preferences. If they want to set up a legal circle which will advance us more than the current Partnership and Cooperation Agreement we will be very glad to work within this process," said the commissioner.

Ara Tadevosyan