Today we live in a society, which can not imagine life without expressing views on social media. Probably it does have certain advantages. Nevertheless, many participants of active discussions have already forgotten or do not even know about the developments, which unfolded in Armenia 5, 10 or 15 years ago.

To fill the gap Mediamax presents 5/10/15 project, which introduce developments in Armenia 5, 10 and 15 years ago.

• 15 YEARS AGO: JUNE 11-17, 2003

The coalition and the youngest speaker in history

On June 11 the leaders of Republican Party of Armenia (RPA), Orinats Yerkir Party and ARF signed a memorandum to form the coalition government.

Armenian President Robert Kocharyan said that the signing of the memorandum was an unprecedented event in the country's history and expressed hope that all three parties would cooperate effectively within the new government.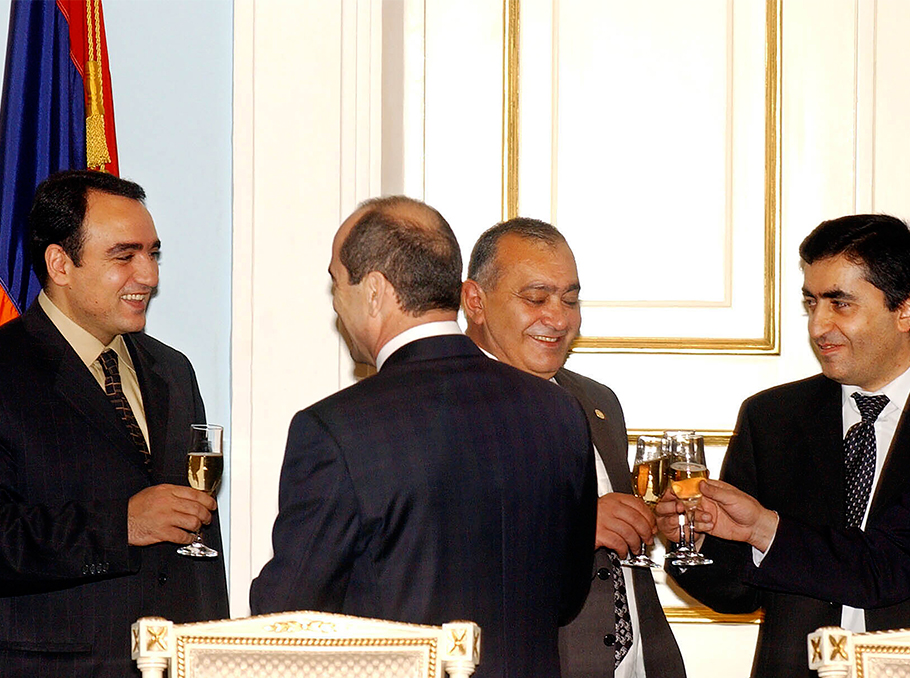 Signing of the coalition memorandum

Photo: Photolure


On the following day, Orinats Yerkir Party leader Artur Baghdasaryan was elected Chairman of Armenian National Assembly, becoming the youngest parliament speaker in Armenian history.

Cooperative Best Effort 2003

On June 17 Armenia kicked off the Cooperative Best Effort-2003 exercise in the framework of NATO Partnership for Peace program.

While speaking at the opening ceremony of the exercise, Armenian Defense Minister Serzh Sargsyan said that NATO's PfP had united many countries interested in establishment of peace and stability in the Euro-Atlantic space and cooperation within PfP became more urgent in the face of new threats.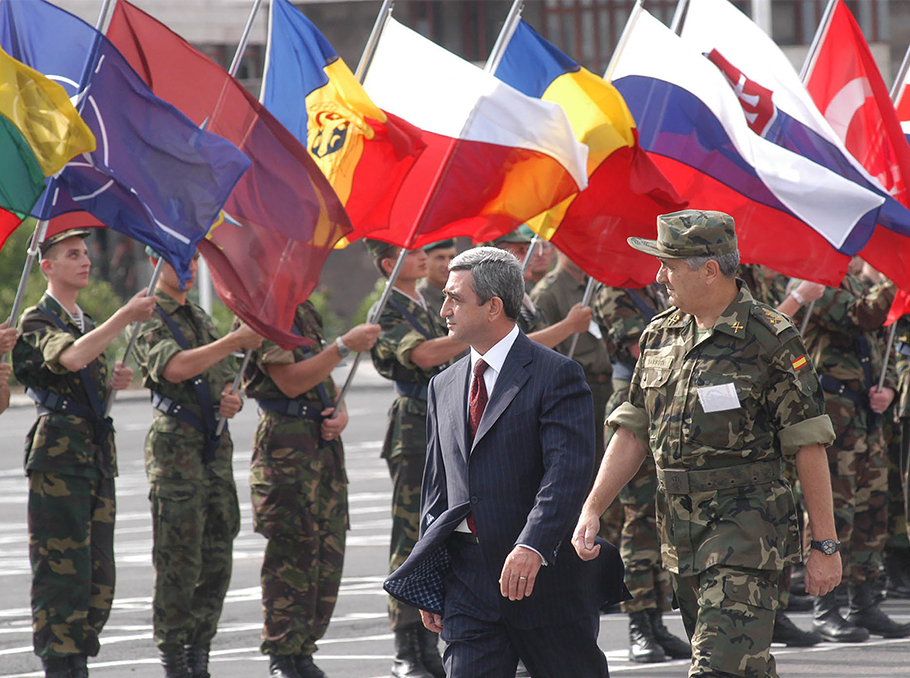 Serzh Sargsyan at the opening of Cooperative Best Effort-2003

Photo: Photolure


Representatives of Turkey participated in Cooperative Best Effort-2003.

• 10 YEARS AGO: JUNE 11-17, 2008

The Public Council

Armenian President Serzh Sargsyan signed the decree on creation of the Public Council on June 13. The president's decision was "conditioned by the need to stimulate the public-political dialogue".

Serzh Sargsyan comments on vanity plates

At the meeting with high-ranking officers of the police force in Yerevan on June 13, Armenian President Serzh Sargsyan said: "We must do everything possible to bring the Armenian traffic police up to the European level."

"Not a single wrongful action, not a single manifestation of corruption and disrespect towards the owners of vehicles from the part of policemen will remain unpunished," stated Sargsyan.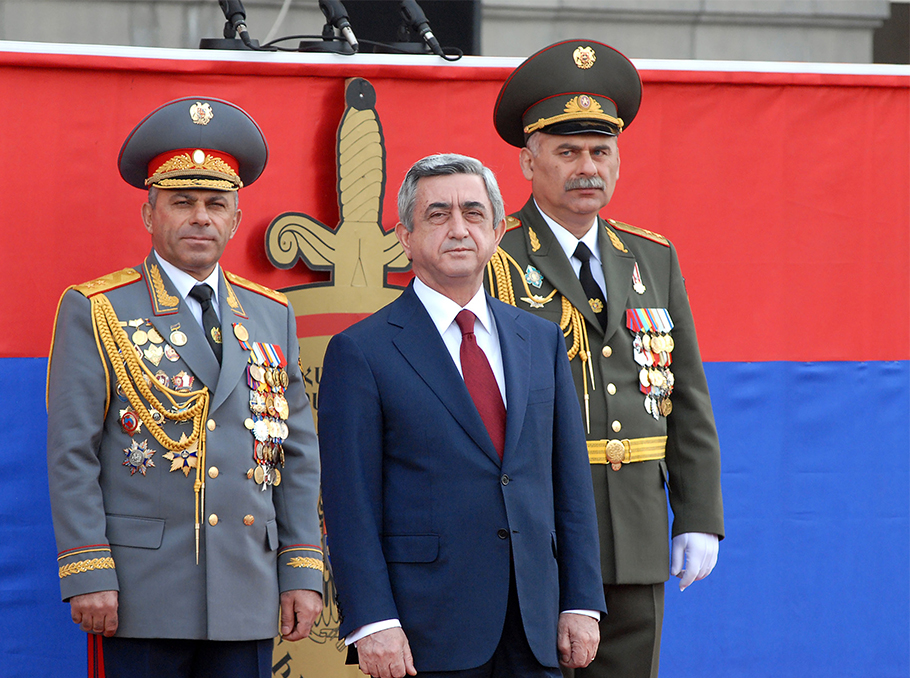 Photo: Photolure


"When an employee of the traffic police sees the traffic rules violated by owners of expensive cars with "vanity plates", he turns away and pretends to be working, stops and fines innocent citizens. I demand that this custom ends today. Not a single violation should remain unpunished, and if anyone tries to use violence against a police officer, that offense will have grave consequences," said the Armenian President.

• 5 YEARS AGO: JUNE 11-17, 2013

Taron Margaryan takes office

The inauguration ceremony of new Yerevan Mayor Taron Margaryan took place on June 11.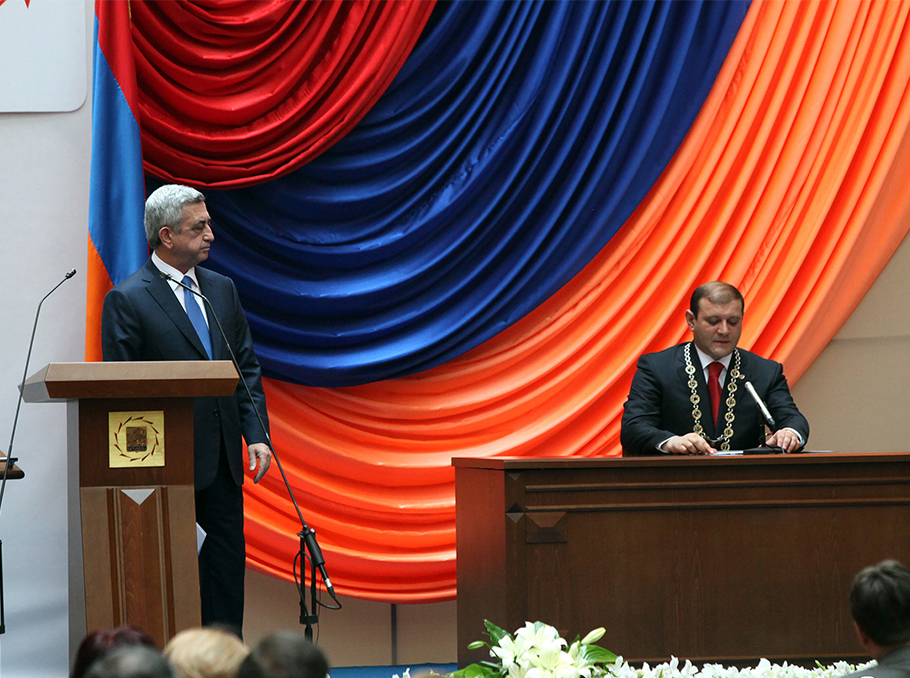 Serzh Sargsyan and Taron Margaryan

Photo: Photolure


President of Armenia Serzh Sargsyan delivered a speech at the ceremony, during which he noted:

"After the elections comes the time of duty and hard work, and I am certain the time has come for Taron Margaryan and his colleagues to increase their efforts."

Ara Tadevosyan