Today we live in a society, which can not imagine life without expressing views on social media. Probably it does have certain advantages. Nevertheless, many participants of active discussions have already forgotten or do not even know about the developments, which unfolded in Armenia 5, 10 or 15 years ago.

To fill the gap Mediamax presents 5/10/15 project, which introduce developments in Armenia 5,10 and 15 years ago.

• 15 YEARS AGO: FEBRUARY 26 - MARCH 4, 2003

No persuasion to run for president

On February 26, then acting President of Armenia Robert Kocharyan refuted the opposition's statements about "mass arrests" of the supporters of presidential candidate Stepan Demirchyan.

Robert Kocharyan stated that ordinary citizens participating in the opposition's protests were not brought to account, and the administrative punishments were applied against hooligans and persons who disrupted the public order.

Robert Kocharyan in 2003

Photo: Photolure


While commenting on the statement by candidate Demirchyan that he would take part in the second round of the elections only if certain conditions (recount of votes from the first round in particular) were fulfilled, Robert Kocharyan said that "he was not going to persuade anyone to take part in the second round".

Calls for calm from Strasbourg

On February 26, President of the Council of Europe Parliamentary Assembly (PACE) Peter Schieder called on the Armenian authorities and the opposition "to calm the political climate in the country" and to hold "free and fair second round".

"We are seriously concerned about the shortcomings and irregularities reported by the international election observation mission after the first round. If Armenia wants to live up to its democratic obligations as a member country of the Council of Europe, such irregularities should not be reproduced during the second round," stressed the PACE President.

On March 4, CoE Secretary General Walter Schwimmer called on the Armenian authorities and opposition forces to "bear in mind that what the country needs re free elections, accepted by all sides as fair and legitimate".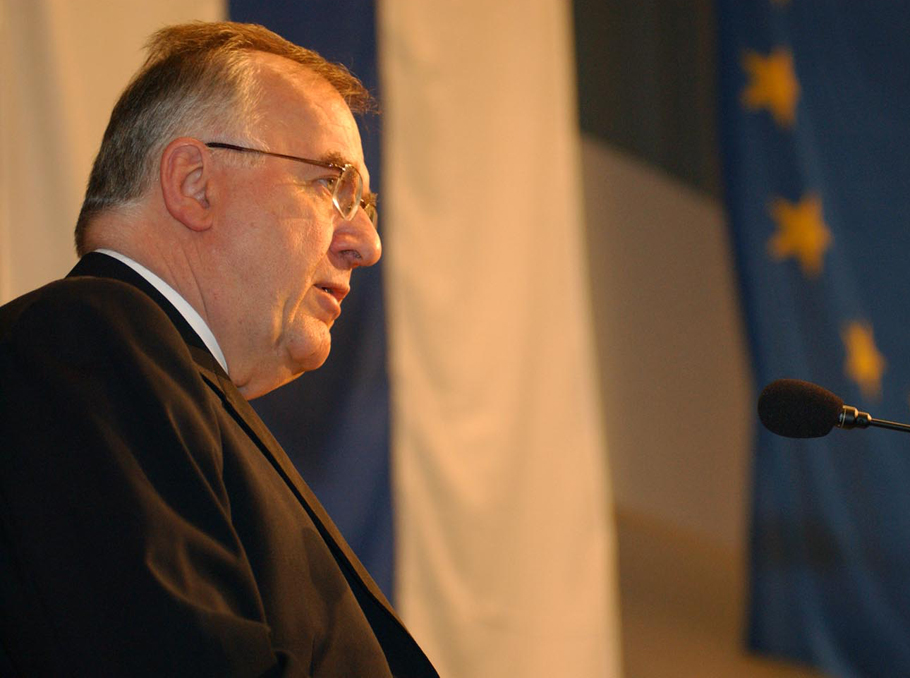 Walter Schwimmer

Photo: Council of Europe


"A repetition of the incidents that took place during and after the first round would mean a lost election for everybody, regardless of the outcome," Schwimmer said. The Secretary General also voiced regret that "the first round of the presidential elections was a missed opportunity for Armenia to abandon past electoral practices and win the confidence not only of the voters but also of the European public opinion".

No debates

Armenian presidential candidate Stepan Demirchyan refused to take part in TV debates with acting President Robert Kocharyan, which were scheduled for March 3.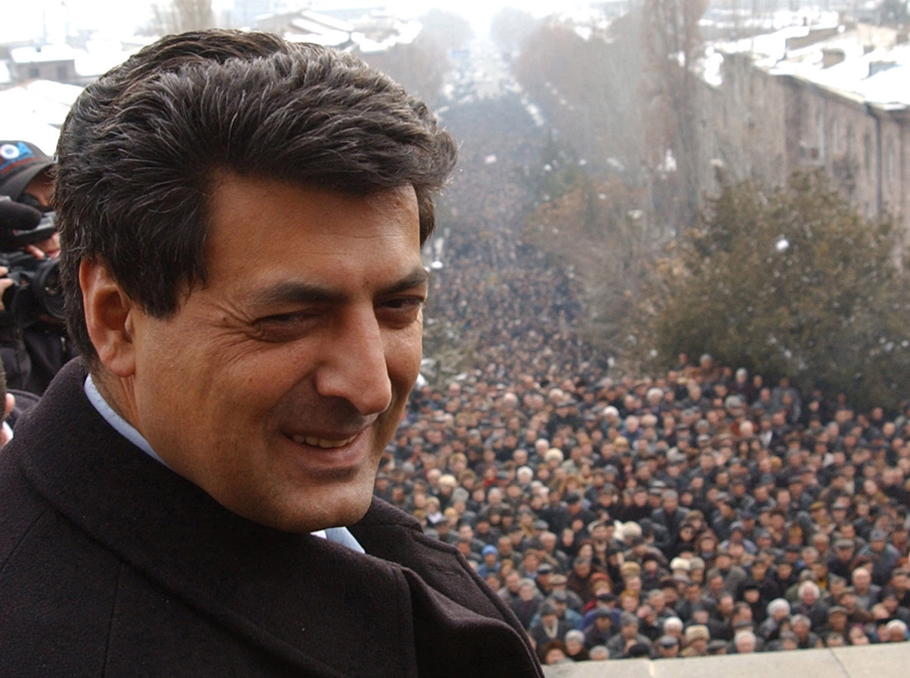 Stepan Demirchyan in 2003

Photo: Photolure


As Demirchyan's spokeswoman Ruzanna Khachatryan stated, their candidate had agreed to participate in "direct TV debates" with Robert Kocharyan. However, the framework suggested by the Armenian Public TV Channel and five private TV companies assumed a "joint news conference" of the two candidates, said Ruzanna Khachatryan.

The "cordial meeting" of Bush and Aliyev

White House Press Secretary Ari Fleischer described as "very cordial and warm" the meeting of the presidents of USA and Azerbaijan, George W. Bush and Heydar Aliyev, which took place on February 26 in Washington. He informed that President Bush thanked the Azerbaijani President for his "strong support in the war on terror".

• 10 YEARS AGO: FEBRUARY 26 - MARCH 4, 2008

"He is not a madman"

On February 26, former President of Armenia Levon Ter-Petrosyan came forward with accusations against Armenia's President Kocharyan and Prime Minister Serzh Sargsyan, who was elected President on February 19.

While commenting on the possibility of events unfolding by a force scenario in the interview to Russian periodical "Gazeta", Levon Ter-Petrosyan said: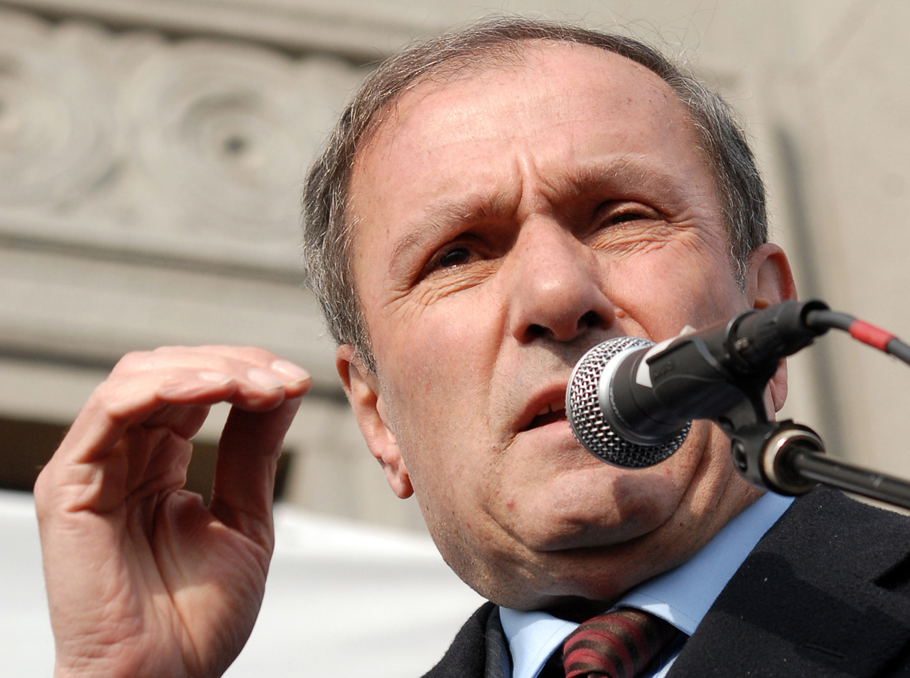 Levon Ter-Petrosyan in 2008

Photo: Photolure


"Serzh Sargsyan and Robert Kocharyan, I think, dream that we take the path you mean. It is not going to happen. And it doesn't need to. We will create a situation where use of force would be madness on their part. They are neither foolish nor insane. They can count too. Why would Robert Kocharyan take the blame for bloodshed? He already has enough of it. He is an outgoing President. He is thinking about the history. And suddenly to do something of that kind during the last month of his rule – no, he is not a madman".

"No 'us' and 'others'"

On February 26, Serzh Sargsyan addressed a call for cooperation to former presidential candidates and the political forces supporting them.

"Let us cooperate - right up to the formation of a coalition government. One of my goals is to use all constructive forces for Armenia's development," Serzh Sargsyan said at the rally of his supporters.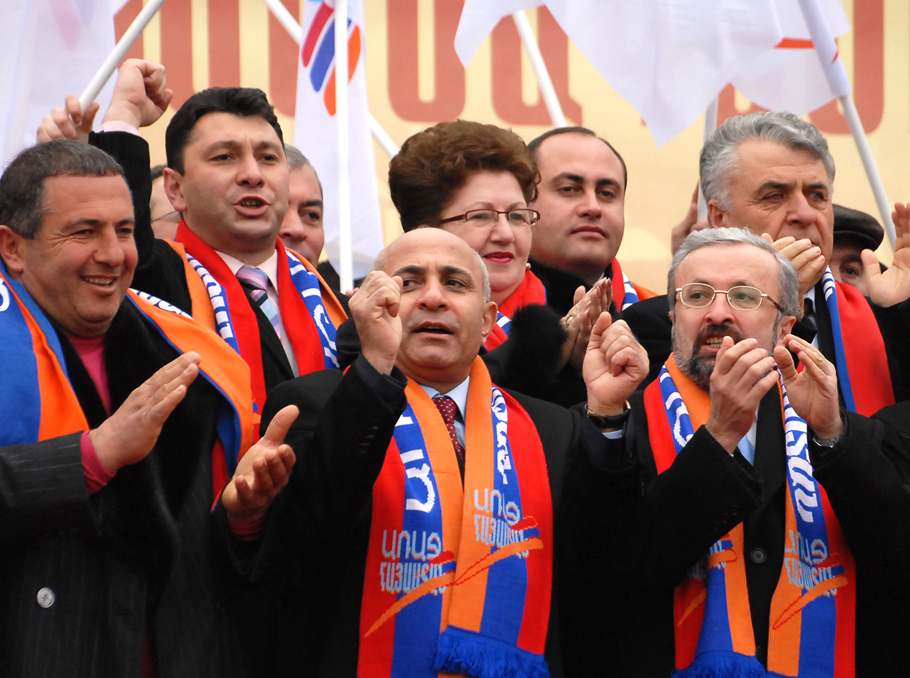 Rally of Serzh Sargsyan's supporters

Photo: Photolure


He noted that "today we are becoming witnesses of a split in the society, witnesses of an aggressive grouping striving at any price to reach its aim".

"For me, today there is no issue of "us" and "others", authority and opposition. Today we have the issue of Armenia, our statehood, defense of our values. This is why I urge all, irrespective of the political views, to overcome this artificial split," said Serzh Sargsyan.

"I urge you not to feel angry, since at the other square, stand our sisters are brothers. I am sure they are motivated by the desire to have a better Armenia, but unfortunately, they are already prevented from noticing that they have become a tool in revengeful hands. I know how enraged you feel, following recent events. I know how many people today are ready to take to the streets and defend their votes. I know it all well. But I ask you to contain your emotions: if you have anything to say, let it be the calls for a realistic view, and if you want to do something, let it be actions of kindness and tolerance. I ask you to always and constantly remember that the people at the other square are our sisters and brothers," stated Serzh Sargsyan.

"The state cannot tolerate forever"

On February 26, Armenian President Robert Kocharyan said that "the state cannot endlessly tolerate violation of law". That was Kocharyan's comment on the fact that supporters of former presidential candidate Levon Ter-Petrosyan had been holding unauthorized rallies and protests in the center of Yerevan.

"The police should have taken measures long time ago and did not do that only for one reason – I urged the employees of law enforcement bodies to demonstrate patience, hoping that the people will see reason themselves. I believe that six days is enough to come to one's senses. We will wait a little more, but further delay might create distrust in the society towards the law-enforcement system. We have the force, however, we understand that there are many mistaken people at the square," said the Armenian President.

Vacancy in letters department

Armenian President Robert Kocharyan said he was is ready to hire Levon Ter-Petrosyan for a position in the letters department of the presidential apparatus.

"If he likes that building, I am ready to hire him for a position in the letters department. Let him sit and read what people write about the years of his rule," noted Robert Kocharyan on February 26.

Artur Baghdasaryan becomes Secretary of National Security Council

On February 29, Orinats Yerkir Party of former presidential candidate Artur Baghdasaryan signed the coalition agreement with RPA and the Prosperous Armenia Party.

According to the agreement, Artur Baghdasaryan received the position of the Secretary of National Security Council under the President.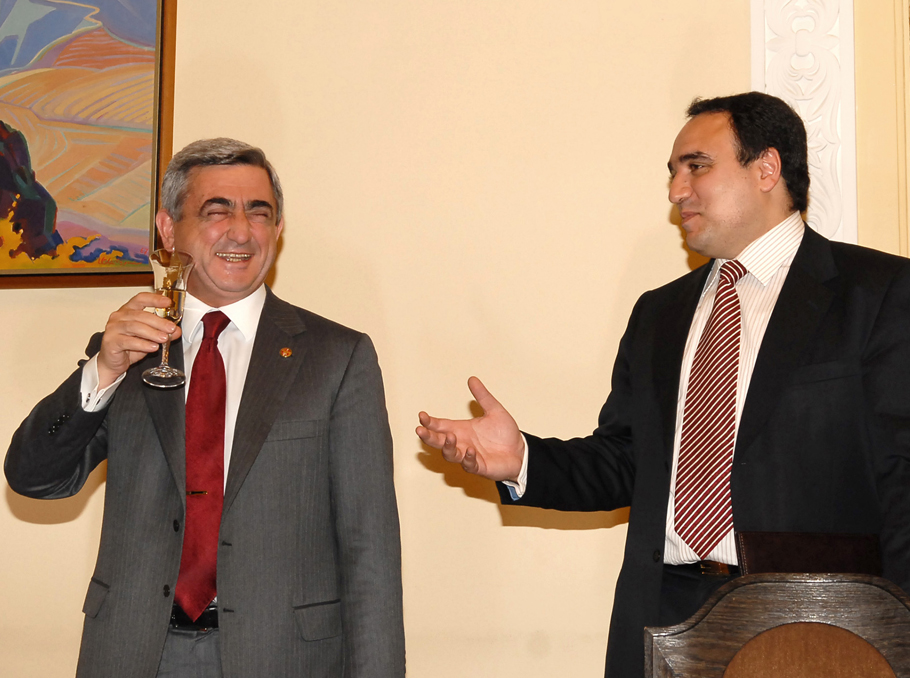 Serzh Sargsyan and Artur Baghdasaryan in 2008

Photo: Photolure


"I am glad that Artur Baghdasaryan responded to our proposal to govern the country with joint efforts," said Serzh Sargsyan.

"We shake the extended hand with dignity and we are certain this is the beginning of an honest process, beneficial for our homeland," commented Baghdasaryan.

March 1

Early in the morning, the police forces emptied Freedom Square in the center of Yerevan from the participants of the protest action, which had been held by the supporters of Ex-President Ter-Petrosyan since February 20.

Ter-Petrosyan stated that by dispersing the rally of his supporters, "the Armenian authorities not only threw down a challenge to their people, but to the international community as well".

Robert Kocharyan announced state of emergency on the evening of March 1. It was followed by clashed between police and the protesters, during which 10 people were killed.

March the 1st became one of the most tragic pages in Armenia's contemporary history.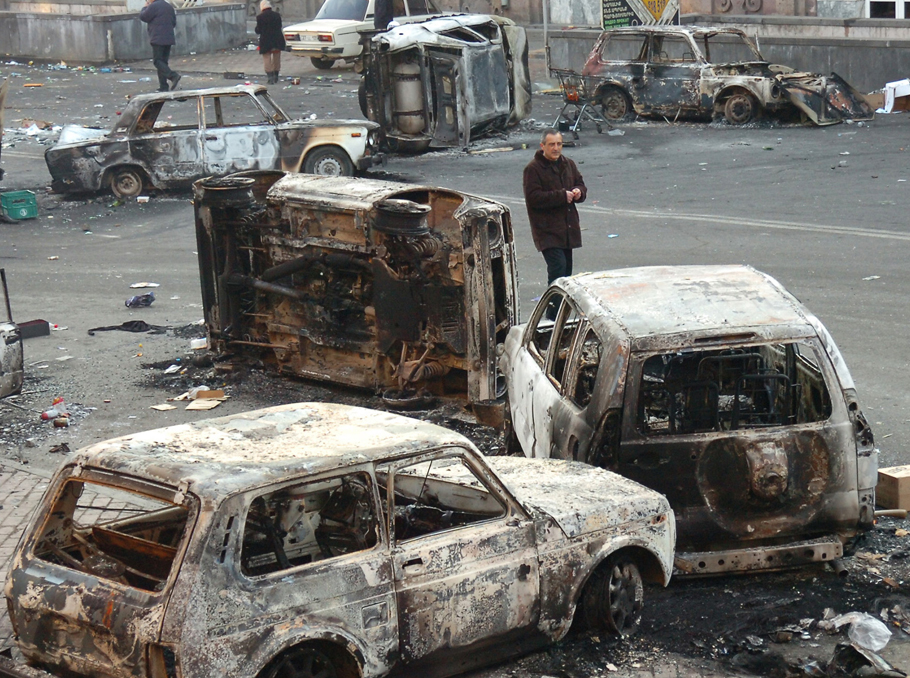 March 2, 2008 morning in Yerevan

Photo: Photolure


On March 3, Prime Minister, elected President of Armenia Serzh Sargsyan addressed the nation, stating that the organizers of the unrest "will account for law, history and the future generations".

"As a result of the last days' events, our people bore serious and irreplaceable losses – there are human losses both from the side of the policemen, who were fulfilling their service duty, and from the side of the demonstrators, who fell under the influence of a certain group of people. Hundreds of people suffered as a result of the illegal actions of the radical opposition," said Serzh Sargsyan.

• 5 YEARS AGO: FEBRUARY 26 - MARCH 4, 2013

Tankian writes to Sargsyan

On February 26, the letter of American-Armenian rock musician, lead singer of System of a Down Serj Tankian to Armenian President Serzh Sargsyan regarding the February 18 elections came out.

The letter read in particular:

"Dear Mr. President,

Congratulations on your victory.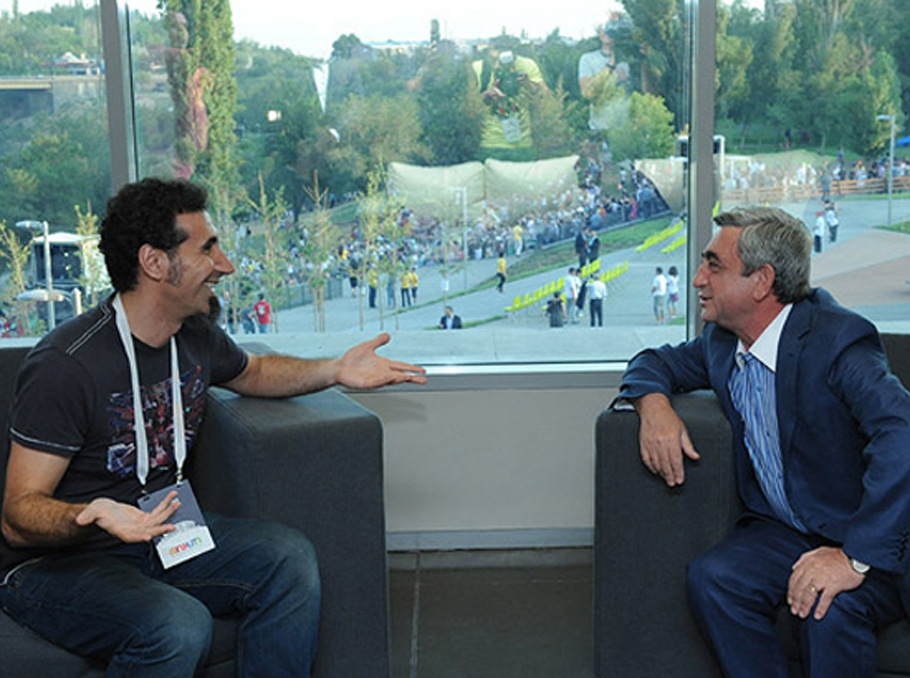 Serzh Sargsyan and Serj Tankian at Tumo Center opening in Yerevan


Victory means getting the most votes, of course, in a democracy.

Based on the overwhelming reported fraud from many NGOs, irrespective of the OSCE report, it seems like it would be scientifically impossible for even you, Mr. President, to know whether you actually won the majority of votes.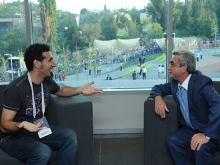 That's quite funny, isn't it? That you, the President of Armenia are not really sure, deep inside, whether you are the true chosen leader of your people or not.

That would really bother me personally. If I wanted to lead my people, I would really want them to make that decision for themselves, because I respect my people and that is their decision to make. Otherwise, I would take over Armenia and call myself the Governor General of Armenia or Dictator du jour or whatever moniker I felt like sporting that day. Maybe your party is out of control and the oligarchs are running out of caviar or something and they want to make sure that the flow of the good times doesn't stop."

Sargsyan responds to Tankian's letter

On the same day, February 26, Serzh Sargsyan released the reply to Serj Tankian's letter. The president's message read in particular: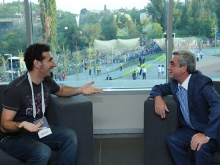 "You asked me if I was really sure, deep inside, whether I was the true chosen leader of our people or not. I respond to it that I have always been sure in whatever I have done be that battle command or organization of elections. One needs to feel Armenia, Serj, and it is not possible to feel it sitting in an expensive office in downtown Yerevan."

Azerbaijani MFA unhappy with 'indifference' of the White House

On February 26, Spokesman for the Azerbaijani Foreign Minister Elmar Abdullayev said that the general statement by the White House on "Khojaly Genocide" indicated the lack of concrete stance on this issue on the side of U.S.

"The statement shows that the U.S. is indifferent to the crime committed against the mankind", said Abdullayev.

Ara Tadevosyan